We've just about made it to the halfway point for January. And this year — much like the last — it feels like a nice milestone to cross. As we get into the weeks ahead, it appears that we've got more than a few whiskey releases headed our way. To begin, Coalition Whiskey is launching with not one, but four new rye whiskeys. In fact, three of the four are finished in Bordeaux wine barrels. However, if peated whiskeys are more to your liking then you'll be glad to know that Westland's Peat Week is scheduled for the end of this month. Furthermore, the Seattle-based distillery has two festival single casks this year along with a couple of virtual events to check out.
But maybe you reside in the Venn Diagram where tequila and country music intersect. In that case you'll be happy to see the new tequila brand launched by country music singer Thomas Rhett. As you ease into your weekend, why don't you pour yourself a glass of something good and read on? There's a lot to get to this week so here's Distiller's Friday Roundup for January 15, 2021!
Coalition Whiskey Releases Trio of 100% Rye Finished in Bordeaux Barriques
Coalition Whiskey is a brand created by a "coalition" of three wine and spirits industry veterans. The trio includes: Leonid Yangarber, former CEO of Russian Standard Vodka USA; Steve Thompson, owner of Kentucky Artisan Distillery; and Ludwig Vanneron, winemaker and global wine consultant. The whiskey brand is launching this month with three Bordeaux wine finished rye whiskeys and a barrel proof expression so purchasers can experience the whiskey before it is finished in the wine barriques.
Notably, each of the four Coalition Whiskey bottlings are made from a 100% rye mash bill (both malted and unmalted rye). In fact, the rye grain is sourced from Waldeck Farms, just a mile from Kentucky Artisan Distillery where it is distilled in copper pot stills. The straight rye whiskey ages for five years in oak barrels. Then for the wine finishes, it gets further aged for up to 9 months.
"A 100% rye whiskey is a true rarity in the industry," said Thompson. "While most rye whiskeys use malted barley or added corn, Coalition Whiskey is made completely from rye. It's a more expensive way to go, but there was truly no other way to create that truly deep, rich and spicy flavor we knew would be the ideal match for our velvety Bordeaux wine barrel finishing."
The Coalition Whiskey wine finished ryes have an SRP of $90 each and the Barrel Proof is $130.
– Margaux Barriques Finish is bottled at 45.4% ABV.
– Pauillac Barriques Finish is bottled at 46.3% ABV.
– Sauternes Barriques Finish is bottled at 47.1% ABV.
– Barrel Proof is bottled at 54.4% ABV.
Availability for these Coalition Whiskey releases begins this month in New York, New Jersey, California, Florida, Kentucky, Illinois and Colorado, as well as online.
Coalition Whiskey wine finished ryes /Photo Credit: Coalition Whiskey
MGP Launches 2021 Single Barrel Program for George Remus and Rossville Union
Following the launch of a single barrel program for Rossville Union Rye in 2020, MGP announced this week it was doing the same for its high-rye bourbon brand George Remus. This single barrel program allows retailers to select a barrel as an exclusive sale for its customers. Retailers can select from one of two high-rye mash bills for George Remus to customize their barrel. It's aged for over four years and is bottled at cask strength which will vary from cask to cask.
Once the retailer selects its barrel, the 2021 George Remus Single Barrel bottles will be shipped by September 2021 to coincide with National Bourbon Month.
For those looking for a rye, the 2021 Rossville Union Single Barrel program was announced this week as well. For the 2021 edition, the MGP team is offering three rather than just two different mash bills for retailers to select from. Also, this year the rye is offered at cask strength rather than 100 proof like last year. The proof for each cask will vary from cask to cask.
Both the George Remus and Rossville Union single barrel program offerings allow the retailer the option to add a 2021 Single Barrel Selection label to highlight the collectible nature of the whiskey. Each of these single barrel offerings will be available annually so make sure to check with your favorite retailer if you're interested.
2021 George Remus Single Barrel & Rossville Union Single Barrel
Westland Celebrates Seventh Annual Peat Week with Virtual Experience
Westland's Peat Week 2021 is scheduled for 26-28 January 2021. This year marks the seventh annual tribute to peat and this year it will be held virtually. The Seattle-based distillery will hold two virtual experiences: a guided zoom tasting featuring peated cask finishes and a cocktail competition. For more information on these experiences, please see details here.
In addition to the virtual experiences, Westland is releasing two festival bottlings. They will be sold exclusively at the distillery and online for residents of Washington State only for $99.99 each. In honor of the seventh year for the event, each one aged for over 7 years. These are some of the oldest American single malts from the distillery which was founded in 2010. They were both made with Baird's heavily peated malt.
"We're excited that this year's festival bottlings return to our dual single cask format," says Master Distiller and Co-Founder Matt Hofmann. "One cask spent its entire maturation simply and quietly in an ex-bourbon cask, while the other escaped its initial home to reside in an ex-rum cask until bottling."
Single Cask #438 was matured for 89 months in a first-fill ex-bourbon barrel. It was bottled at 61.4% ABV.
Single Cask #6732 was matured for 89 months. First It was aged first in a first-fill ex-bourbon barrel. Then it was placed in an ex-rum cask from Mount Gay. It was bottled at 60.8% ABV.
Westland Peat Week 2021 Single Cask #428 & Single Cask #6732 /Photo Credit: Westland
Johnnie Walker Releases Blue Label Year of the Ox
This bottling of Johnnie Walker Blue Label was created in honor of the 2021 Lunar New Year, the Year of the Ox. Like last year's Year of the Rat bottling, this too was designed by artist Shirley Gong. Inside the bottling is the classic Blue Label Scotch whisky blend of rare and exclusive malt and grain whiskies. The Year of the Ox signifies prosperity, growth and good fortune.
Johnnie Walker Blue Label Year of the Ox is bottled at 46% ABV, higher than its standard bottling which is 40% ABV. It is available now with an SRP of $229.99.
Johnnie Walker Blue Label Year of the Ox /Photo Credit: Johnnie Walker
Teeling Releases Final Brabazon Bottling
Teeling Brabazon Single Malt Series 4 is the fourth and final bottling in the limited-edition series named as a tribute to the Brabazon family. From the 16th-19th centuries, the family presided over the area of the Liberties in Dublin where Teeling Distillery has been built. The single malt was distilled in 2007. It then aged for 13 years with over two years spent in Carcavelos barrels, a rare white port.
Only 10,000 bottles were produced. It's currently available in Ireland and will soon be available in Benelux, France, German, Switzerland, Russia, Australia and select Asian markets. It has an SRP of €95 ($115).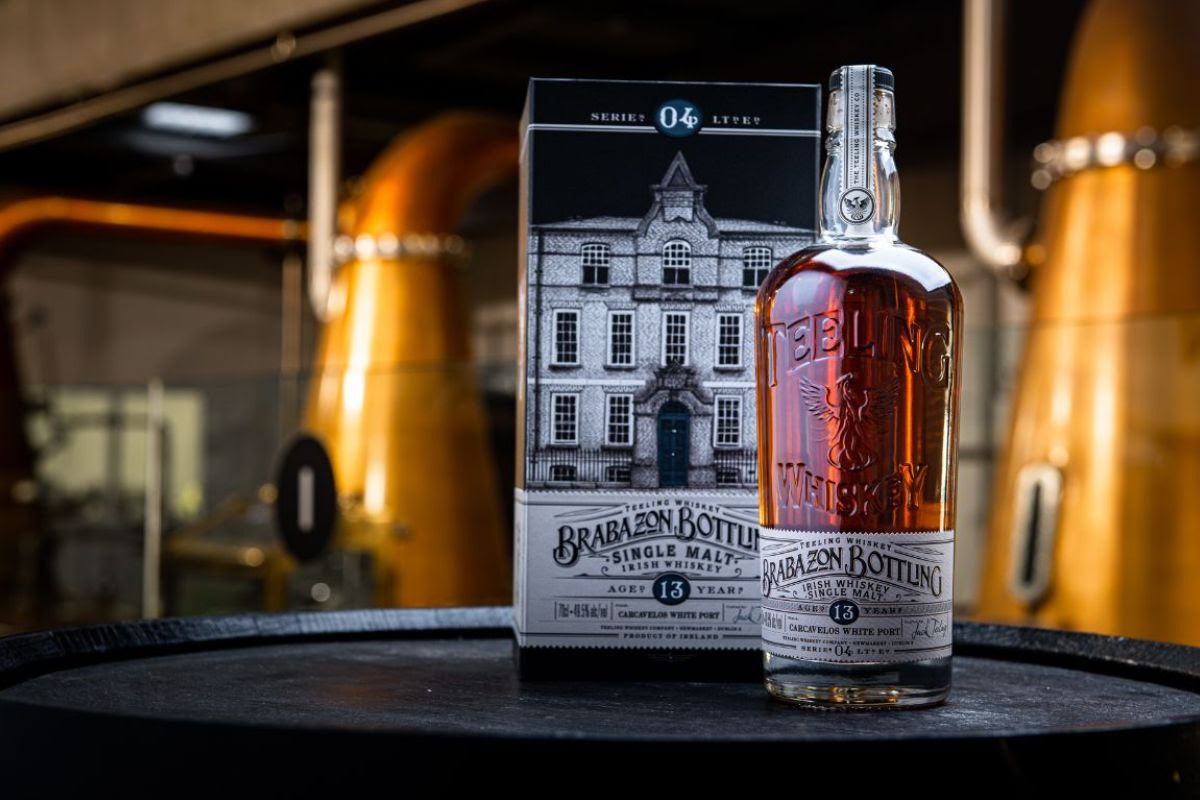 Teeling Brabazon Single Malt Series 4 /Photo Credit: Teeling
Country Music Singer Thomas Rhett Launches Dos Primos Tequila
Dos Primos Tequila is a tequila brand founded by country singer Thomas Rhett and his cousin Jeff Worn. Dos Primos translates to "two cousins," hence the name. The tequila is made with 100% blue weber agave grown in both Los Altos and the Tequila Valley in Jalisco. Master Distiller Rodolfo González worked with the pair to create the flavor profile.
"Our decision to create a new tequila brand grew out of just loving being with family," said Rhett. "Jeff and I wanted to create a tequila that was expertly crafted and could be enjoyed year-round — regardless of the season or activity — with the people we care about most. Dos Primos is all about who we are and what's important to us."
Dos Primos Blanco Tequila was released in select markets as of January 2021. It has an SRP of $44.99.
Dos Primos Blanco Tequila /Photo Credit: Dos Primos
Tidbits From Around The Spirits World
Let's take a quick look at what else is going on around the world this week…
Woodford Reserve Partners with Phillip Ashley Chocolates for Valentine's Day
Just in time for Valentine's Day, Woodford Reserve has partnered with Phillip Ashley Chocolates. Chocolatier Phillip Ashley Rix designed four custom-made chocolates to pair with Woodford Reserve Double Oaked Bourbon.
"Chef Phillip is a true master," said Woodford Reserve Assistant Master Distiller Elizabeth McCall. "He did an extraordinary job bringing all of the flavors found in Woodford Reserve Double Oaked to life. By focusing on the non-sweet aromatic notes in the bourbon – wood, grain, spice, and fruit and floral – he provides an elegant way to train the palate to taste these nuances."
The chocolates will be used in special bourbon tasting events around the country. A limited number will be sold at Woodford Reserve Distillery in February along with a special Double Oaked and chocolate tasting experience.
Additionally, Woodford Reserve will launch a sweepstakes on the brand's Instagram page to give away two boxes of chocolates to 20 winners. The winners will also be invited to an exclusive private virtual tasting experience with McCall and Rix.
Woodford Reserve Double Oaked Bourbon /Photo Credit: Woodford Reserve
Beefeater Unveils Sustainable Packaging Design
Pernod-Ricard, owner of Beefeater Gin, announced that it has redesigned the gin brand's bottle to be more environmentally friendly. Inspired by the brand's London heritage, the shape of the new bottle is modeled on the iconic London brick with facets that both highlight the brand name and make it easier to pour.
Notably, the new bottle is made with 100% recyclable glass and the plastic cap has been replaced with an embossed aluminium cap. Additionally, the label is now made from paper replacing one made from PVC. All these new changes, according to Pernod-Ricard, will amount to an annual savings of 410 tonnes (~452 tons) of plastic, or the equivalent of 17 million standard plastic water bottles.
The new design will be rolled out globally from January 2021 and will cover the full Beefeater range, with the exception of Beefeater 24.
Beefeater Gin /Photo Credit: Beefeater Gin
Double Cross Vodka Reveals Updated Environmentally Conscious Bottle
Also gettin an updated bottle design is Double Cross Vodka. This vodka brand from Slovak Republic first launched in 2008 with a stylish rectangular bottle. The updated bottle has reduced the weight of each bottle by 1.5 pounds and also reduces its plastic use. Furthermore, this new design was made with the trade in mind as it is much easier to pour.
This new bottle design will reduce the brand's overall carbon footprint by over 30%. The contents of Double Cross Vodka, made from estate-grown winter wheat and Tatra Mountain spring water, remain the same. You can expect to see the new bottle roll out this quarter in 750ml ($34.99) and 1L ($39.99) sizes with 1.75L and 50ml coming out later this year.
Double Cross Vodka /Photo Credit: Double Cross Vodka
New Releases On The Horizon
We try to keep an eye on all of the label approvals that go through the TTB (The Alcohol and Tobacco Tax and Trade Bureau) so we know which releases to look out for. Here are a few of the most interesting looking approval submissions we'll likely see in the not-too-distant future. Keep in mind that ABVs listed are also subject to change.
Upcoming TTB Releases
In autumn 2019, Diageo-owned Lagavulin Distillery released the Offerman Edition, named in honor of the actor Nick Offerman. A Lagavulin enthusiast, Offerman has appeared in numerous ads for the brand. This upcoming release takes it a step further.
What We Know:
This is still an 11-year-old peated single malt, but this time it's finished in Guinness casks — an Irish stout beer which is also owned by Diageo.
Master's Keep is a limited-edition series from the Kentucky whiskey brand.
What We Know:
This is bottled at 101 proof and is finished in a toasted oak barrel.
Gumball 3000 is a car rally founded in 1999 by Maximillion Cooper. It is a 3,000 mile rally which begins and ends in a different city each year. For 2020 (which was postponed until 2021), the rally was set to begin in Toronto and end in Havana. This bottling was inspired by those cities.
What We Know:
This Roadstock Rye bottling was distilled in Canada and finished its maturation in Cuban rum casks.
Buffalo Trace released a Warehouse C Tornado Surviving bourbon bottling made from a selection of 93 casks that were exposed to the elements by a tornado in April of 2006. This appears to be a bourbon made from barrels laid to age in Warehouse C after it was repaired.
What We Know:
This Kentucky straight bourbon was bottled-in-bond and aged for 10 years.
---
Ready to try one of the Coalition Whiskey wine finished ryes?
With Distiller, you'll always know what's in the bottle before you spend a cent. Rate, Review, and Discover spirits. Head on over to Distiller, or download the app for iOS and Android today!
Want to enjoy Distiller ad-free? Join Distiller Pro today to support the Distiller platform and keep ads off of your screen.