What an exciting time to be a whisky lover.
In recent years, whisky has received an enormous makeover. As new distilleries pop up all over the world, older ones adopt a modern outlook.
The notion that whisky making in Scotland must be more traditional than experimental is also shifting. For example, many new distilleries are trying new ingredients, distillation methods and maturation times.
Understanding the potential growth of whisky, drinks giant Diageo recently announced a £35 million project to revive the legendary, silent distilleries of Port Ellen and Brora.
In a way, 2017 has been a little too exciting. A complete list of each and every distillery that opened in 2017 could turn into a novel, so let's start with Scotland.
Founded in 1817, Bladnoch is the oldest distillery in the Scottish Lowlands, and also the most southerly distillery in Scotland. So, it's not exactly new.
The distillery has seen owners come and go. In fact, the most recent purchase, by Australian entrepreneur David Prior, makes him the 11th owner of the site. Now renovated and restructured, production at Bladnoch began anew in May 2017— just in time to celebrate the distillery's 200 year anniversary.
Access to past casks from the distillery allows the new owners to release some tasty single malts under the Bladnoch brand. As a result, keep a look out for 8 year-old Samsara and 15 year-old Adela.
Start prepping your trip for next summer. Their visitor's centre opens mid-2018.
Bladnoch Distillery / Photo Credit: Bladnoch Distillery
Located in the town of Hawick in a renovated factory, the Borders Distillery is an exciting new project by The Three Stills Company.
Construction began in the summer of 2016 and production kicked off in July 2017. Expect the resulting whisky to be light and floral—like many Lowlands expressions.
Fans can visit and sample casks while waiting for the first releases at a planned visitors' centre.
Borders Distillery site plan / Photo Credit: Borders Distillery
Glasgow is a lively city in Scotland, yet, the distillery scene in and around the area has been stagnant for decades.
In recent years this has changed, as 2014 saw the return of distilling in the form of the Glasgow Distillery. Now, in 2017, the Morrison Glasgow Distillers group has spearheaded another independent project.
Situated in the heart of Glasgow's historic docks, Clydeside operates within a transformed Pumphouse. The plans include a large visitor centre, a café and a whisky shop.
Expected to be operational by fall 2017, the Clydeside Distillery is aiming to bring great whisky-making back to the city of Glasgow.
Clydeside Distillery site plan / Photo Credit: Clydeside Distillery
This micro-distillery resides within a century-old fire station in the lovely town of Sutherland, in Scotland.
Brothers Simon and Phil Thompson, who have been making experimental batches since December 2016, started laying down casks in January 2017.
Involved in whisky for decades, the brothers run the popular Dornoch Castle Hotel complete with their own whisky bar, and host whisky tastings all around the world. Their establishments have won numerous awards in whisky, and a distillery was the next natural step.
As their whisky matures, a batch of 10 experimental gins await you.
Dornoch Distillery / Photo Credit: Dornoch Distillery
Last month marked the opening of the very first distillery on the Isle of Raasay. Housed in a converted Victorian building, they expect their spirit made at Raasay to be rich, fruity and slightly peaty.
Those are also the flavors found in the "Raasay While We Wait" release, a single malt by R&B Distillers, the founders of the distillery.
Production began this summer with the first releases expected to drop in 2020. They expect the distillery to bring many tourists and visitors to the island. The team already offers tours and packages, with accommodations available within the distillery itself.
Barrel #2 at Raasay Distillery / Photo Credit: Raasay Distillery
The first ever mention of Scotch whisky or aqua vitae as they called it then, dates back to 1494. King James IV ordered a Lindores monk by the name of Friar John Cor to turn 500kg of malt (measured as 8 bolls then) into the aforementioned aqua vitae.
Now, half a millennium later, distilling has returned to Lindores Abbey with Drew McKenzie and his wife Helen leading the way. Drew holds the title of Custodian of Lindores, passed down by his father. Over the past two decades, he has worked relentlessly to bring distilling back to the area.
The converted Abbey farmstead that houses the distillery features the original Abbey stones and other structures. This and other sustainable actions show their dedication to create quality whisky whilst maintaining the Lindores Abbey traditions and history.
Production began in September 2017.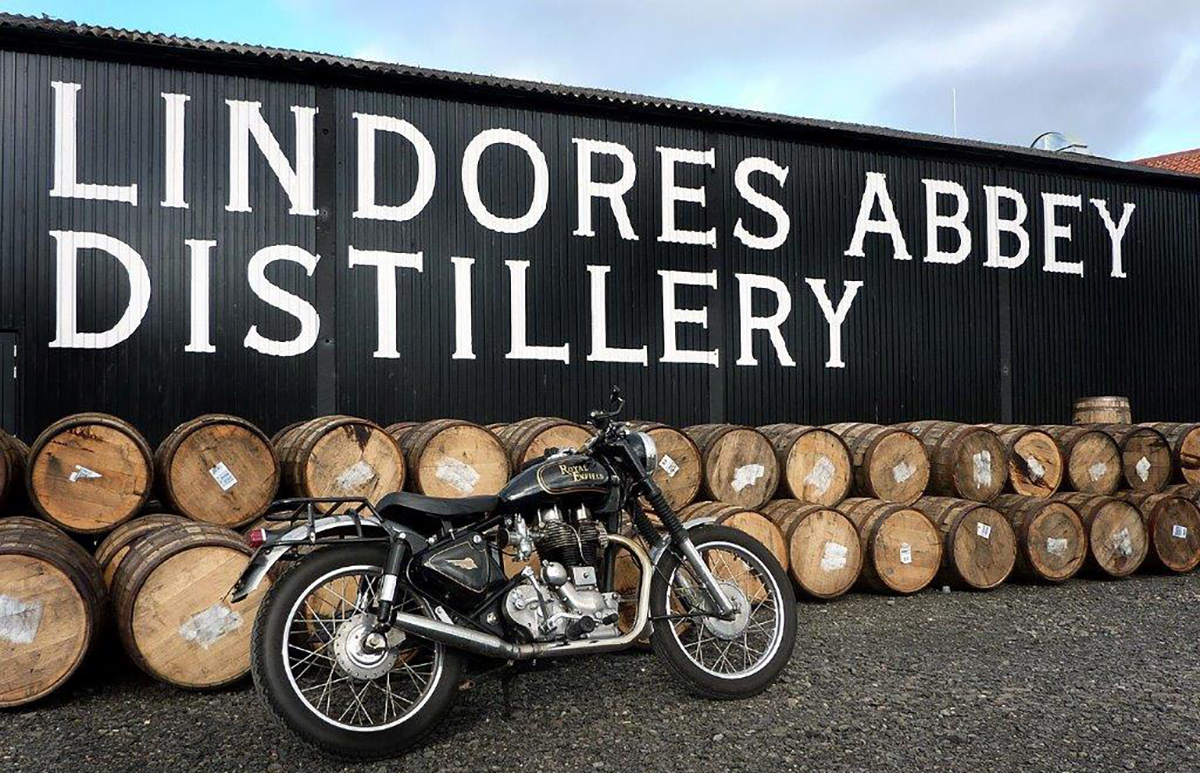 Lindores Abbey Distillery / Photo Credit: Lindores Abbey Distillery
An abbreviation of Neachneohain, the Queen of Spirits in Gaelic legend, Ncn'ean Distillery is an exciting project which puts experimentation at the forefront.
According to the distillery team, production will see different mashing times, slower fermentation and unique yeast strains. Fruit-forward, smooth spirits are expected to roll off their unique lamp-glass shaped stills.
Most noteworthy, Ncn'ean also claim to be Scotland's first organic distillery. The energy used comes from renewable sources, the spent grain feeds local cattle, and all waste is recycled through the warehouses.
Production began in March this year with the first release expected in 2020. If you need a taste before that, the distillery already offers casks for sale.
Ncn'ean Distillery Stillhouse / Photo Credit: Ncn'ean Distillery
Located on the Isle of Skye, Torabhaig is the island's second distillery, after the world-famous Talisker plant.
They converted a two-century farmstead into the new distillery, and production began in January 2017. Look for slightly peated, fruity island-style whisky here. The plant will be open to visitors nearing the end of the year.
Torabhaig Distillery / Photo Credit: Simpson & Brown Architects
Toulvaddie is the first Scotch whisky distillery to be founded by a woman in 200 years.
Founder Heather Nelson has been planning and designing the distillery for years, and construction has finally begun. Located in the Highlands of Scotland, the distillery will be built on a Royal Navy Airbase where pilots once trained.
"Much of the base has been returned to farmland after it was no longer needed by the Navy for bomber training. I want the distillery to retain some of that history and the spirit of the men and women who worked there," said Heather concerning her distillery's location.
There are other, exciting distilleries planned for 2018 and 2019, but we'll wait a while before announcing those.
So much whisky, so little time.
Toulvaddie Founder Heather Nelson / Photo Credit: Toulvaddie Distillery
---
Ready to try a new generation of scotch?
With Distiller, you'll always know what's in the bottle before you spend a cent. Rate, Review, and Discover spirits! Head on over to Distiller, or download the app for iOS and Android today!