Lagavulin 16 isn't a spirit one encounters often as the base of a cocktail. Long a favorite of Islay whisky fans, the Scotch is typically enjoyed neat or perhaps over ice. Presumably that's how Ron Swanson, the character played by Nick Offerman on "Parks and Recreation" would have it. His love for Scotch, and Lagavulin in particular, has become well-known. In one episode of the show, Swanson declares that there is no wrong way to drink alcohol — until, that is, he visits the town's new mixology bar.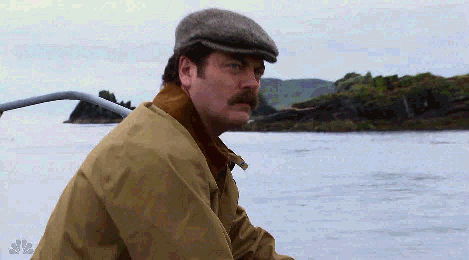 Ron Swanson and Lagavulin: Love at first sight
Swanson is the namesake for this cocktail served at Black Pearl, one of the pioneering cocktail bars in Melbourne. Located in the hip Fitzroy neighborhood, this Aussie bar is listed as one of the fifty best in the world. Additionally, it has been awarded Best International High Volume Cocktail Bar at the Tales of the Cocktail Spirited Awards. The main bar at Black Pearl may start slow in the evening, but gets packed with thirsty cocktail seekers on weekends and late at night. But upstairs, in a hidden away bar they call The Attic, the pace is a little slower. That's where bartender Nathan Beasley put this drink on the menu with the idea of swaying Ron Swanson back in favor of mixology.
Peaty Scotches aren't necessarily the easiest spirits to mix with, but The Swanson deftly melds ingredients with the strength to stand up against the Lagavulin. Lusciously sweet PX sherry and Becherovka, a Czech herbal liqueur with assertive winter spice notes, play remarkably well with the spirit. And with the final drink served over a big rock and garnished with the aromatics of freshly grated espresso bean, it's a fantastic nightcap. If he ventured to Melbourne to give it a try, even Ron Swanson might be persuaded to embrace mixology.
Photo Credit: Black Pearl
HOW TO MAKE THE SWANSON COCKTAIL:
– 30 ml (1 oz) Lagavulin 16
– 20 ml (⅔ oz) Becherovka
– 20 ml (⅔ oz) PX sherry
– 3 drops orange bitters
– Freshly grated coffee bean, for garnish
Combine the Scotch, Becherovka, sherry, and bitters in a mixing glass. Stir with ice, then strain into a rocks glass over a single large cube. Grate a light dusting of coffee bean over the cube as garnish.
Enjoy!
---
With Distiller, you'll always know what's in the bottle before you spend a cent. Rate, Review, and Discover spirits! Head on over to Distiller, or download the app for iOS and Android today!