Bardstown Bourbon Company: Embracing the New Side of Contract Distilling
By Jake Emen
January 31, 2019
Just uttering the phrase "sourced whiskey" draws ire from the whiskey public at large these days. Whiskey fans are fed up—rightly so—with being lied to about who actually makes the whiskey they are purchasing.
But the trouble isn't non-distiller producers (NDPs) having other distilleries make their juice. That's always been done. It's the dark shroud covering the contract distilling industry: a number of whiskey brands have been operating somewhere between a total lack of transparency to downright fraudulently presenting their products. But there's a better side of sourcing whiskey and contract distilling. And the distillery leading the charge is the Bardstown Bourbon Company in Kentucky.
THINK COLLABORATION, NOT CONTRACT DISTILLING
The Bardstown Bourbon Company (BBCo.) wants you to rethink the phrase "contract distilling" and consider something else. "I am often asked if we do 'contract' production, and the answer is very simply no," says David Mandell, president and CEO of BBCo. "We've disrupted the traditional model. Our Collaborative Distilling Program is built around complete, custom whiskey production."
The stills / Photo Credit: Bardstown Bourbon Company
Customers participating in Bardstown's collaborative program can tweak any facet of the whiskey's production, starting with the mash bill. The specifics of yeast strains, fermentation, distillation, barrel types and maturation specifics are all up for negotiation. Mandell says they've already used 25 mash bills this year, and that only accounts for one of the aforementioned variables.
POWER TEAM FOR HIGH CAPACITY
Bourbon Hall of Famer Steve Nally leads the production team as master distiller, having also held that title at Maker's Mark. Also on board is John Hargrove, executive director of distillery operations. Hargrove is the former master distiller and distillery manager at Sazerac's Barton 1792 distillery.
Whiskey barrels / Photo Credit: Bardstown Bourbon Company
That highly experienced, highly skilled team is deploying some massive distillation firepower. While BBCo. has only been open for about two years, the distillery has already expanded its capacity twice. It can now churn out a staggering 6.8 million proof gallons per year, while turning over 70 fermenters per week.
There's no sign of slowing down, either. "[We're] effectively sold out for the next five years," Mandell says. "In a short period of time, we've become one of the most technically advanced and flexible whiskey distilleries in the world."
BBCo BRAND RELEASES TO COME
The majority of that crazy capacity is put towards the roughly 20 customers who are part of BBCo.'s collaborative program. However, some space has been reserved for in-house brands as well, with stock being laid down for future releases.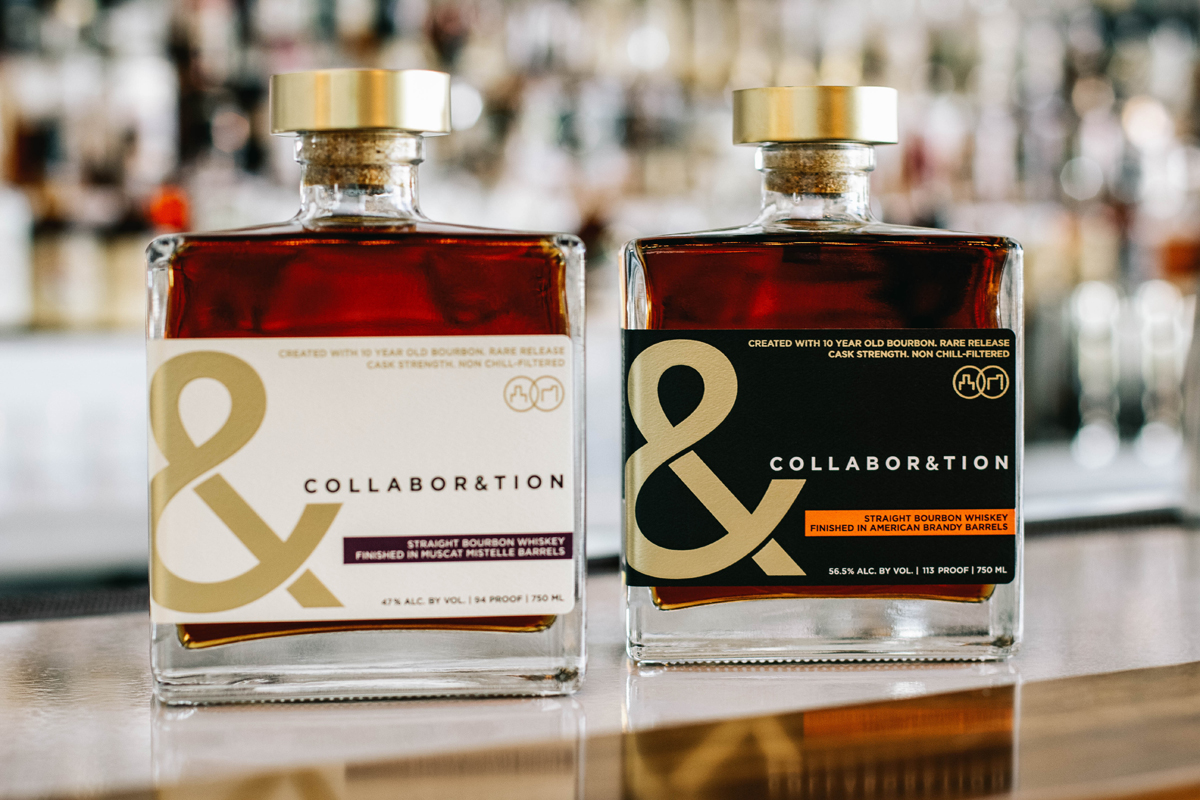 Collabor&tion whiskeys / Photo Credit: Bardstown Bourbon Company
If that sounds familiar, consider the recent path taken by Indiana's MGP. That distillery has been at the center of the sourcing firestorm, through no malfeasance of their own. MGP has directly released several brands in recent years, including Metze's Select, named for then-master distiller Greg Metze. And don't forget MGP's George Remus family of bourbons or the Rossville Union ryes. By releasing their own products, they said to the world—hey, we make really good whiskey. An obvious fact since so many other companies want to buy their stuff to begin with.
Speaking of which, Bardstown's first-ever product to hit store shelves was not only made in partnership with Copper & Kings, it was actually distilled by LDI (now MGP) itself. "Collabor&tion has two distinct expressions made with 10-year-old straight bourbon whiskey," Mandell says. "One finished in Copper & Kings' American Brandy barrels and the other in Muscat mistelle barrels, for more than 18 months in the Copper & Kings warehouse."
PROVIDING A BRAND HOME
BBCo. is taking things a step further by offering collaborative partners a space they can showcase to the world to represent their own brands. "[We] provide a production location and environment that they can celebrate and promote, and even make their 'home,'" says Mandell.
Bottle & Bond / Photo Credit: Bardstown Bourbon Company
Bardstown's Bottle & Bond is a private dining and event space, and it's something their customers can use to host events and build their products. "Our collaborative distilling partners now have the ability to… create educational and entertaining experiences for their guests which often include their own sales teams, distributors, retail establishments, and bartenders from around the country," says Mandell.
No more hiding in the shadows—here's where it's made, here's who's making it, and here's how they're doing it. "Education and celebrating the craft of making great whiskey and the Bardstown community that brings bourbon to the world is at the heart of everything we do," Mandell says. "It is in fact the mission of our company."
Whether you call it contracting or collaborating or yes, sourcing, there's no reason to shy away from it when it's done like this.
---
With Distiller, you'll always know what's in the bottle before you spend a cent. Rate, Review and Discover spirits! Head on over to Distiller, or download the app for iOS and Android today!