The final few days of spring are upon us! As we gear up for the Summer Solstice, Juneteenth and Father's Day, there are a few interesting bits of spirits news to share with you.
What's the oldest whisky you have ever tasted — 30 years old, 40, maybe 50? How would you like to find out what it's like to sip an 80-year-old Scotch? This week, Gordon & MacPhail announces plans to bottle Generations 80 Year Old Glenlivet, which was intentionally laid down for such an extended maturation way back in 1940! We have the details below.
In more whiskey headlines, we have an announcement about James Ownby Reserve Tennessee Bourbon Whiskey from Ole Smoky Distillery. There is also good news for whiskey tourists looking to plan their next adventures to Kentucky as the Heaven Hill Bourbon Experience reopens. Meanwhile, Scotch whisky enthusiasts can now plan a trip to the newly opened Cardhu Distillery Experience in Speyside, Scotland.
If gin is more of your thing and you're into the modern classic Bramble cocktail, you might be interested in the new Bombay Sapphire Bombay Bramble berry flavored gin.
As we wish you a belated National Bourbon Day, we kick off our coverage with the latest innovation from Tennessee's Cascade Hollow. Hello, George Dickel Bourbon!
By the way, if you're still looking for Father's Day gifts, surely you know where the liquor store is! We always have expert tasting reviews to help steer you in the right direction.
George Dickel Announces Launch Of Dickel Bourbon Ahead of National Bourbon Day
To coincide with National Bourbon Day on June 14, George Dickel announced the release of Dickel Bourbon from the Cascade Hollow Distillery. At 90 proof with an 8 year age statement, the mash bill consists of 84% corn, 8% rye and 8% malted barley. It will become part of the brand's permanent lineup, which will still include Tennessee whisky.
Cascade Hollow Distilling Co.'s General Manager and Distiller Nicole Austin has made a name for the distillery with mature Tennessee whiskey offerings. However, these traditionally-made bourbons have been waiting for the Austin treatment.
"At Cascade Hollow, we have a lot of whiskies that exemplify the Tennessee Whiskey style, but we also have inventory that has a lot more in common with bourbon as we understand it in America," said Austin. "Dickel Bourbon is an opportunity for us to finally share this quality liquid with the rest of the world. I'm particularly proud that we have the kind of mature whisky inventory that can deliver an 8-year-old bourbon. As a style, bourbon is meant to be more approachable and balanced, and Dickel Bourbon is a great entry point into our whole portfolio."
Dickel Bourbon will begin rolling out in select markets across the US this month for a suggested retail price of $32.99.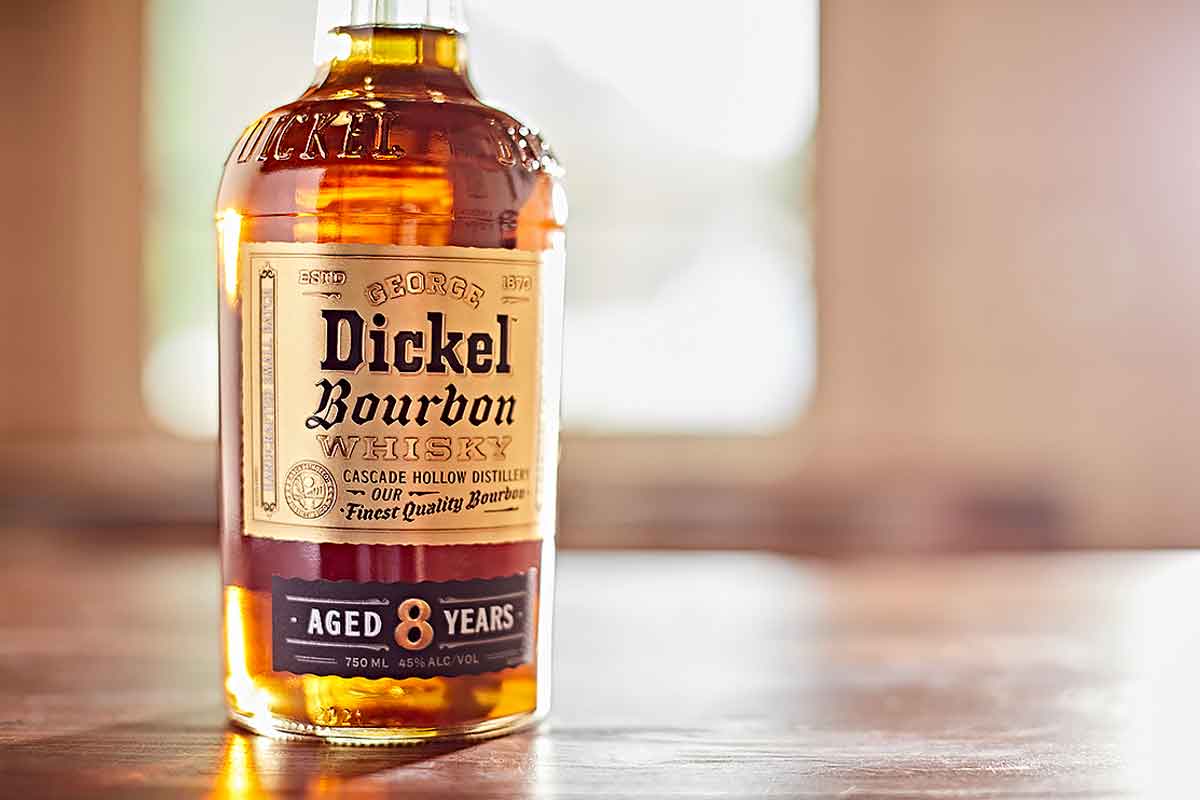 Dickel Bourbon /Photo Credit: George Dickel
Bardstown Distilleries Announce Unified Bourbon Series Celebrating the Bourbon Capital of the World
As a part of National Bourbon Day celebrations, the distilleries of Bardstown, Kentucky announced a collaborative project to further establish the region as the bourbon capital of the world. Heaven Hill, James B Beam Distilling Co, Bardstown Bourbon Company, Preservation and Log Still will release a joint, one-off bourbon series celebrating their Bardstown heritage, due to arrive this September. All proceeds from the release will be donated to the Bardstown community.
Eleven distilleries dot along sixteen miles of Bardstown, and for this National Bourbon Day event, each Master Distiller stood together to announce this collective project. Each distiller brought an example of one of their premium bourbon offerings bottled in custom packaging in honor of the event.
"My family's been in the area for generations, and we've always considered Bardstown our home," shared Freddie Noe IV, 8th Generation Distiller for James B Beam Distilling Co. "Not just because most of us have lived here, but because we're part of the community. So when this idea was brought to us, it was a no brainer. We're honored to join our fellow bourbon distillers in coming together for a good cause — and great bourbon."
The collaborative bottle design features iconic images from Bardstown, such as The My Old Kentucky Home museum as well as an ornate compass and a detailed regional map graphic. Also included is a booklet describing the product and process of every distillery.
The liquid will be bottled at Bardstown Bourbon Company's new 55,000 square foot bottling facility. It will be available for purchase exclusively on-site at each distillery's visitors center in September.
Master distillers announce Unified Bourbon Series /Photo Credit: Bardstown Distilleries
Enter Distiller's Glencairn Giveaway
Enter to win a pair of Distiller Glenciarns by rating your Father's Day weekend dram in Distiller! Write a whiskey tasting note in the Distiller app or on distiller.com and use the hashtag #DAD between now and at 11:59 PM PST on Sunday June 20th to enter. Two winners will be chosen to win a pair of engraved Distiller Glencairns! The winners will be notified via the email attached to their Distiller account. If you don't already have a Distiller account, click here to sign up. Giveaway is open to all countries that allow shipping from the US. Must be 21 or older to enter.
Distiller Glencairns
Gordon & MacPhail Introduces World's Oldest Single Malt Scotch Whisky: Generations 80 Year Old From Glenlivet Distillery, Presented in Partnership With Sir David Adjaye OBE
Independent bottler Gordon & MacPhail said it will release the world's oldest single malt Scotch this September — an 80 Years Old from Glenlivet Distillery — in partnership with Sir David Adjaye OBE.
On 3rd February 1940, the whisky was laid down by George Urquhart and his father John at Glenlivet Distillery in a Gordon & MacPhail cask.
Considered "the father of single malt," Urquhart was said to believe that each whisky should be left to the magic of time — until cask and spirit meet at the desired quality — and is ready to be shared. The time for Cask 340 was determined to be 80 years, longer than any other Scotch whisky in history.
On 5th February 2020, the cask was bottled, yielding a total of 250 decanters.
"That this whisky — the oldest single malt Scotch ever bottled — remains so full of vibrant flavour with a strength of 44.9% ABV, is testimony to knowledge handed down over successive generations of my family," explains Stephen Rankin, Director of Prestige at Gordon & MacPhail Whiskies, and member of the fourth generation of the family that owns the company.
To celebrate this unique accomplishment, Gordon & MacPhail collaborated with acclaimed architect and designer, Sir David Adjaye OBE, to create a unique decanter and oak case.
The choice of design is fitting, as 50th anniversaries are commemorated by gold, 80 years is traditionally celebrated with oak. This choice of material obviously also represents the decades-long aging of the whisky itself. Sir David Adjaye's decanter and case will be revealed in September 2021, with decanter number #1 auctioned by Sotheby's in early October 2021. Auction proceeds, minus costs, will be donated to Scottish charity Trees for Life, whose mission is to re-wild the Caledonian Forest.
Gordon & MacPhail Director of Prestige Stephen Rankin and the 80-year cask /Photo Credit: Gordon & MacPhail
Ole Smoky Distillery Launches Small-Batch Premium Whiskey Brand James Ownby Reserve Tennessee Straight Bourbon Whiskey
Ole Smoky Distillery has announced the launch of a small batch whiskey as its first expression honoring family ties — James Ownby Reserve Tennessee Straight Bourbon Whiskey.
The 94-proof whiskey is aged in new, charred American oak barrels. It is filtered with the Lincoln County Process, which means it passes through sugar maple charcoal before aging. Less than 200 barrels of James Ownby Reserve will be released this month.
The whiskey commemorates the history and spirit of James Ownby, the fifth generation great-grandfather of Ole Smoky Distillery's Founder, Joe Baker.
"James Ownby lived a life so epic we still tell his tale," said Baker. "A son of the revolution, a soldier, he was dedicated to his country. He enlisted at 17 and served six tours of duty throughout his esteemed military career. James fearlessly fought for our young country's freedom, for his beliefs and for a better way of life. His most notable service came as a member of the renowned 'Overmountain Men' regiment under the command of Colonel John Sevier in the Battle of Kings Mountain — the battle which Thomas Jefferson fittingly deemed 'The turn of the tide of success,' in the Revolutionary War."
In the late 1800s, James set down roots in East Tennessee, near where Ole Smoky operates today, on the edge of Great Smoky Mountains National Park. The Ownby family became known as one of the original distilling families to settle in the area.
The James Ownby Reserve bottle and label depicts the three stars found on the Tennessee State Flag, each representing the middle, east and west regions of the state. It also includes a personal message and signature of Joe Baker.
James Ownby Reserve Tennessee Straight Bourbon Whiskey is bottled at 47% ABV with an SRP of $39.99. It will be available in major markets and at Ole Smoky's Barrelhouse Distillery in Gatlinburg and 6th & Peabody in Nashville.
James Ownby Reserve Tennessee Straight Bourbon Whiskey /Photo Credit: Ole Smoky Distilery
Introducing Bombay Bramble a New Gin With 100% Natural Flavors of Blackberries and Raspberries
Bombay Sapphire has announced the US launch of Bombay Bramble, a new gin expression with flavors of blackberries and raspberries. The release coincided with World Gin Day on June 12. It is inspired by the classic Bramble cocktail, but with what they say is a modern twist with a fetching crimson color owed to the inclusion of the fruit. Bombay Bramble is the first flavored gin from the brand.
According to the press release, instead of using artificial flavors, colors or additional sugar after distillation, freshly harvested blackberries and raspberries are used to create a fruit infusion to capture their essence when they are most ripe. Bombay Bramble comes together by marrying the brand's proprietary vapor-distilled gin with the berry infusion.
"The launch of Bombay Bramble means we can now offer even the most discerning gin drinkers a sophisticated fruit flavored gin, while maintaining a balanced, premium taste profile that makes it ideal for cocktail creativity," says Ryan Wainwright, the national ambassador of Bombay Sapphire North America. "We look forward to gin lovers discovering this new flavor. The rich berried taste is bursting with natural flavors and is delicious served with tonic and a squeeze of lemon or in a selection of cocktails, with the added benefit of no artificial flavor or color."
Bombay Bramble is bottled at 43% ABV. It is now available in bars across the country and to buy at Drizly for an SRP of $22.99.
Bombay Bramble /Photo Credit: Bombay Sapphire
Heaven Hill Distillery Announces Grand Opening of Heaven Hill Bourbon Experience
This week, Heaven Hill Distillery announced the grand opening of the Heaven Hill Bourbon Experience in Bardstown, Kentucky. The Experience is the culmination of a multi-year, $125 million tourism investment that began in 2018. An additional $19 million was used to upgrade its interactive and educational space exhibits. Heaven Hill also invested $106 million across its American whiskey production facility that includes new barrel warehousing, bottling line and equipment upgrades, increased holdings of its bourbon, and various distillery enhancements.
To commemorate the event, Heaven Hill President Max L. Shapira and Kentucky Gov. Andy Beshear presided over a ribbon cutting ceremony in front of the 1935 distillery replica exterior. Gov. Beshear also presented Shapira and Kentucky Distillers' Association President Eric Gregory with a proclamation that officially names June 14 as "National Bourbon Day" in Kentucky.
Since it opened on October 15, 2004 as the Bourbon Heritage Center, The Heaven Hill Bourbon Experience has added more than 30,000 square feet, capable of welcoming over 900 guests.
"In the heart of Bourbon country, we welcome fans back to experience America's Native Spirit, immerse themselves in the long history of Heaven Hill, and learn about the award-winning portfolio of storied brands now told on these walls," said Heaven Hill President Max L. Shapira. "We honor the vision held by my father and his four brothers, celebrating the people who built the foundation upon which we stand today. The Heaven Hill Bourbon Experience is an innovative, state-of-the-art tourism model, grounded in history, and developed to entice fans for generations to come."
The exhibits offer a combination of interactive and educational experiences to showcase the history of Heaven Hill through the ages, its brands and Kentucky bourbon in general. Please visit the website for further information on the exhibits, hours, location and other details.
The Heaven Hill Bourbon Experience /Photo Credit: Heaven Hill
A "Reimagined" Cardhu Distillery Opens in Speyside
This week, Diageo planted another flag for whisky tourism in Scotland with the opening of the reimagined Cardhu Distillery in Speyside.
One of its proudest features is the flag that was once used by whisky pioneer Helen Cumming, of Cardhu's founding family, to warn distillers of the approaching "excise man" in the 1800s. This is one of the ways the new visitor experience celebrates the distillery's 200-year history and legacy as a vital part of the Johnnie Walker legacy.
The distillery was originally sold by the Cummings family to Johnnie Walker and Sons in 1893, and became an important component in Johnnie Walker production over the coming decades. The state-of-the-art space includes various story-telling experiences both visual and tactile.
"Cardhu is a special whisky, a special distillery with a special history and heritage, and the investment we have made creates an exciting and engaging experience that will surprise and delight visitors whether they are local stay-cationers in the UK or tourists from around the globe when they are able to travel," said Diageo Chief Marketing Officer Cristina Diezhandino.
Cardhu is the third of what are known as the Four Corner Johnnie Walker distillery experiences — single malt distilleries representing Scotland's four whisky making regions and make up various Johnnie Walker expressions. Following the launch of Johnnie Walker Princes Street set for later this summer, Caol Ila Distillery on Islay will be the next to reopen in 2022. This comes after the recent reopening of the famous "ghost" distillery of Brora, as part of the Diageo investment.
Cardhu Distillery /Photo Credit: Diageo
---
Want to grab a bottle of Dickel Bourbon?
With Distiller, you'll always know what's in the bottle before you spend a cent. Rate, Review, and Discover spirits. Head on over to Distiller, or download the app for iOS and Android today!
Want to enjoy Distiller ad-free? Join Distiller Pro today to support the Distiller platform and keep ads off of your screen.