New Booze News: Lagavulin 8, Glenglassaugh, Big Peat Christmas and More!
By Stephanie Moreno
November 10, 2017
We're in the last couple of months of 2017, but there's always something new to discuss in the whiskey world. For starters, Diageo has announced that Lagavulin 8 is now a a permanent member of the Lagavulin family. Glenglassaugh has a quartet of single malts hitting the shelves—each with a different wood finish; a first for them. To get you in the holiday mood, Douglas Laing has released their Christmas bottling of Big Peat, their blended Islay malt brand. All this and more in the booze news for the week of November 6, 2017!
SCOTLAND
This bottling first came to the market as a limited edition release to mark the distillery's 200th anniversary in 2016 and is now a permanent addition to their family. Lagavulin created this whisky in a style meant as a throwback to the type of whisky that they may have been producing around the 1880s. This peated single malt is 48% ABV and has an average retail price of around $66.
Lagavulin 8 Year / Photo Credit: Lagavulin
Glenglassaugh Wood Finish Series
This collection marks the first wood finish whiskies in the distillery's history. All four no-age statement single malts age first in first-fill American oak barrels. The whisky then transfers to each respective casks for up to two years to finish the maturation process. Each is bottled at 46% ABV.
Glenglassaugh whisky maker Rachel Barrie describes the range as such:
"From the sweet earthiness of our peated spirit enlivened by American virgin oak, to luscious full-bodied sweetness intensified in casks of Pedro Ximenez; from the tempestuous waves of fruit and smoke bottled as Peated Port Wood, to the sublime elemental fruit and freshness of Glenglassaugh Port Wood. I look forward to sharing this multi-dimensional voyage along our elemental coast."
Peated Port Wood, Port Wood, and PX Sherry Wood suggested retail price £60 ($79) each.
Peated Virgin Oak has a suggested retail price of £70 ($92).
Glenglassaugh Wood Finish Series / Photo Credit: Glenglassaugh
This bottling marks the seventh Christmas limited edition release from Douglas Laing & Co., bottlers of Big Peat. To honor the seventh release, this blended malt consists of seven single malts from Islay. This no-age statement release comes in at a cask strength of 54.1% ABV.
Douglas Laing's Managing Director and creator of Big Peat, Fred Laing says:
"The resulting liquid captures that signature smoky style with a marvellously maritime quality, just perfect for sipping by the fire, feet up on a cold winter's night. Big Peat's not ready to put his feet up just yet though, with one final big announcement to follow before the year is out."
Suggested retail price $60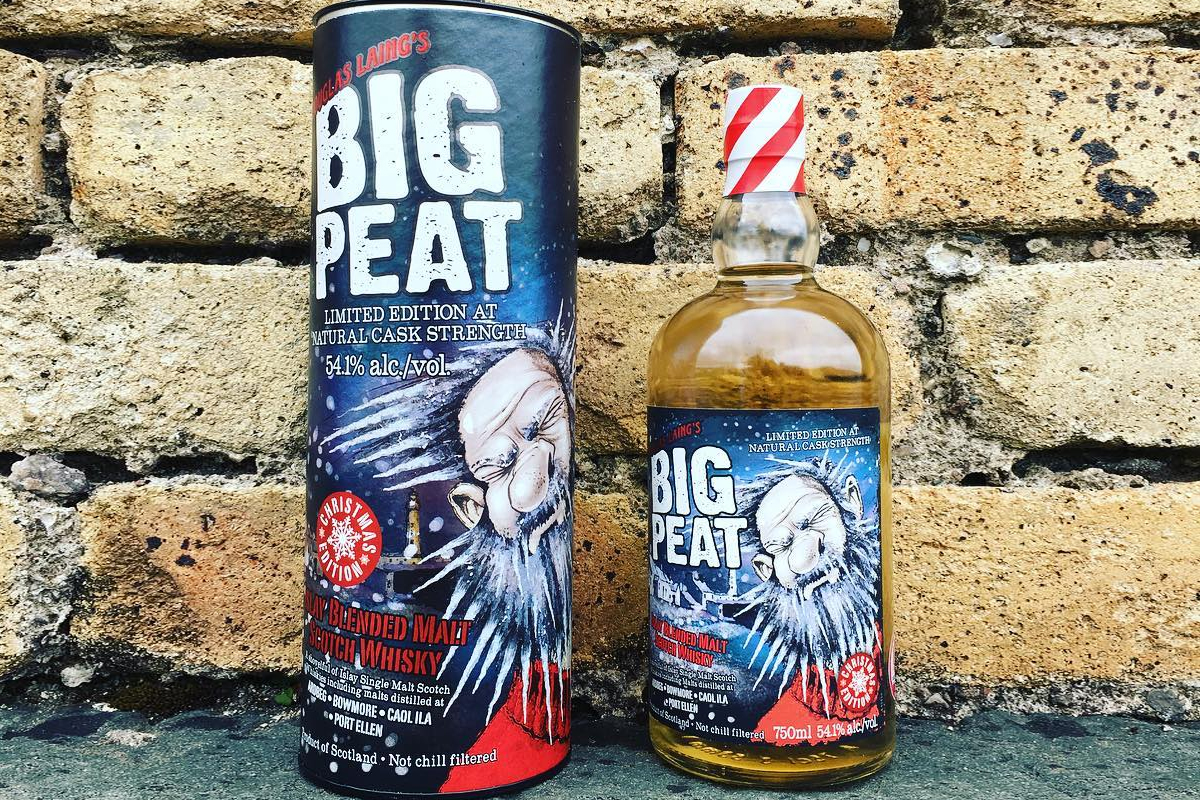 Big Peat Christmas 2017 / Photo Credit: Douglas Laing
USA
Redemption sourced this whiskey, which was distilled at the Seagram's Distillery (now MGP) in Indiana back in 1998. This straight rye aged for 18 years in new, charred American oak. Bottled at 54.95% ABV, there are 1,800 bottles available for sale. Suggested retail price $450.
Redemption 18 Year Straight Rye / Photo Credit: Redemption
IRELAND
Part of the Whiskey Makers Series, which emphasizes different aspects of the production process through the lens of one of Jameson's Heads (Head Blender, Head Cooper, Head Distiller). The Blender's Dog is, of course, the Head Blender Billy Leighton's bottling. The forgotten art in the process of whiskey making, blending is essential to creating complex, harmonious and consistent products from batch to batch.
Leighton's weapon of choice is a "dog," a small container on the end of a chain that he uses to extract samples from each cask. The final product is a marriage of grain and of pot still whiskeys aged in ex-bourbon and in ex-sherry casks.
This release has been out for a year in other markets, but is only just now available in the US as of November 2017. Suggested retail price of $70.
Jameson The Blender's Dog / Photo Credit: Jameson
---
With Distiller, you'll always know what's in the bottle before you spend a cent. Rate, Review, and Discover spirits! Head on over to Distiller, or download the app for iOS and Android today!