It's no secret that Scotch whisky is prospering, and has been for a while now. We've already seen numerous new players enter the market, yet the industry shows no signs of slowing down. Join us as we take a look at a number of new Scotch whisky distilleries set to open in 2019.
Boom. Bust. Boom.
The Scotch whisky industry has always been cyclical. There have been incredible lows, such as the Pattison Crash in the late 19th century, as well as the crisis in the 1980s. In both instances many whisky distilleries closed their doors, and were lost forever.
However, we're currently experiencing a boom like never before. Exports of Scotch whisky earned $177 every second, for a total of almost $5.7 billion in 2017. A key point being that the value of an average bottle of single malt scotch has soared. Quite simply—people are willing to pay more.
Roughly 20 million casks of Scotch whisky lie maturing in Scotland, made in one of over 130 Scotch whisky distilleries that are currently operational. That's counting distilleries of both malt and grain whisky, all of which produce a product with a unique flavor profile.
While that may sound like more than enough, currently there are roughly 30 new Scotch whisky distilleries in either the construction or planning phase. Most won't be ready to start production anytime soon, but a few are slated to open their doors in 2019.
Falkirk Distillery
In whisky circles, the town of Falkirk is famously known as the former home of Rosebank, an iconic distillery that closed its doors in the early 1990s. Even though Rosebank is set to re-open in a few years, Falkirk Distillery aims to revive the style of this classic Lowland distillery.
Two of the old stills from the demolished Caperdonich Distillery will be used to produce Falkirk's own distinctive triple-distilled whisky. Once complete, the distillery will provide 85 full time jobs, and hopes to attract around 75,000 visitors per year.
Falkirk Distillery / Photo Credit: Falkirk Distillery
Holyrood Distillery
One of two new Scotch whisky distilleries expected to open in Edinburgh this year, Holyrood Distillery raised $7.4 million in 2018. The funds are being used to renovate a 180-year-old railway building into an urban distillery and visitor center. The distillery is a joint venture between David Robertson, a former master distiller of The Macallan, and Rob and Kelly Carpenter, founders of the Canadian branch of the Scotch Malt Whisky Society.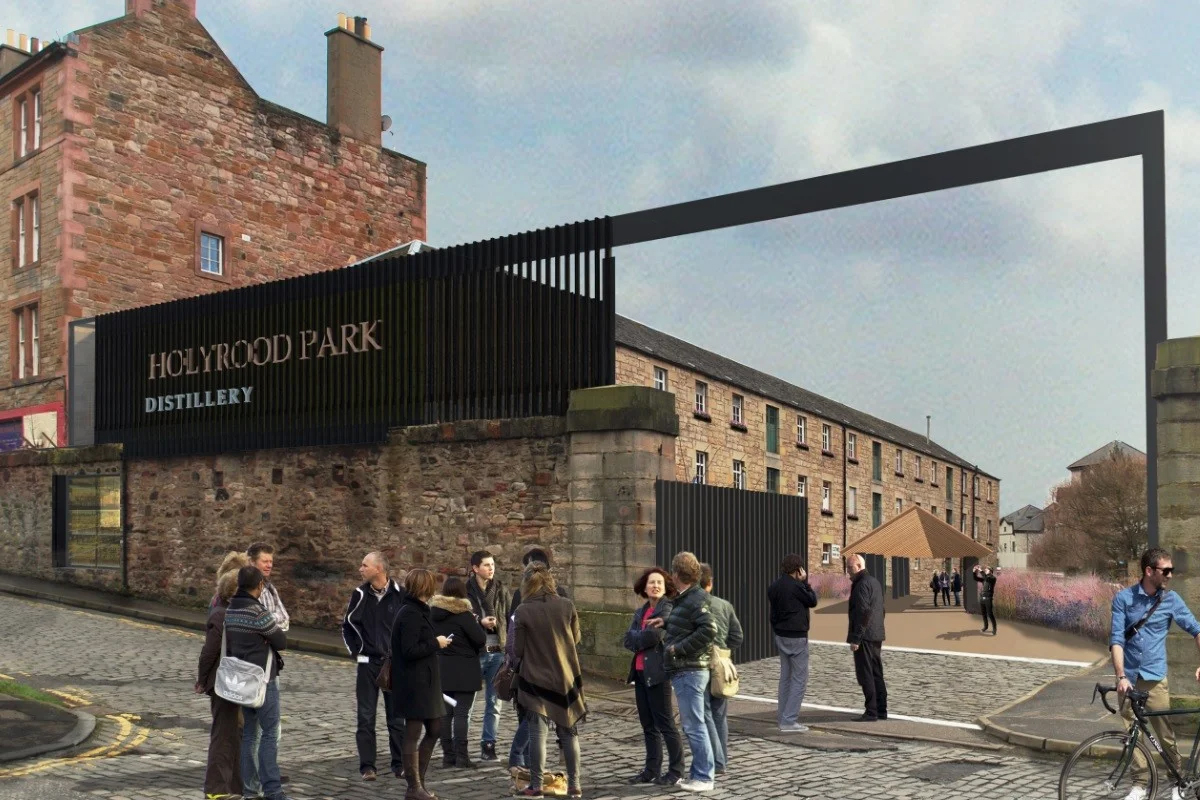 Holyrood Distillery / Photo Credit: Holyrood Distillery
Crabbie Distillery
The origins of the Crabbie name can be traced back to the early 19th century, when Miller Crabbie began his merchant business in Edinburgh. His son John later became a pioneer in Scotch whisky, being the first chairman of North British Distillery, as well as founding a blending company.
The Crabbie Distillery commences distilling later this year, expecting to produce up to 165,000 liters of spirit per annum. In anticipation, a 8-year-old and 30-year-old Crabbie whisky (sourced from a Speyside distillery) were launched in 2018.
Crabbie Distillery / Photo Credit: Crabbie Distillery
Lagg Distillery
Founded in 1995, the Isle of Arran Distillery has been nothing but a triumph. Emboldened by the success of their first venture, the owners are about to open a second distillery on the Isle. Situated on the southern outskirts of the island, Lagg Distillery will produce a heavily peated malt whisky—in the same vein as some of the most iconic Islay single malts. At full tilt, Lagg Distillery will be capable of producing 700,000 liters per year.
Lagg Distillery / Photo Credit: Lagg Distillery
Clutha Distillery
Like many other independent bottlers have done before, Douglas Laing is opening its own Scotch whisky distillery. Located in Glasgow, Clutha will feature a whisky archive, visitor's center, warehouse and bottling plant. There will also be a bar and bistro. Additionally, Douglas Laing plans to use the distillery as its new head office.
Though technically situated in the Lowlands, Clutha plans to produce a style closer to that of the Speyside and Highlands. Once opened, it will be the fourth distillery in Glasgow, joining Clydeside, Glasgow Distillery and Strathclyde.
Clutha Distillery / Photo Credit: Douglas Laing
Ardross Distillery
Roughly 30 miles north of Inverness, not far from established distilleries Dalmore and Glenmorangie, you'll find the site of another new Scotch whisky distillery. A group of 19th century buildings, including a farmhouse and cottages, have been converted into Ardross Distillery.
The $19 million project will also house a gin distillery, as well as a blending and product development lab. Stone and slate has been salvaged from the existing collapsed structures in order to rebuild walls and roofs.
Ardross Distillery / Photo Credit: Ardross Distillery
If you had trouble deciding on what Scotch to buy in the past, brace yourself. Scotch whisky is flourishing, and you'll only have more to choose from in the future.
---
With Distiller, you'll always know what's in the bottle before you spend a cent. Rate, Review and Discover spirits! Head on over to Distiller, or download the app for iOS and Android today!