As we reach the midway point for July, we have lots of new whiskey releases to tell you about. First, Balcones Lineage is the latest addition to the Texas-based distillery's portfolio. It will be released in several markets next month. Next, the annual release of Yellowstone Kentucky Bourbon was announced this week. Notably, this year's edition sees an armagnac finish. Meanwhile in other Kentucky bourbon news, the second batch of Booker's Bourbon has been revealed. Boston Batch is hitting shelves nationwide this month.
Looking beyond the US, Tel Aviv-based Milk & Honey has three releases from its core range coming Stateside this month. Specifically, this includes two whiskey releases as well as a gin all made at the Israeli distillery. We've got all the details below on these releases and more in Distiller's Friday Roundup for July 17, 2020.
Diageo Announces 100% Plastic-Free Paper-Based Bottle
This week, Diageo announced the creation of a 100% plastic-free bottle. Pulpex Limited, a new sustainable packaging technology company, has developed a paper-based bottle made from sustainably sourced pulp. Another key point for the bottle is that it is expected to be fully recyclable in standard waste streams. Significantly, this unique bottle will launch with one of the world's largest spirit brands—Johnnie Walker—in early 2021.
"We're proud to have created this world first," says Ewan Andrew, chief sustainability officer at Diageo PLC. "We are constantly striving to push the boundaries within sustainable packaging and this bottle has the potential to be truly ground-breaking. It feels fitting that we should launch it with Johnnie Walker, a brand that has often led the way in innovation throughout its 200 years existence."
Diageo's 100% Plastic-Free Paper-Based Bottle /Photo Credit: Diageo
Balcones Lineage Added to Brand's Portfolio
Texas-based Balcones Distilling has announced a new addition to its portfolio. Balcones Lineage Texas Single Malt is made using a combination of Scottish-grown Simpsons Golden Promise malted barley as well as malted barley grown in the Texas High Plains. Additionally, the American single malt matured in both used oak barrels—as is typical in Scottish single malt production—and virgin charred oak barrels—which is more traditional for American whiskeys.
"Whether it is unique flavor or process innovation, we are always striving to contribute something new to the whisky conversation," said Jared Himstedt, head distiller at Balcones Distilling. "By combining new & old world ingredients, process, and maturation approaches, we have created something entirely new, and in doing so, we are hoping to push the American Single Malt category forward."
Balcones Lineage is expected to be available year-round with availability beginning as of August 2020 in Texas, California, Colorado, Georgia, Minnesota, New Jersey, New York and Oklahoma. Later in 2021 additional markets are expected to follow. Its SRP is $39.99.
Balcones Lineage /Photo Credit: Balcones
Yellowstone 2020 Limited Edition Arriving in September
Limestone Branch Distillery has released its 2020 Limited Edition Yellowstone Straight Bourbon to launch in September 2020 for National Bourbon Heritage Month. This limited edition is a 7-year-old Kentucky Straight Bourbon which finished its maturation in French oak armagnac barrels. It was blended by Limestone Branch Master Distiller Steve Beam and is bottled at 101 proof. Just 5,000 cases will be available with an SRP of $99.99.
2020 Limited Edition Yellowstone Straight Bourbon /Photo Credit: Yellowstone
Latest Booker's Bourbon Batch for 2020 Announced
The second 2020 batch for Jim Beam's Booker's Bourbon has been announced this week. Booker's Bourbon Batch 2020-02 "Boston Batch" is named after the production site where Booker Noe started his career. Located in Boston, KY, the distillery was purchased by James B. Distilling Co. in the 1950s and is now named Booker Noe Distillery.
Of course, the bourbon is bottled uncut and unfiltered as is standard for the brand. It was aged for 6 years, 3 months and 10 days and is bottled at 126.5 proof. It is available nationwide in limited quantities as of this month with an SRP of $89.99.
Milk & Honey Distillery's Core Range Has Launched in the US
Located in Tel Aviv, Milk & Honey Distillery is an up and coming world whisky producer. Although the warm Israeli climate brings challenges to production, it also intensifies the maturation process. As a result, this allows Milk & Honey to release relatively young whisky with a mature flavor profile. This month, the brand is launching its core range in the US.
Classic Single Malt Whisky matured in ex-bourbon casks, STR casks and a small percentage of virgin oak. It's bottled at 46% ABV and has an SRP of $60.
Also released is Elements Sherry Cask which is made using primarily sherry casks—both oloroso and Pedro Ximenez—in its maturation. Additionally ex-bourbon casks are also used. In fact, the sherry casks were produced exclusively for the brand and they are certified Kosher. Furthermore, it's bottled without chill-filtration at 46% ABV. Future Elements releases will follow including Peated and Red Wine versions. It carries an SRP of $65.
Lastly, there's Levantine Gin which begins with the Israeli new make single malt as its base. Botanicals including juniper, za'atar plant, lemon peel, chamomile, verbena, cinnamon and black pepper are added and allowed to rest for 48 hours. Then it is re-distilled and bottled at 46% ABV. It has an SRP of $40.
Milk & Honey Classic Single Malt Whisky /Photo Credit: Milk & Honey
Tidbits From Around The Spirits World…
Let's take a quick look at what else is going on around the world this week…
Nevada's Frey Ranch Releases its Inaugural Straight Rye Whiskey
Frey Ranch is a farm-to-glass distillery with 100% of the grains grown on its 1500-acre farm in Fallon, Nevada. For the inaugural Straight Rye release, 100% winter cereal rye is used in the mash. Additionally, this is a bottled-in-bond release—distilled at one distillery, is the product of one season, and is aged for four years in a bonded warehouse. The rye is also not chill-filtered before bottling at 50% ABV.
Batches 1 & 2 will consist of 3,000 and 2,400 bottles respectively. Additionally, availability is limited to Nevada as of July 2020 with an SRP of $59.99.
Frey Ranch Straight Rye /Photo Credit: Frey Ranch
Still Austin Releases its First Straight Bourbon
Still Austin is a grain-to-glass distillery founded in Austin, Texas in 2015. For the brand's Straight Bourbon, 100% of the grains were sourced from Texas farmers. In this case, the mash bill is 70% non-GMO white corn, 25% Elbon rye, and 5% Wildfire malted barley. Furthermore, it's aged for at least two years in new, charred American oak barrels.
As for its label, the artwork entitled "The Musician" was created by Texas-native Marc Burckhardt and is the first in a series of portraits of archetypical Austinites created for the brand. The bourbon is available in Texas as of August 2020 with an SRP of $45.
Still Austin Straight Bourbon /Photo Credit: Still Austin
New Releases On The Horizon
We try to keep an eye on all of the label approvals that go through the TTB (The Alcohol and Tobacco Tax and Trade Bureau) so we know which releases to look out for. Here are a few of the most interesting looking approval submissions we'll likely see in the not-too-distant future. Keep in mind that ABVs listed are also subject to change.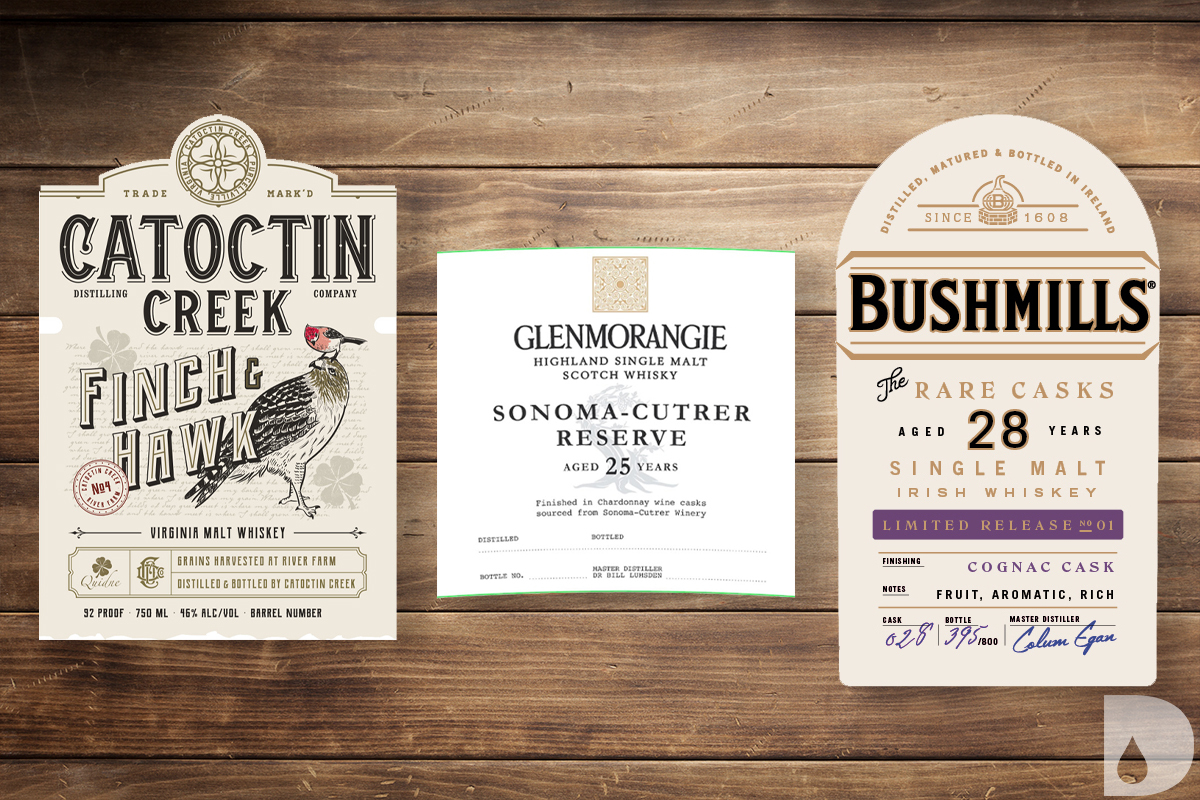 Upcoming TTB Labels
This appears to be the first malt whiskey produced by the Virginia-based distillery which was founded in 2009.
What We Know:
The malt whiskey is made with barley sourced from River Farm located on the banks of the Potomac River. After aging in new, charred oak barrels it is finished in wine barrels from local wineries.
Glenmorangie is known for single malt finished in specialty barrels such as sherry, port, and Sauternes among many others. However this appears to be the first chardonnay finish for the brand.
What We Know:
The single malt is "long finished" in chardonnay casks from celebrated Sonoma Valley winery, Sonoma-Cutrer. Aged for 25 years, it is bottled without chill-filtration at 50.4% ABV.
The Rare Casks is a new upcoming series from Bushmills. This is its first release.
What We Know:
Distilled in 1992, the single malt was initially aged in ex-bourbon and ex-sherry casks. Additionally, it was finished in ex-cognac casks.
---
Ready to try Balcones Lineage?
With Distiller, you'll always know what's in the bottle before you spend a cent. Rate, Review, and Discover spirits. Head on over to Distiller, or download the app for iOS and Android today!
Want to enjoy Distiller ad-free? Join Distiller Pro today to support the Distiller platform and keep ads off of your screen.