As we head into an exciting weekend of Sweet Sixteen basketball, March Madness not only applies to hoops, but for whiskey releases as well. There was a slew of them this week. For example, we got word about the new Jefferson's Rye Cognac Cask Finish. This is only the second rye whiskey from the brand which already makes it special. The cognac finish is just icing on the cake. And speaking of sweets, the latest flavor of ice cream from Ben & Jerry's was announced this week. But wait, why are we talking about ice cream? Well, it's flavored with WhistlePig whiskey, so that ought to pique your interest.
Of course there are other whiskey releases to look forward to such as the newest batch of single casks from independent bottler Lost Lantern. Also whiskey fans may want to travel to Kentucky to get their hands on the latest from Old Forester. And if you're into older Scotch whiskies, you might be keen to hear about the latest release from Highland Park. That whisky was distilled before Neil Armstrong walked on the moon so yeah, it's gonna cost you. But if your brackets are still holding up, perhaps there's hope for you yet!
We've got lots more spirits news to share with you so let's get to it. Read on for Distiller's Friday Roundup for March 26, 2021!
Jefferson's Bourbon Introduces Jefferson's Rye Cognac Cask Finish
Jefferson's Rye Cognac Cask Finish is just the second rye release for the Jefferson's Bourbon brand which first released a rye to its portfolio in 2008. For this bottling, fully matured rye whiskey spends at least 9 months in a cognac cask to finish its maturation. It's available as of March 2021 with an SRP of $69.99.
"I wanted to look at rye through a new lens and elevate it past the supporting role it's commonly associated with," says Founder Trey Zoeller. "The spirit's spice and character have historically made it an ideal base for cocktails, but Jefferson's Rye Cognac Cask Finish is just as well-suited for sipping."
Jefferson's Rye Cognac Cask Finish is available as of March 2021 with an SRP of $69.99.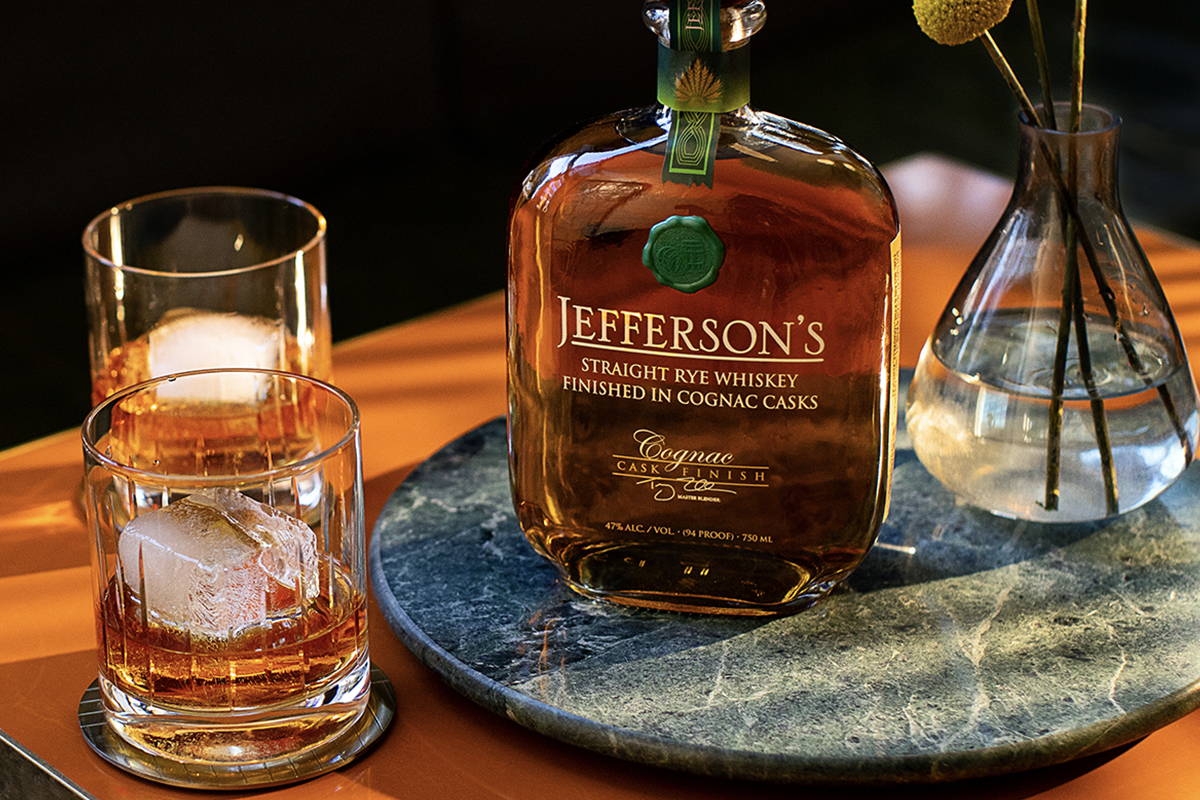 Jefferson's Rye Cognac Cask Finish /Photo Credit: Jefferson's Bourbon
Bardstown Bourbon Co. Releases Second Collaboration with The Prisoner
For this second collaboration with The Prisoner Wine Company the bourbon brand begins with 10-year-old Tennessee bourbon. The bourbon is then finished in French oak red wine barrels for 18 months which previously held The Prisoner Red Blend. It's bottled at 100 proof with just 3,000 cases produced.
"The same attributes that made the initial release so special are back," says Steve Nally, master distiller at Bardstown Bourbon Company. "This is a very complex spirit, with a welcoming bouquet of dark fruit aromatics, honey, vanilla, and baking spices. Hints of the original premium grape blend take the lead on the palate with a touch of sweetness, turning to a ringing, balanced finish."
Availability for this release begins April 2021 within all of Bardstown Bourbon Company's current markets. It carries an SRP of $124.
Bardstown Bourbon Co. The Prisoner Wine Company #2 /Photo Credit: Bardstown Bourbon Co.
Lost Lantern Releases Spring 2021 Single Cask Collection
This week independent bottler Lost Lantern, founded by Nora Ganley-Roper and Adam Polonski, released its second batch of limited-edition single-cask American whiskeys. For this spring batch, the pair released three casks of southwest American single malt, a Texas bourbon, and a New York rye whiskey. Regarding the trio from Whiskey del Bac, the pair wanted to highlight the differences between the casks of mesquite-smoked whiskeys.
"This is a unique opportunity to present a comparison of the casks coming out of Whiskey Del Bac," commented Nora and Adam. "We think you can learn a lot about a distillery by trying several single barrels side-by-side, and the variety of flavors seen in these casks shows just how pronounced those differences can be, both as a result of different cooperage and simple barrel-to-barrel variation."
Each of the single cask offerings from Lost Lantern are bottled at cask strength without added color or chill-filtration. The details on the spring 2021 single casks can be found below.
Lost Lantern Spring 2021 Single Cask Collection /Photo Credit: Lost Lantern
Whiskey Del Bac
Each of these American single malt whiskeys were made with 100% malted barley, 60% of which was smoked with mesquite wood. Single Cask #5 was aged in a second-fill American oak barrel and was bottled at 129.2 proof. Only 66 bottles were produced.
The sixth single cask was aged in a second-fill American oak barrel. It is bottled at 130.6 proof with just 63 bottles produced. And the seventh single cask was aged in a new American oak barrel. It was bottled at 122.2 proof with just 66 bottles produced. Each of the three single casks have an SRP of $100 each.
Balcones Distillery
The eighth single cask for Lost Lantern is a straight bourbon from Balcones Distillery made with 100% Texas-grown roasted blue corn. It was aged for 2 years in a 60-gallon new American oak barrel and was bottled at a cask strength of 126.8 proof. 199 bottles were produced and its SRP is $90.
New York Distilling Co.
And the ninth single cask is a straight rye from New York Distilling Co. It was made from a mash bill of 75% rye, 15% corn and 10% malted barley, primarily with New-York-grown grains. It was aged for 4 years in a 53-gallon new American oak barrel and was bottled at 117.2 proof. Only 133 bottles were produced with an SRP of $100.
ARE YOU A DISTILLER PRO MEMBER?
If you are already a Distiller Pro Member, thank you for supporting everything that we do here at Distiller. If not, please consider joining today! Distiller Pro members get access to exclusive perks like discounts, giveaways, pro-only features within Distiller and an ad-free experience.
If all of that sounds good to you, hop on over to the Distiller Pro page and sign up.
Old Forester Debuts The 117 Series with High Angels' Share Bourbon
The 117 Series for Old Forester aims to showcase experimentation and innovation. This inaugural release named High Angels' Share highlights bourbon barrels which lost volume to evaporation in the aging process. Old Forester's Master Taster Jackie Zykan directed this series and her signature adorns each bottle. Notably, this marks the first time a woman's signature has been on a label in the brand's history.
"Creating The 117 Series has been a labor of love and seeing my signature on the label is one of the highlights of my career," said Jackie Zykan. "My mind is exploding with the endless possibilities of this smaller scale of experimentation and innovation. This series presents an opportunity to pull the curtain back and share the isolates of the blending process to help deepen the understanding of how variants in maturation affect flavor profile. We're playing in uncharted territory here and those who love Old Forester like we do will have the chance to explore with us."
Expect future releases in the series to explore the wide range of Old Forester's flavor profiles. Limited quantities of 375ml sized bottles are available at the distillery and at select Kentucky retailers as of this week. It has an SRP of $49.99.
Old Forester The 117 Series High Angels' Share /Photo Credit: Old Forester
Highland Park Releases 50 Year Single Malt
Released this month, this 50-year-old single malt is just the third such release in Highland Park's history. First, nine refill casks were filled in 1968. Then the whiskies were married and recasked into first-fill sherry seasoned casks in 2008. After 12 more years of aging, one of these casks was selected and married with a small quantity of the previous 50-year-old release from 2018. This 50-year-old single malt yielded just 274 bottles, each of which is signed by Master Whisky Maker Gordon Motion.
"I introduced a small quantity of this cask to some of our 2018 batch of 50 Year Old, which I'd held back specifically for this purpose, to create a further layer of depth and complexity," said Motion. "As the 2018 50 Year Old also contains some of our 2010 batch of 50 Year Old – our first in the series – this approach allows me to maintain the core DNA of our oldest Highland Park whisky through each extremely limited batch release."
The 2021 Edition of Highland Park 50 Year will be available in specialty whisky shops globally with a limited amount available from the distillery and online. It has an SRP of $30,000.
Highland Park 50 Year 2021
WhistlePig Whiskey and Ben & Jerry's Combine Forces for Whisky Biz Ice Cream
This week, Vermont-based companies WhistlePig Whiskey and Ben & Jerry's announced the launch of Whisky Biz Topped ice cream. This is a brown butter bourbon ice cream with blonde brownies and a rich caramel swirl made using WhistlePig PiggyBack Rye Whiskey. The ice cream is topped with white chocolatey ganache & white fudge chunks. Notably, this release marks the first Vermont-sourced ingredient for Ben & Jerry's since chocolate chip cookie dough in the early 1990s.
"We've had an absolute blast working with our friends at Ben & Jerry's and could not be happier with the way Whiskey Biz turned out," says Meghan Ireland, whiskey blender at WhistlePig Whiskey. "Having been mostly focused on overseeing the development of whiskey these last couple years, working with flavor house experts at Ben & Jerry's was a real treat for me. We respect their company ethos and have always wanted to collaborate with their team."
If you're interested in cocktail and dessert ideas for the ice cream, the brands encourage you to grab a bottle of WhistlePig PiggyBack Rye and visit their site here. Ben & Jerry's Whiskey Biz is available now at retailers nationwide for around $4.99-5.49.
Ben & Jerry's Whisky Biz Ice Cream /Photo Credit: WhistlePig
TIDBITS FROM AROUND THE SPIRITS WORLD
Let's take a quick look at what else is going on around the world this week…
Donohoe's Batch is the first batch of Booker's Bourbon for 2021. It's named for Mike Donohoe, a retired Jim Beam employee and friend of Booker Noe. Donohoe was a former NFL player before he began working for the company in 1982 as a sales manager. He encouraged Noe to give bottles of his secret stash of bourbon as holiday gifts for important industry partners. This batch of bourbon was selected by Fred Noe, Booker's son and current master distiller. It is uncut and unfiltered after aging for 6 years, 11 months and 4 days. Released in March 2021, Donohoe's Batch has an SRP of $89.99
This Big Peat bottling from Douglas Laing is a limited-edition release honoring the heroes of the COVID-19 pandemic. The independent bottler is donating bulk sanitizer with a value of £10,000 and consumers are able to vote on the charity which will get the donation. The finalists include Erskine, Marie Curie and Hearts & Balls. The label features the brand's character Big Peat wearing a doctor's coat which he opens to reveal a superhero costume. Only 1,500 bottles of this Islay blended malt are available. This is an exclusive release for the UK with an SRP of £45.
This week, non-alcoholic brand Lyre's announced the release of three ready-to-drink canned cocktails. The new line includes a Classic G&T; an Amalfi Spritz meant to be an interpretation of an Aperol Spritz; and a Classico, a sparkling prosecco-style beverage.
These non-alcoholic cocktails are available in a 4-pack of 250ml cans which are hitting shelves this month or in a 12 pack on Amazon or the brand's website for $45.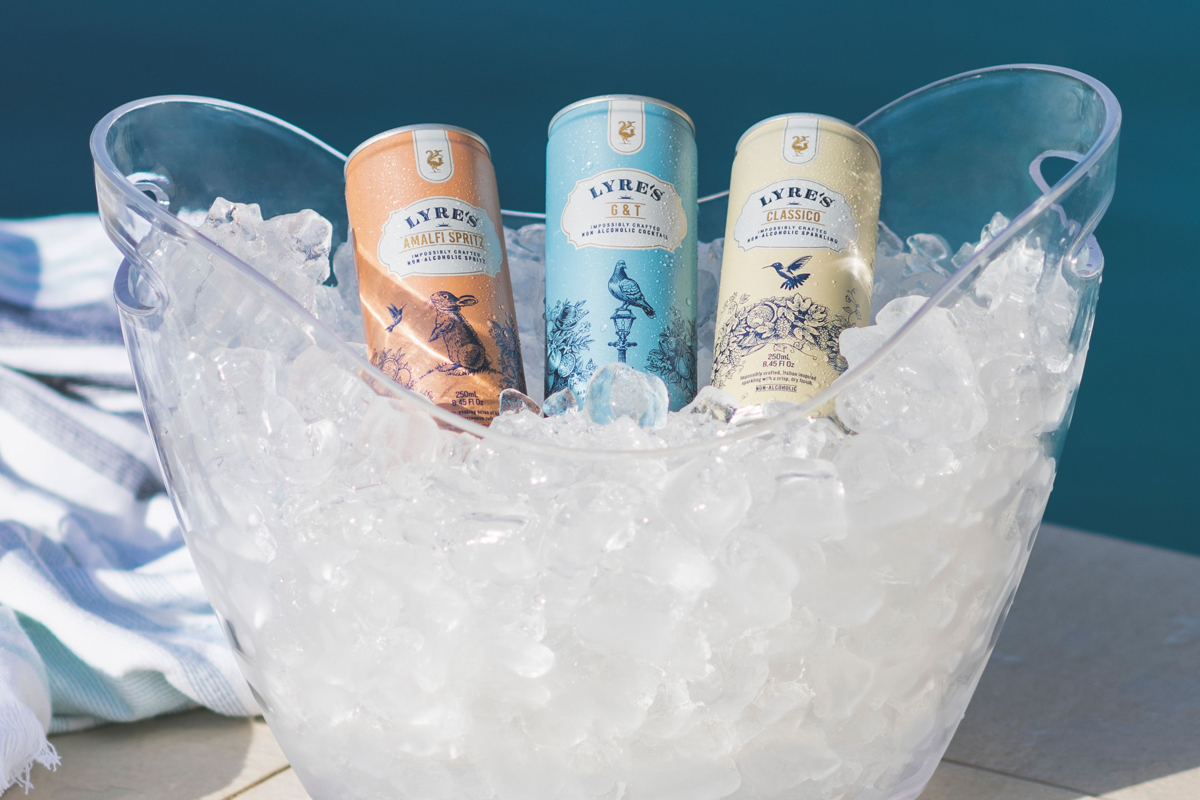 Lyre's Zero Proof Ready-to-Drink Canned Cocktails /Photo Credit: Lyre's
This bourbon is one of the brand's Distillery Reserve series releases. This is a high-rye bourbon with the rye grain sourced from Texas. Portions of six barrels of the high-rye bourbon were selected and blended before being recasked into one freshly charred oak barrel to finish aging. In total, the bourbon was aged for 3 years. Only 200 bottles were produced. Bottles will be available for $100 via an online lottery beginning March 25, 2021. The winners will be notified on April 1, 2021. Please note: bottles will have to be picked up in person at the distillery on April 10, 2021.
---
Ready to grab a bottle of Jefferson's Rye Cognac Cask Finish?
With Distiller, you'll always know what's in the bottle before you spend a cent. Rate, Review, and Discover spirits. Head on over to Distiller, or download the app for iOS and Android today!
Want to enjoy Distiller ad-free? Join Distiller Pro today to support the Distiller platform and keep ads off of your screen.