This year presented challenges to every industry, including whiskey. Many brands were expecting to celebrate anniversaries and release special editions, but the pandemic delayed a lot of those plans. However, even with these setbacks, many outstanding bottles from around the globe made it to our tasting glasses here in the States. The very important task of selecting the stand-out whiskeys for the year has been completed with this final whiskey gift guide featuring world whiskey gifts — for our purposes here, this means whiskeys produced outside of the US and Scotland.
Like the American and Scotch whisky gift guides, the whiskeys chosen for this list were selected for their taste, uniqueness and value. However, while most of those whiskeys were wide-release selections, a few in this guide were made in more limited quantities. But we didn't want to leave them off the list. If you happen to be in an area where they are available, do yourself a favor and pick one up for a loved one or yourself to share with friends when it's safe to do so.
Suntory AO World Whisky features whiskies from five different countries: Scotland (Ardmore & Glen Garioch), Ireland (Cooley), the US (Jim Beam), Canada (Alberta) and Japan (Yamazaki & Hakushu). The name "AO" is translated to "blue" and refers to the color of the ocean.
There's a very gentle mix of char and peat smoke on the nose. Sweet malt, toasted oak and a fruity note (mostly oranges) come through as well. The whisky is moderately rich on the palate with a sweet/tart flavor profile mixed with barrel spices. There's a more than average length to the bittersweet finish. It's also very easy to drink. Overall, taste-wise you get more of the European and Japanese whiskies coming through than the North American ones. Overall, it's an intriguing whisky, which for the price is a good value.
Initial availability was exclusive to Japan in April 2019, but it was released to global travel retail in October 2020 in these 16 countries: United States, Australia, Canada, China, Dubai, France, Germany, Hong Kong, Ireland, Netherlands, Singapore, Taiwan, Turkey, UK, India and South Korea.
Flavor Profile: Sweet & Spicy
SRP: $71
Suntory AO World Whisky /Photo Credit: Suntory
Blackpitts is the first Dublin-distilled peated single malt and just the second release for Teeling to be distilled at its newly-opened distillery. The name refers to the Blackpitts area just behind the distillery which was formerly used for malting, among other industries. The single malt is triple-distilled and matured in ex-bourbon and ex-Sauternes white wine barrels.
The whiskey lives up to expectations with the peat smoke, but you'll find some lovely orchard and tropical fruit notes as well. Unfortunately, folks in the US will have to wait until January 2021 to pick this one up. On the bright side, you'll have an excuse for being late with this year's holiday gift.
Flavor Profile: Vanilla & Full-Bodied
SRP: $74.99
Teeling Blackpitts Peated Single Malt /Photo Credit: Teeling
Waterford Distillery has had great success with its single malt releases this year with many of them selling out upon release. The Irish brand has primarily released single farm origin whiskeys; the barley used in each bottling was harvested from one farm. However, since this particular single malt features certified organic Irish barley, there simply wasn't enough yield to do a single farm origin release when this project was first started in 2015. As a result, the organic Irish barley for this bottling comes from six different farmers.
While the yield is lower than regular malted barley, Waterford still manages to lay down 400 to 600 casks of organic spirit each year. As for the barrels used in maturation, the breakdown is as follows: 43% first-fill American oak, 17% virgin American oak, 23% premium French oak and 18% Vin Doux Naturel casks. In Greek mythology, Gaia is the personification of Earth and the ancestral mother of all life.
Flavor Profile: Fruity & Full Bodied
SRP: $100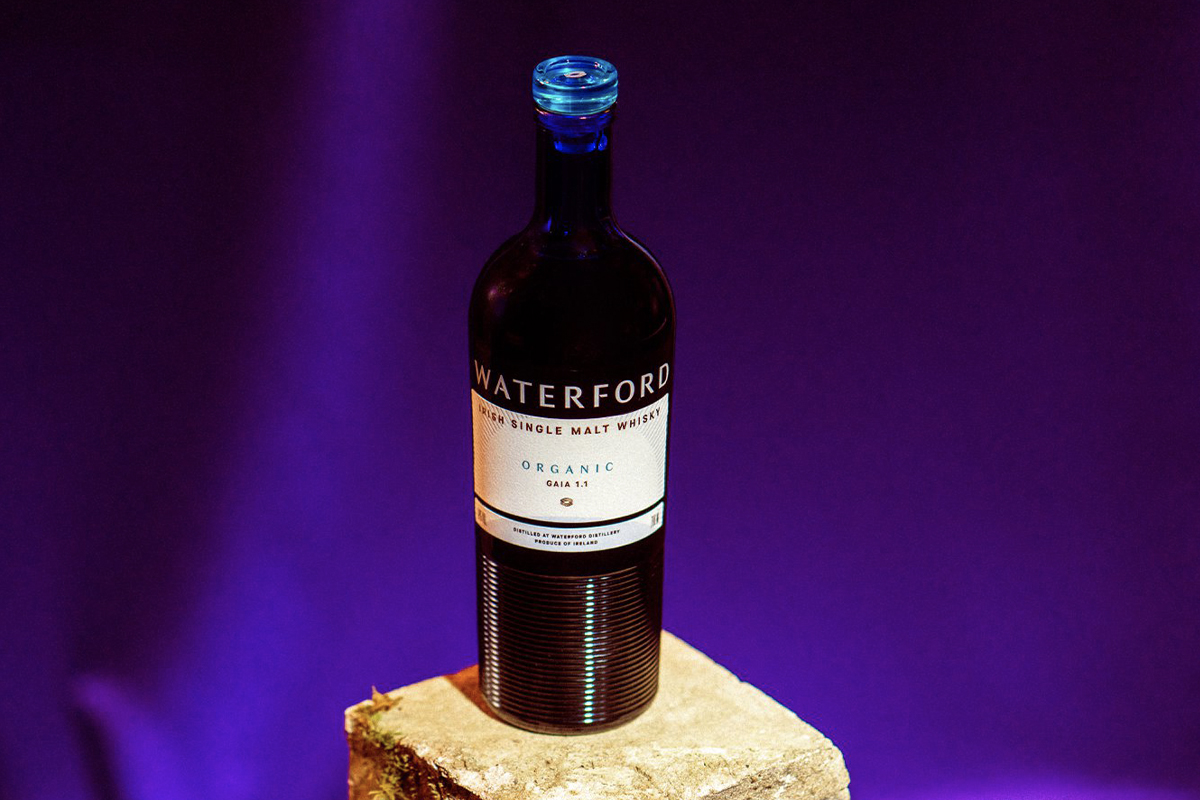 Waterford Organic Gaia Edition 1.1 /Photo Credit: Waterford Whiskey
These two single malts were released by Nikka this year to honor the one-hundredth wedding anniversary of Nikka's founder Masataka Taketsuru and his wife Rita who were married in Glasgow in 1920. The couple moved to Japan a few years later and Nikka was founded in 1934. When Nikka was first established, apple products helped to keep the distillery afloat while waiting for its whisky to mature, hence their use here. These no-age-statement single malt whiskies were finished in apple brandy casks for 6 months.
The apple brandy really enhances both whiskies by adding fruit and a gentle spice. The tasting profile is rich and filled with sweet malt and toasted oak. Yoichi will be a bit more smoky, but both make wonderful after-dinner drinks.
Flavor Profile: Fruity & Sweet
SRP: $249.99 each
Nikka Yoichi & Nikka Miyagikyo Single Malt Apple Brandy Finish
While the WhistlePig brand is based in Vermont and is currently distilling its own whiskey there, it is still using sourced rye whiskey for many of its products. As a result, this particular bottling, which uses rye distilled in Canada, qualifies for our world whiskey gift list. In fact, as you read about the barrels used from around the world, you'll see that it absolutely qualifies for this category.
Magellan's Atlantic is the 7th edition in WhistlePig's Boss Hog series. The journey begins with a straight rye whiskey that aged for 17 years in American oak. The rye is then transferred to Spanish oak for its next maturation which lasts for 3 weeks. Finally, the rye is placed into South American teak wood sourced from Brazil where it spends 3 days before bottling. Like previous editions, the brand's pig mascot adorns the top in a collectible pewter topper, this time dressed in traditional Spanish dress.
The aroma of this whiskey is rather unique with the teakwood bringing a musky almost incense like aroma. The spices found are more of the sweet nature rather than the hot/peppery ones. The finish has almost a mulled wine quality to it. The length is long-lasting and thought-provoking — it's truly one of the best whiskies I've tasted this year and well worth seeking out.
Flavor Profile
SRP: $499.99
WhistlePig The Boss Hog VII: Magellan's Atlantic /Photo Credit: WhistlePig
In March 2020, Redbreast added a new permanent addition to its portfolio. In fact, this 27-year-old release is the oldest bottling to date from the single pot still brand. It will be made in limited quantities going forward. Notably, a portion of the distillate matured in ruby port casks while ex-bourbon and ex-oloroso sherry make up the rest of the blend. Additionally, Redbreast 27 is bottled at cask strength.
This is a spicy, high proof expression with the ruby port notes adding some jammy fruit notes to the dram. Add a few drops of water to help open it up for even more fruits, vanilla and chestnuts.
Flavor Profile: Rich & Sweet
SRP: $500
Redbreast 27 Year /Photo Credit: Redbreast
This single malt from Bushmills is the first release in an expected annual collection called The Rare Casks. It is made using 100% unpeated Irish malted barley and was triple-distilled in 1992. After distillation it aged for 11 years in former oloroso sherry and ex-bourbon barrels. Then the two whiskey batches were married and recasked into former cognac casks for its final 17 years of maturation. It is bottled without chill filtration at a cask strength of 46.7% ABV. Only 500 bottles were made for this US exclusive release.
Let this one sit for a few minutes before getting into it and allow it to breathe. Once you do you'll find a really lovely nose filled with a trail mix of sorts. The whiskey is still here, but it's got the fruit notes from the cognac and sherry (orange peel, raisins, coconut, dried fruit) along with a touch of chocolate and nuts. The finish is complex, lengthy and satisfying. Okay so it doesn't come in a fancy bottle, but if you're more interested in the contents within the bottle, you'll be very pleased indeed.
Flavor Profile: Fruity & Sweet
SRP: $500
Bushmills 28 Year The Rare Casks Cognac Single Malt /Photo Credit: Bushmills
---
Looking for more world whiskey gifts?
With Distiller, you'll always know what's in the bottle before you spend a cent. Rate, Review, and Discover spirits. Head on over to Distiller, or download the app for iOS and Android today!
Want to enjoy Distiller ad-free? Join Distiller Pro today to support the Distiller platform and keep ads off of your screen.