April is here, bringing those spring showers our way. But in our case, it is showers of exciting new spirit releases to share with you all. For fans of American whiskey, the most exciting news to share is the WhistlePig PiggyBack Rye release. The late great Dave Pickerell helped to create this bottle especially with bartenders in mind. I know I speak for everyone in the industry when I say we will drink it in his honor.
In scotch news, fans will be pleased to hear that the new Dewar's Double Double series is making its way stateside. But you bourbon drinkers aren't left hanging this week—there are two new releases to check out. One gets its secondary maturation from added oak staves and the other pays homage to the brand's history just before Prohibition.
California's Hangar 1 has a blended brandy hitting shelves this month, a first for the brand. And if you're anxious for summer to arrive, there's a couple of lime-flavored spirits that could jump-start the season. Start planning your cookouts and beach parties now. Without further ado, here's the booze news for the week of April 5th, 2019!
WhistlePig PiggyBack Rye Whiskey launched in select US markets this month as a permanent addition to the WhistlePig core range. It was crafted by the late legendary master distiller Dave Pickerell—who passed away in 2018—and master blender Pete Lynch. WhistlePig PiggyBack Rye is a 6-year-old 100% rye whiskey. The shape of the bottle was changed from the standard WhistlePig wide shape to make the bottle easier to handle for bartenders. The pig that adorns the bottle is not wearing the standard WhistlePig top hat, but rather a Stetson hat, Dave's trademark.
"On behalf of Dave Pickerell, and all of us here at WhistlePig, we are pleased to share with you the latest expression in our unparalleled offering of aged rye whiskeys, one of Dave's final creations," says WhistlePig CEO Jeff Kozak. "WhistlePig PiggyBack Rye is a gift from Dave to his friends across the country and around the world, and of course, the bartenders who helped forge the WhistlePig brand from the very beginning."
SRP $49.99.
WhistlePig PiggyBack Rye / Photo Credit: WhistlePig
Dewar's Double Double Trio Announced for the US
Dewar's Double Double is a blended scotch series crafted by master blender Stephanie Macleod. The whiskies in this series are aged in a "four stage aging process". First, single malts and single grains are aged separately for the time listed on each bottling (i.e. 21 years, 27 years, 32 years).
Next, the single malts are blended together and rested in exhausted casks. This process is also done, separately, for the single grains. Then, all of the whiskies are blended together and again rested in exhausted casks. Finally, the blend finishes its maturation in sherry casks. Each release has a different sherry finish.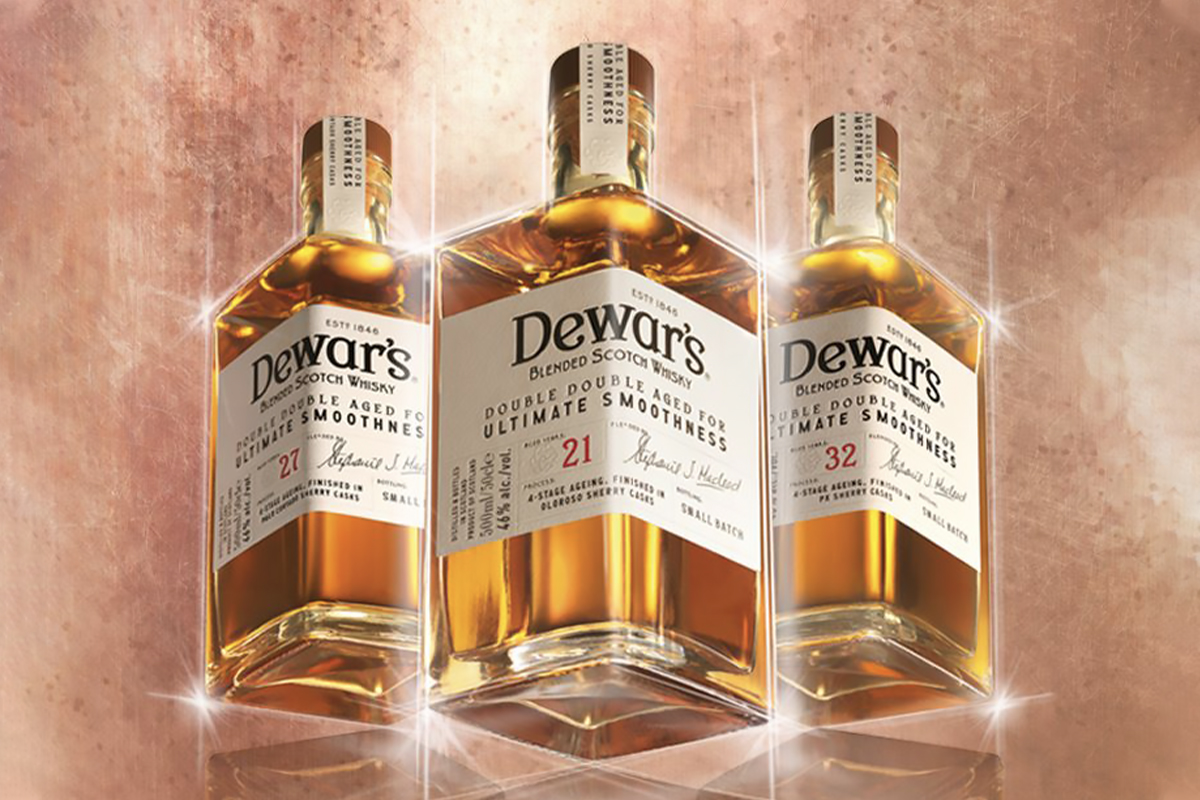 Dewar's Double Double Trio / Photo Credit: Dewar's
– finished in ex-oloroso sherry.
– SRP $39.99 (375ml).
– finished in ex-Palo Cortado sherry.
– SRP $99.99 (375ml).
– finished in ex-Pedro Ximenez sherry.
– SRP $149.99 (375ml).
Initially announced for global travel retail, it is available as of April 4th in the US and Canada.
LOCH LOMOND GROUP ANNOUNCES TWO WHISKIES FOR THE OPEN CHAMPIONSHIP
Loch Lomond Group is releasing two single malt whiskies for its partnership with The Open Championship; held this year in Portrush, Northern Ireland. The group began its five-year partnership with a trio of releases back in 2018.
"We are proud to launch two limited editions to mark this year's Open, which returns to Royal Portrush for the first time in almost 70 years," says master blender Michael Henry. "Each expression harnesses the spirit of our Loch Lomond distillery, conveying a fruity character punctuated with deep, complex flavours and delivering a rich mouth feel. Personally, these releases mean a great deal to me. Hailing originally from Northern Ireland, it is highly rewarding to be showcasing Scotch whisky to my home country and to have the opportunity to celebrate Royal Portrush."
Loch Lomond Open Championship Whiskies / Photo Credit: Loch Lomond
This Special Edition 2019 is a no-age statement single malt created by master blender Michael Henry. It is aged in first-fill and refill American oak ex-bourbon barrels and refill American oak hogsheads. The single malt is said to contain four different spirits styles, something the distillery can accomplish with its unique stills.
SRP £37(~$50).
The Open Course Collection Royal Portrush is a single malt which spent 19 years in American oak barrels. The whisky finished its maturation in claret casks (a British term for Bordeaux wine). The claret cask finish is a homage to the trophy given at The Open which is commonly called the Claret Jug.
SRP £150 (~$200).
Available beginning April 2019, Tom's Town Double Oaked Bourbon is made from a mash bill of 62% corn, 36% rye and 2% malted barley. It matures traditionally in new, charred American oak barrels before undergoing a secondary maturation with American and French oak staves. It's bottled at 90 proof. The distillery, named for the infamous Prohibition political boss Tom Pendergast, lives by his famous quote, "The people are thirsty."
SRP $39.99.
Tom's Town Double Oaked Bourbon / Photo Credit: Tom's Town
Announced in April 2019, Kentucky Owl Confiscated is the brand's first release to be available in all 50 states. Confiscated, a Kentucky straight bourbon release, pays tribute to the barrels seized by the government prior to Prohibition. These barrels belonged to C.M. Dedman, who founded the Kentucky Owl brand back in 1879. Master blender Dixon Dedman is the great-great grandson of the founder. He resurrected the brand in 2014.
"An important part of Kentucky Owl's history is the seizure of all that inventory, which ultimately ended my family's run in the bourbon business for the time being," says Dixon. "Confiscated is a reminder of the opportunities lost and a celebration of C.M. Dedman's legacy. I don't believe in making whiskeys to hide flavor and character, and this one will stand up neat, on the rocks, or in a cocktail."
SRP $124.99.
Kentucky Owl Confiscated Straight Bourbon / Photo Credit: Kentucky Owl
Bentwing Brandy is a release from Alameda, California based Hangar 1. The brandy itself is a blend of both French and California brandies, the latter of which is made from grapes grown in Northern California. After blending, the brandy is finished in charred whiskey barrels. This is the first non-vodka offering from Hangar 1. The brandy's name comes from the Bentwing Bird—gull wing aircrafts used during WWII.
SRP $29.99.
Bentwing Brandy / Photo Credit: Hangar 1
Bacardí Lime was announced in April 2019 as a new flavor extension for the brand. Like other Bacardí flavors, Bacardí Superior White Rum is used as the base and it is infused with natural lime flavors to create this product. Bottled at 35% ABV with an SRP $12.99.
Bacardí Lime
Stoli Lime, announced April 2019, is the first citrus-flavored vodka from the brand in over a decade. It is bottled at 37.5% ABV with and SRP of $19.99 (750ml) and $22.99 (1L).
Stoli Lime
---
With Distiller, you'll always know what's in the bottle before you spend a cent. Rate, Review and Discover spirits! Head on over to Distiller, or download the app for iOS and Android today!