So here we are at the beginning of a whole new month for 2021. Punxsutawney Phil did indeed see his shadow, so it seems like we've got six more weeks of winter ahead. As much of the country got some significant snow this week, this news should come as no surprise. At least we can look forward to a few new whiskey releases to keep our spirits warm this month. For instance, Buffalo Trace announced the latest edition of Double Eagle Very Rare. This should fit the bill nicely if you're looking for something special to add to your collections. However, this Kentucky bourbon is made in very limited quantities so act quickly to secure yourself a bottle.
For folks looking for a limited-edition whiskey at a significantly lower price point, make sure to check out the latest from Berkshire Mountain Distillers. The Massachusetts distiller is set to release twelve American whiskeys in its Craft Brewers Whiskey Project series this year, and three of them arrive this month. While all whiskey is distilled from a beer of sorts, this series begins with drinkable (and popular) beers from some of the top brewers in the country.
But maybe you're looking for a bit of entertainment this weekend — perhaps as a precursor to the big game? In that case, make sure to read about Wild Turkey's Virtual Whiskey Tasting. Led by master distillers Jimmy and Eddie Russell, the tasting covers some of your favorite Wild Turkey whiskeys all from the comfort of your home. We've got all the details on this tasting event and more below in Distiller's Roundup for February 5, 2021!
Double Eagle Very Rare 3rd Edition Released
Buffalo Trace announced the third release in its Double Eagle Very Rare series which first began in 2019. This Kentucky straight bourbon is named for the length of its age which at 20 years is twice as long as the standard Eagle Rare Bourbon at 10 years. It ages for 20 years on the lower floors of the Buffalo Trace warehouses.
The packaging for the limited-edition release includes a crystal decanter and a silver presentation box. The crystal decanter bears two eagles — one inside and one on top as the stopper. For this third release, Buffalo Trace is increasing the proof of Double Eagle Very Rare from 90 to 101. This proof reflects the original proof of Eagle Rare when following its debut in 1975. Notably, Eagle Rare was created as the US prepared to celebrate its bicentennial.
Available as of February 2021, Double Eagle Very Rare 3rd Edition has an SRP of $2,000. Only 199 bottles will be available. If you'd like to see a video of the Double Eagle Very Rare bottle production, check it out here.
Double Eagle Very Rare 3rd Release /Photo Credit: Eagle Rare
Whiskies of the World Exclusive Discount for Distiller and Distiller Pro Users
Our friends at Whiskies of the World have adapted to the pandemic by creating an at-home tasting experience called W.O.W Them At Home. This virtual masterclass offers participants a chance to sip through a selection of whiskeys shipped to your door before the event. For the April tasting, Whiskies of the World is also offering discounts to Distiller and Distiller Pro users. Click here to learn how to receive your code and to see the pour list.
ARE YOU A DISTILLER PRO MEMBER?
If you are already a Distiller Pro Member, thank you for supporting everything that we do here at Distiller. If not, please consider joining today! Distiller Pro members get access to exclusive perks like discounts, giveaways, pro-only features within Distiller and an ad-free experience.
If all of that sounds good to you, hop on over to the Distiller Pro page and sign up.
Berkshire Mountain Distillers Launches Craft Brewers Whiskey Project
This month, Massachusetts-based Berkshire Mountain Distillers (BMD) released three American whiskeys in its Craft Brewers Whiskey Project (CBWP). The distillery collaborated with 12 breweries in the Northeast region over a five year period. Each whiskey release is the result of a distillation of a single-sourced craft beer. The whiskeys will be released this year in order of distillation, beginning with Mass Bay Brewing Co.'s UFO White Ale, Spencer Brewery's Trappist Ale and Big Elm Brewing's 413 Farmhouse Ale as the first batch.
"We were thrilled to collaborate with all of our brewer-partners and are excited these whiskeys are finally ready to be enjoyed by beer and whiskey aficionados alike," said Chris Weld, founder and proprietor of Berkshire Mountain Distillers. "This fun collaboration has been an exceptional project-in-the-making involving 12 brewers, 12 beers, 12 whiskeys and 80 barrels of spirits — we're eager to release each one to the public."
The American whiskeys were each distilled and aged at BMD since 2015. They are each bottled at 86 proof and sold for $65 each. They will be available first at the distillery's tasting room in Sheffield, Massachusetts for about one month. Then they whiskeys will be offered in limited quantities in Massachusetts, Vermont, New York, Connecticut and New Hampshire. These five states reflect where the breweries in the CBWP were located.
Releases in Berkshire Mountain Distillers' Craft Brewers Whiskey Project /Photo Credit: Berkshire Mountain Distillers
New Riff Distilling Releases 15-Year-Old Bourbon to Benefit Service Industry
This week New Riff Distilling announced a 15-year-old high-rye straight bourbon to benefit the bar, restaurant and service industry workers in Northern Kentucky and the Greater Cincinnati region. The bourbon was distilled in Indiana and bottled by New Riff in Kentucky after 15 years of aging. It is bottled-in-bond without chill filtration.
"We sprung this extremely limited bottling from our warehouse to support the bar and restaurant community that has supported us from the start," said Hannah Lowen, vice president of operations. "This is how we can raise a glass — and funds — for our embattled friends."
Only 900 bottles are available. All profits will be donated to the Ohio Restaurant Employee Relief Fund and the Northern Kentucky Chamber of Commerce. This is a distillery-only purchase with an SRP of $200.
New Riff 15 Year Straight Bourbon /Photo Credit: New Riff
Wild Turkey Launches New Guided Tasting With Amazon Alexa and Google Assistant
This week Wild Turkey announced a Virtual Tasting voiced by master distillers Jimmy and Eddie Russell. The virtual tasting is available via smart speakers offered by Amazon or Google. Since traveling to the distillery isn't an option for most folks, the Russells will guide listeners on a virtual tasting on some of their best known brands. The following Wild Turkey whiskeys will be discussed: Wild Turkey 101 Bourbon, Wild Turkey 101 Rye, Rare Breed Bourbon, Longbranch and Kentucky Spirit.
To enable the tasting, just tell your Amazon smart speakers "Alexa, enable Wild Turkey Tasting" or on your Google Assistant device say "Hey Google, talk to Wild Turkey Tasting" to be virtually taken to the Wild Turkey Distillery. In addition to the guided tasting, participants are encouraged to ask questions about whiskey production, glassware and more. There's even an opportunity to unlock a special "Easter Egg" message from actor Matthew McConaughey, Wild Turkey's creative director and the co-creator of Longbranch. Interested participants can attend the virtual tasting now.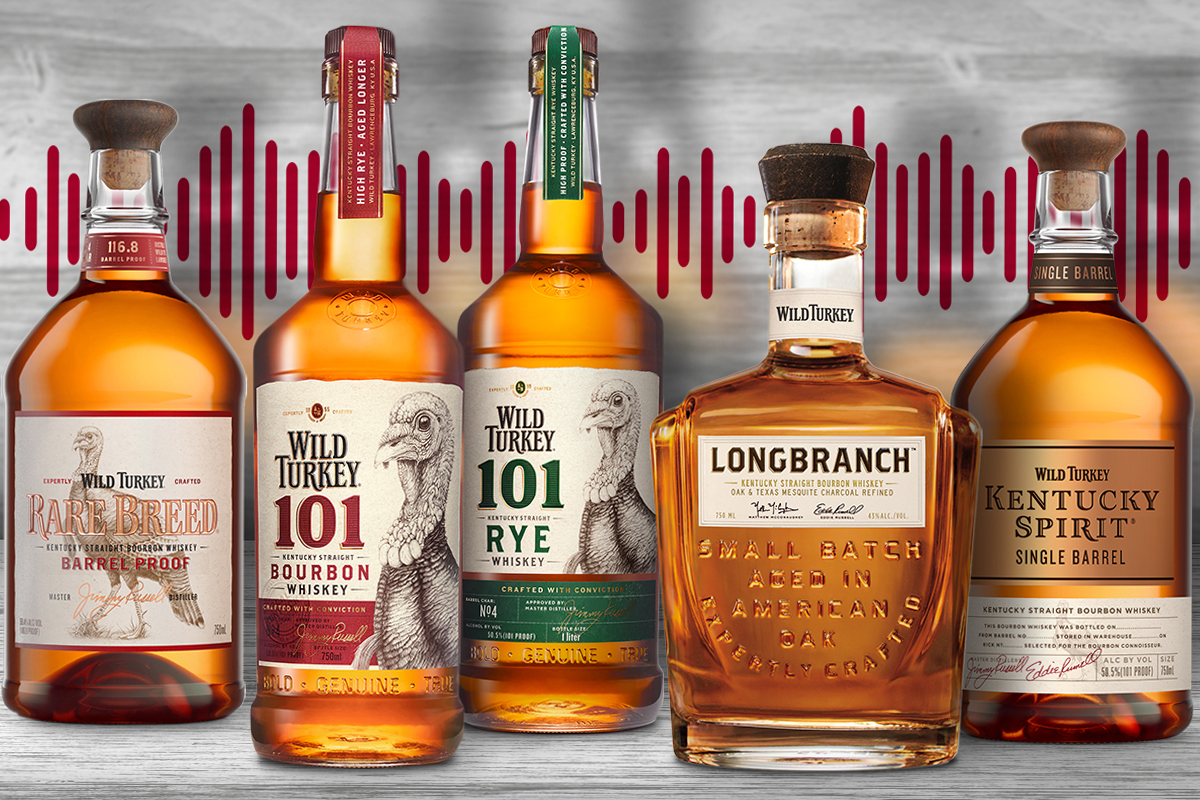 Wild Turkey guided tasting spirits /Photo Credit: Wild Turkey
TIDBITS FROM AROUND THE SPIRITS WORLD
Let's take a quick look at what else is going on around the world this week…
Rabble Rouser is distilled from 100% rye at a lower proof than the brand's other rye whiskey, Roundstone Rye. This is a bottled-in-bond release so the whiskey is the product of one distilling season. It is also aged for at least four years in a bonded warehouse and is bottled at 50% ABV. For this 2021 release, Catoctin Creek has over 100 cases for nationwide distribution. It has an SRP of $99.
Catoctin Creek Rabble Rouser Bottled in Bond Rye (2021 Release) /Photo Credit: Catocin Creek
Prairie Organic Cucumber, Mint & Lime Gin is a flavored gin made with USDA organic ingredients and flavors. Organic corn is used for the base and is sourced from family-owned Midwest farms. It's bottled at 90 proof and available as of February 2021 with an SRP of $34.99.
Prairie Organic Cucumber, Mint & Lime Gin /Photo Credit: Prairie Organic
Black Velvet Apple is a flavored whisky made with the brand's original Black Velvet Canadian Whisky and natural apple flavors. It is bottled at 70 proof. Availability begins February 2021 in limited markets with an SRP of $10.99 for a 750ml. Black Velvet Apple will also be available in 1.75ml and 50ml size bottles.
---
Ready to grab a bottle of Double Eagle Very Rare?
With Distiller, you'll always know what's in the bottle before you spend a cent. Rate, Review, and Discover spirits. Head on over to Distiller, or download the app for iOS and Android today!
Want to enjoy Distiller ad-free? Join Distiller Pro today to support the Distiller platform and keep ads off of your screen.