It seems that the cask finishing craze is not going away any time soon.
Distillers all over the world continue to seek different types of wood to boost flavors in traditional spirits — very much in the same way that chefs use specific spices to cook with. Sometimes they use barrels that previously held another species of spirit altogether (i.e. whisky matured in rum barrels). But sometimes it's barrels once used for wine, or it's just about the provenance of the tree itself.
This week's booze news happens to center mostly around the relationship between wood and flavor possibilities.
Debuting soon is Compass Box Canvas, which is partially aged in citrusy Vino Naranja casks. And as an added bonus, the Scotch whisky brand is giving fans the opportunity to create their own label designs. Speaking of orange wine, Don Julio's latest, Don Julio Primavera, is also finished in a type of orange wine cask.
Meanwhile, Garrison Brothers Guadalupe Texas Straight Bourbon looks to Portugal for its new cask-finished whiskey.
In Tennessee, Uncle Nearest continues its impressive growth trajectory by announcing further expansion plans — an extra 53.12 acres of land. Moreover, this expansion includes a field to grow its own non-GMO corn for whiskey.
Enjoy bourbon with your barbecue? How about in it? Knob Creek has partnered with The Boardsmith to present Knob Creek Bourbon Barrel Grilling Planks to infuse bourbon-tinged smoke into anything you grill on them.
But first, we begin in Japan with news from the House of Suntory. The Japanese whisky distiller has reformulated its luxurious Yamazaki 25 Year using three different cask finishes.
House of Suntory Announces the Reformulation of Yamazaki 25 Year
With the launch of the new Yamazaki 25 Year Single Malt Whisky, the House of Suntory says it is getting back to its roots as the "birthplace of Japanese whisky." Yamazaki 25 Year is blended from a selection of rare single malt whiskies with a minimum age of 25 years, all from the place where Shinjiro Torii first made Japanese whisky.
Fifth generation Chief Blender Shinji Fukuyo says Yamazaki 25 was a journey of rediscovery for Yamazaki.
"We went back to the key component whiskies of Yamazaki," says Shinji Fukuyo. "We deliberately chose to feature the depth and profound nature of the notable Japanese Mizunara Oak. For in its meticulous balance with the American and Spanish Oak, Yamazaki's signature multi-layered taste profile and complex aroma is accentuated."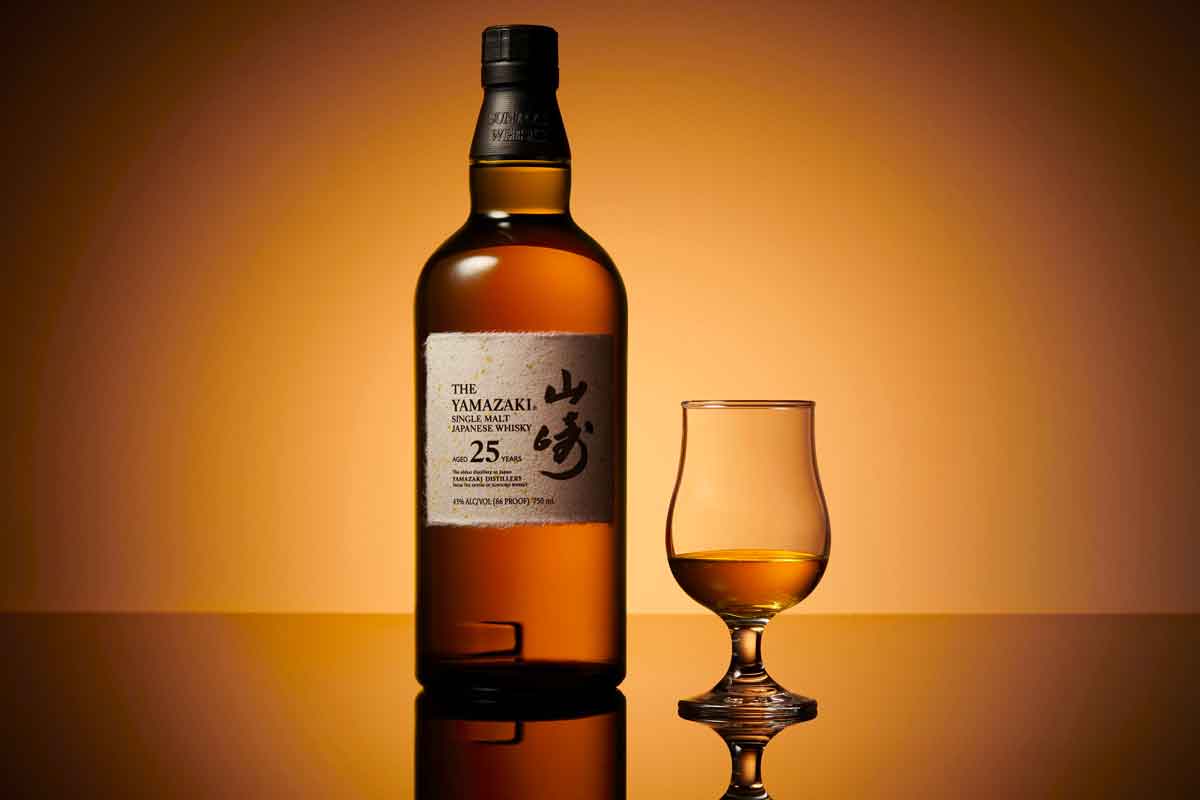 Yamazaki 25 Year Single Malt Whisky /Photo Credit: Suntory
How Yamazaki Started, How It's Going
Yamazaki means "mountain cape" — a combination of the two Japanese characters ⼭ (yama – mountain) and 崎 (saki – cape). These are references to its geographic location that is surrounded by a range of forest-covered mountains. Yamazaki Distillery opened in 1923, and is credited with being Japan's first and oldest malt distillery. It is located on the periphery of Kyoto, with the area surrounding the distillery often referred to as "Minaseno", which is famous for its natural water source. It is even mentioned in the Man'yoshu, the ancient anthology of Japanese poetry. In fact, the waters of Yamazaki have been identified by the Ministry of Environment as one of Japan's "100 best natural mineral waters."
Yamazaki Single Malt was first introduced in 1984 by second generation Master Blender Keizo Sajito to commemorate the 60 years since the first drop of whisky was made at the Yamazaki distillery, and follows the foundation laid by Shinjiro Torii. The new Yamazaki 25 Year contains single malt whiskies aged over 25 years in American, Spanish and Mizunara Oak casks.
Fukuyo suggests sipping Yamazaki 25 Year "neat in your favorite whisky glass to savor your special moments."
Yamazaki 25 Year Single Malt Whisky is bottled at 43% ABV (86 proof). It has a suggested retail price of $2,000.00 (750 mL).
Compass Box Announces Limited Release Canvas, With An Opportunity For Consumers To Create Their Own Label
Compass Box Scotch has announced a new limited edition, Canvas Blended Malt Scotch Whisky (SRP $150, ABV: 46%). Surprisingly, the blend features a parcel of whisky aged in Vino Naranja casks. This release continues the brand's legacy of inspiring curiosity and thinking, well, outside the box. Compass Box says Canvas "is meant to artistically inspire consumers by engaging them through the opportunity to create their own Canvas label design."
A portion of Canvas was aged for three years in Vino Naranja casks. To explain, Vino Naranja is a fortified Spanish wine from the Condado de Huelva in southern Spain. Significantly, orange peel is added to the cask for a portion of the wine's maturation.
"For us, whiskymaking is an artistic process, and the whisky is our canvas," says whiskymaker James Saxon. "Canvas achieves a delicious level of boldness thanks to part-ageing in the Vino Naranja casks, filled as an experiment in 2018. We wanted this release to embody the spirit of its creation and inspire sippers to indulge in their own artistic adventures."
Canvas Blended Malt Scotch Whisky
DIY Trophy Labels!
The idea for the label comes from Compass Box's longstanding design partners, Stranger & Stranger, who say they drew inspiration from the Renaissance-era use of trophy frames for the label. Trophy frames, such as the one portrayed, have historical significance as a way to showcase personal achievements. In this case, the frame captures the achievement of whisky making.
Consumers have the rare opportunity to contribute to the label creation process. Using the bottle's QR code, consumers can follow the link to a template where they can add their own photo, sketch, poem or other work of art within the frame. Then they can print the personalized label. Compass Box invites whisky fans to share their unique designs on social media, tagging the brand and using #compassboxcanvas. They say "the hope is for whisky to inspire art that inspires another whisky."
Canvas will be available in the U.S. beginning September 1, from ReserveBar, Flaviar, and other e-commerce retailers. It is limited to 5,880 bottles worldwide.
Garrison Brothers Distillery Releases Guadalupe Texas Straight Bourbon Whiskey Finished in a Port Cask
Garrison Brothers Distillery has just released Guadalupe, named for the river running through its home state of Texas. The Texas Straight Bourbon is finished in tawny port casks and bottled at 107 proof. The distillery says it will be available year round with an SRP of $129.99.
Guadalupe took over six years to come to fruition. After the limited 2019 release of Estacado, a Texas straight bourbon whiskey finished in Llano Estacado Texas port casks, Master Distiller Donnis Todd began sourcing port casks from Portugal.
"Over the past decade, we've built lasting friendships with great people across the world as we searched for the perfect port barrel. These connections are just as special to me as the bourbon we have produced," says Donnis Todd.
Through this journey, Todd determined what the "magic maturation combination" should be for Guadalupe. He settled on four years in white American oak casks and then two additional years in the tawny port casks. Furthermore, Todd selected 90 thirty-gallon bourbon barrels that were originally filled in 2015.
On July 24th, Garrison Brothers hosted a distillery drive-thru Guadalupe release event for enthusiasts to buy the first available bottles. Garrison Brother's Guadalupe will now be available nationwide beginning August 2021 at retail as well as restaurants and bars.
Guadalupe Texas Straight Bourbon /Photo Credit: Garrison Brothers
Uncle Nearest Acquires Additional 53.12 Acres Along Highway 231 In Distillery Expansion
Uncle Nearest Premium Whiskey — which was recently identified as the fastest-growing American whiskey brand in U.S. history — announced a $2.1 million deal to purchase an additional 53.12 acres of land on Highway 231 North adjacent to the Nearest Green Distillery. The additional land will bring the distillery's total acreage to 323.12.
Significantly, the expansion allows Uncle Nearest to dedicate 100 acres of its property to grow its own non-GMO, organic corn. Known as "Field of Dreams" corn, it will be used with the express purpose of making Uncle Nearest Whiskey.
"When we broke ground, we made history as the first distillery in America to be named after a Black person. Every day, our brand continues to make history and we are finding more and more people wanting to celebrate this history with us at record numbers," said Fawn Weaver, CEO and founder of Uncle Nearest. "Expanding our distillery allows us to increase our production capabilities, as well as to continue to enhance the guest experience, so every person who visits has a reason to return again and again."
Recently, Nearest Green Distillery, which honors the legacy of Nearest Green, the first known African American master distiller, reopened its doors on June 19, 2021. Emerging from a more than year-long pandemic-related closure, the distillery unveiled its Phase Two additions which include a Welcome Center; Philo + Frank's, the world's first non-alcoholic speakeasy; the first single barrel rickhouse; and Family Tasting Room. The current 270-acre footprint will continue to be built out for whiskey tourism purposes.
Tours at Nearest Green Distillery are currently available on Saturdays and Sundays, and can be booked at the website here.
Nearest Green Distillery /Photo Credit: Uncle Nearest
Knob Creek Bourbon and The Boardsmith Team Up to Elevate Your Grilling Game
Knob Creek Bourbon has teamed up with The Boardsmith, makers of butcher blocks, to create Knob Creek Bourbon Barrel Grilling Planks. The planks are made from American white oak bourbon barrels that had previously been used to age the brand's whiskey.
"We know fans of Knob Creek Bourbon have an appreciation for things crafted with care, attention to detail and with full flavor in mind, just as we've crafted our bourbon for nearly 30 years," said 7th Generation Master Distiller Fred Noe. "The folks at The Boardsmith share those values, and we are proud to team up with them to give whiskey fans a new way to savor our bourbon and bring their cooking to a new level."
Each grilling plank is made from real barrel wood that was first used to age Knob Creek Bourbon. The wood has a chance to absorb over a decade of interaction with the whiskey. When repurposed as a grilling plank, the barrel wood can be used to cook fish, meat or vegetables on the grill to impart a bit of bourbon-ness.
Knob Creek Bourbon Barrel Grilling Planks will be available while supplies last, starting on July 27 at their website here for $25 for a set of two with shipping included.
Knob Creek Bourbon Barrel Grilling Planks /Photo Credit: Knob Creek
Don Julio Primavera Is Released Early
Originally slated to launch in the spring of 2022, Don Julio is releasing an extremely limited quantity of the new Tequila Don Julio Primavera now. This is an expression bottled at 40% ABV that uses Tequila Don Julio's traditional Reposado and finishes it in orange wine casks. The SRP is $99.
"This summer has been bursting with a resurgence of celebrations and there's nothing we like more at Tequila Don Julio than a great party, which is why we are so thrilled to be able to introduce Tequila Don Julio Primavera earlier than planned," says Christina Choi, Senior Vice President of Tequila, Diageo North America. "There are only 15,000 cases available now, but don't worry if you can't find it this year — just as the name suggests, Tequila Don Julio Primavera will be back for our originally scheduled launch in spring 2022."
Don Julio Primavera /Photo Credit: Don Julio
---
Ready to grab a bottle of Yamazaki 25 Year Single Malt Whisky?
With Distiller, you'll always know what's in the bottle before you spend a cent. Rate, Review, and Discover spirits. Head on over to Distiller, or download the app for iOS and Android today!
Want to enjoy Distiller ad-free? Join Distiller Pro today to support the Distiller platform and keep ads off of your screen.