Our goal is always to provide a scoop on new, individual spirits products and promotions that happen to all be launching in a single week. By pure coincidence, all the things happening this week share a common theme. So let's call this the Friday Roundup of Reverence, Devotion and New Beginnings.
First there's news of an exciting whiskey crossover with The Master Blenders' Edition from Bob Dylan's Heaven's Door and Redbreast Irish Whiskey, apparently born out of shared fandom. From there we move on to Angel's Envy Madeira Cask in honor of late co-founder Lincoln Henderson, along with news of the long-anticipated revival of Brora distillery in Scotland. Plus there's a new look for Wild Turkey 101, a taste of Warehouse C from Buffalo Trace and flavor innovations from Belvedere Vodka, which is now committed to organic production.
Then Tanqueray Sevilla Orange goes for a nostalgic promotion, Milam & Greene announces a new blend that pays respects to whiskeys of yore, and Castle & Key Restoration Rye 2021 makes its entrance. Meanwhile, Johnnie Blonde launches in Houston and Laws Whiskey Centennial Wheat Bottled in Bond goes for round three. And with Memorial Day and Pride month coming up, Evan Williams honors American heroes and Crystal Head Vodka Pride Bottle returns for a limited run to support LBGTQ causes.
Oh, and today, May 21, is International Tennessee Whiskey Day! Cheers!
Heaven's Door Whiskey and Redbreast Irish Whiskey Announce First Ever Collaboration: The Master Blenders' Edition
Heaven's Door American whiskeys — owned by music legend Bob Dylan — and Redbreast Irish Whiskey have announced the release of a limited-edition 10-Year Aged Bourbon finished in Redbreast casks. "This first ever collaboration for both brands was created in tandem by Master Blenders Ryan Perry of Heaven's Door and Billy Leighton of Redbreast Irish Whiskey, and has been aptly named, 'The Master Blenders' Edition'," according to the press release.
It's a collaboration that's been more than two years in the making, with Perry and Leighton working together on various blends and barrel finishes to arrive at the profile of the final product.
The Master Blenders' Edition consists of Heaven's Door 10-year aged Straight Bourbon finished in Redbreast Single Pot Still Casks for 15 months, which also includes some sherry cask influence.
"We're honored to have had the opportunity to work with Billy and the rest of the Redbreast team to bring The Master Blenders' Edition to life," said Ryan Perry. "Heaven's Door was founded around the spirit of collaboration, and this was a dream partnership for our brand. I can honestly say that the final flavor profile blew us away."
The Heaven's Door Master Blenders' Edition bottle design is in line with the brand's signature bottle. In fact it features a new gate design created by Bob Dylan in his Black Buffalo Ironworks studio, as well as Redbreast's iconic Robin.
Heaven's Door Master Blenders' Edition is available in the US in very limited quantities on ReserveBar.com and at select retailers just in time for Father's Day and summer sipping. It will also be available in limited quantities in September in the UK and Ireland. It's bottled at 50% ABV and has a suggested retail price (SRP) of $99.99 for a 750ml bottle.
Heaven's Door Master Blenders' Edition /Photo Credit: Heaven's Door
Angel's Envy To Release Limited Edition Bourbon Finished in Madeira Casks
In celebration of Father's Day, Angel's Envy is releasing a new Kentucky Straight Bourbon finished in Madeira casks. This limited run (just 3,360 bottles) is the third release in the brand's Cellar Collection. This special release program is led by co-founder Wes Henderson and his sons to honor the late Lincoln Henderson.
Between May 21 and May 25, Angel's Envy 500 Main members can enter a lottery to win the chance to purchase the release ahead of public sale. A total of 600 bottles will be reserved for the lottery, and the randomly-selected winners will be notified on May 28. In addition, early purchasers will be able to pick up their bottles beginning on June 3 at Angel's Envy's downtown Louisville distillery. Public sale (limit one per customer) will begin on June 6 at 1PM ET, with approximately 400 bottles available at Angel's Envy's distillery and limited quantities available at select retailers in KY, NY, CA, FL, TN, IL and TX.
"There's deep history and craftsmanship involved in the production of Madeira wine, so my sons and I knew we wanted to tap into that to create something special for our Cellar Collection," said Wes Henderson, co-founder and chief innovation officer at Angel's Envy. "We took a trip to the island in 2015 and tried more than 30 varieties until we found the perfect casks that would lend both the dryness of a good sherry and the richness of tawny port to our bourbon. This release, like all of Angel's Envy's whiskeys, was a family effort, so it feels only right to share this bourbon with our fans in celebration of Father's Day."
The whiskey is bottled at 50% ABV with an SRP for a 750 mL bottle of $229.99.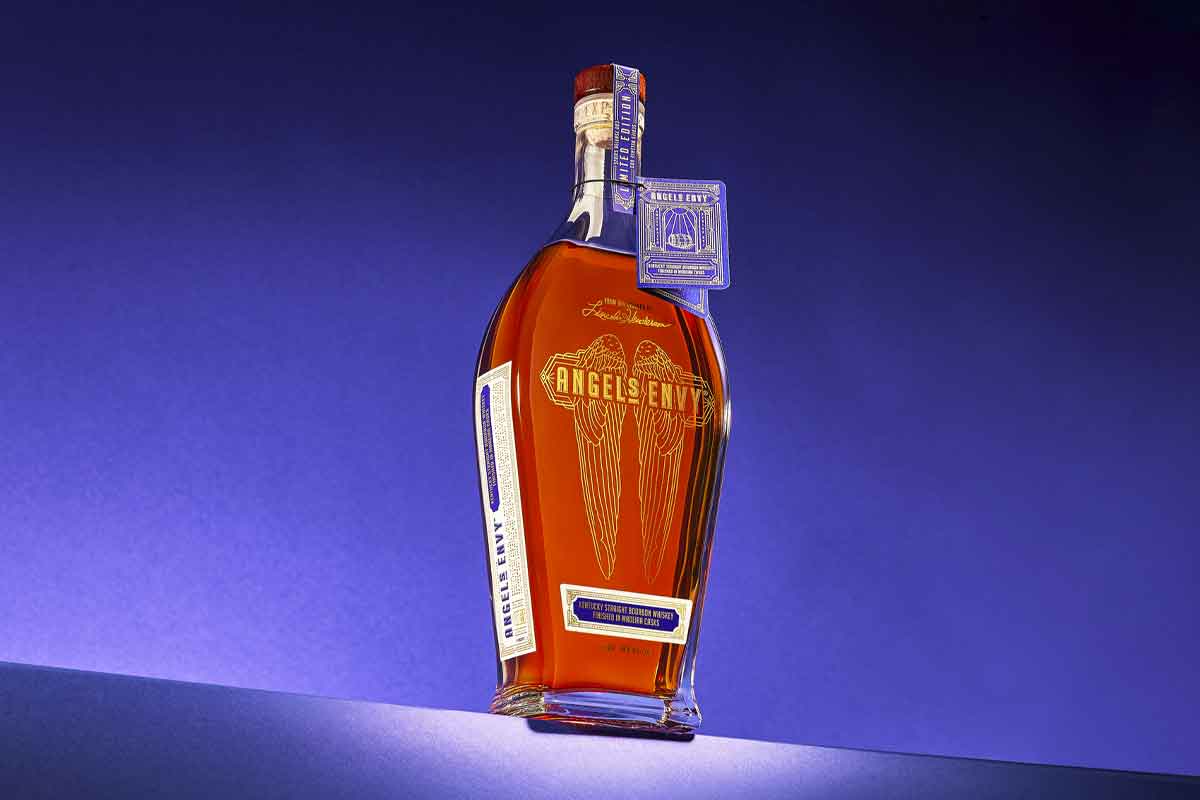 Angel's Envy Kentucky Straight Bourbon finished in Madeira casks /Photo Credit: Angel's Envy
Brora Comes Back From the Dead After 38 Years
Scotch whisky history was made this week when the "ghost" distillery of Brora in Sutherland, Scotland, officially began production after a restoration was completed.
Having closed in 1983, Brora's reopening is said to represent a major signal of confidence in the future growth of the Scotch whisky category.
"We have reawakened the distillery following a painstaking three-year restoration as part of a £35million investment programme that will also see the equally iconic lost distillery of Port Ellen on Islay brought back into production," says the press release.
Brora has been considered a Scotch whisky icon for decades, with bottlings of remaining casks — both independent and as Diageo Special Releases — highly coveted the world over.
The restored distillery features the installation of a biomass boiler powered by sustainably-sourced wood chips from Northern Scotland.
The 202-year-old Brora stillhouse was taken down and rebuilt stone-by-stone to replicate the distillery exactly as it was when new in 1819, but now outfitted with modern innovations. In addition, the original two Brora classic copper pot stills were refurbished by skilled coppersmiths.
Master Distiller Stewart Bowman /Photo Credit: Brora
Son of Last Exciseman at Brora, Current Master Distiller Fills First Cask
Brora Master Distiller Stewart Bowman, who is a native to the Sutherland town and whose father was the last exciseman at the distillery, officially marked the launch by opening the Brora wildcat gates and filling the first cask of Brora spirit in more than 38 years.
"In 1983, my father wrote in an old distillery ledger 'Commencement of Brora Distillery silent season (undetermined period)'" says Bowman. "Growing up in the village we often wondered whether Brora would ever return, but today we filled the first cask. It is with great pride that I can now say to my father, the Brora community, and all the 'old hands' that worked at Brora and helped to craft a legendary whisky, that the stills are alive and we are making Brora spirit once again."
Brora will welcome visitors in small numbers on a by-appointment basis which is bookable via Brora.com from July. Visits to the distillery will include tastings of rare Brora releases, including a new distillery-exclusive bottling that's only available at Brora's newly restored home: The Brora Distillery Collection: Hidden Beneath, a Brora 1982 39 Year Old.
ARE YOU A DISTILLER PRO MEMBER?
If you are already a Distiller Pro Member, thank you for supporting everything that we do here at Distiller. If not, please consider joining today! Distiller Pro members get access to exclusive perks like discounts, giveaways, pro-only features within Distiller and an ad-free experience.
If all of that sounds good to you, hop on over to the Distiller Pro page and sign up.
Johnnie Blonde Says Hello To Houston
Just in time for a Texas summer, Johnnie Walker has introduced Johnnie Blonde Blended Scotch Whisky with an exclusive release for Houston. The Scotch whisky is said to be "a surprising taste of sunshine that will excite Scotch lovers and anyone looking for something new … Johnnie Blonde is sweeter and smoother, making it perfect for those exploring new ways to enjoy whisky," according to the press release.
In addition, Johnnie Blonde will also support the East End Improvement Corporation (EEIC), a non-profit organization benefiting the public cultural landscape of the East End Houston Cultural District through the development of arts and cultural programming, community safety and beautification projects. Johnnie Blonde will be releasing a limited-edition cocktail kit in partnership with Sourced that will further support the EEIC. Available now while supplies last, the cocktail kit will feature ingredients for the signature Johnnie Blonde Citrus Fizz cocktail.
Then, to officially celebrate the start of summer this Memorial Day, Johnnie Blonde will light up Houston's night sky with a light show over Discovery Green in downtown Houston on Thursday, May 27th at 8:45pm.
Johnnie Blonde is now available in Houston with an SRP of $24.99 (750 mL bottle).
Johnnie Blonde /Photo Credit: Johnnie Walker
Buffalo Trace Distillery Announces Colonel E.H. Taylor, Jr. Warehouse C Bourbon
In honor of the legacy of Col. Taylor, Buffalo Trace is releasing a one-time-only edition Warehouse C Bourbon in the E.H. Taylor, Jr. lineup, available this spring.
It is a 10-year-old Bottled in Bond bourbon that was aged in Warehouse C, built by Col. Taylor in 1885. It is said to be the barrel warehouse he was most proud of. Taylor highlights Warehouse C twice in the lithograph book he commissioned, and it is the only warehouse in the book to get its own feature.
"We know Col. Taylor had a lot of pride and affection for Warehouse C, as evidenced by his attention for detail, especially on the exterior with the architectural features," said Master Distiller Harlen Wheatley. "Fortunately, it's a really good aging warehouse for bourbon too, so not only does the warehouse look good, it produces some of our best whiskies. This year's release of the Warehouse C bourbon is no exception."
The barrels for the E.H. Taylor Jr. Warehouse C release were all aged for 10 years in the center of Warehouse C, with half of them coming from the 2nd floor and the other half from the 5th floor.
This one-time-only bottling (and its snazzy packaging) of E.H. Taylor, Jr Warehouse C Bourbon is, of course, very limited. Also consistent with past releases, this bottle displays a vintage label and is offered inside a distinct canister reminiscent of Taylor's whiskey package from over one hundred years ago. It will be available in early June, and sell for a suggested $69.99 per 750ml bottle. Fans interested in purchasing a reproduction of E.H. Taylor, Jr's lithograph book can find it here.
E.H. Taylor, Jr. Warehouse C Bourbon /Photo Credit: Buffalo Trace
Milam & Greene Releases First Batch of The Castle Hill Series, a Limited Edition Blend of 13-Year-Old Casks
Milam & Greene Whiskey has announced the release of The Castle Hill Series Batch 1, a vintage batch of 13-year-old hand-selected bourbons bottled at barrel proof. Only twenty were selected for the blend, making it the most limited of the company's boutique whiskeys. Under the strategic direction of CEO, master blender, and renowned whiskey expert, Heather Greene, Milam & Greene The Castle Hill Series celebrates the art and skill of blending vintage whiskey to create bourbon that highlights complex flavors from several single casks.
Greene said, "I approach blending with express intent and purpose. I think of various barrels the way I think about spices in a cabinet. Each barrel brings its own unique character, and the end-result should be balanced, flavorful, and elegant. I created this first batch of The Castle Hill Series to please whiskey drinkers looking for traditional lush notes of cherry, vanilla, and almonds juxtaposed with tannins and tobacco, and it finishes a bit drier than might be expected. I find these kinds of complexities exciting."
The series is named for the historic Texas Military Institute, also known as "The Castle," which overlooks the Capital Building in Austin, Texas. Greene spent hours inside the Castle in isolation during 2020 to help create this first batch of this limited edition. It is now home to Greene's blending lab, and will soon have an elegant private whiskey tasting room to showcase the art of whiskey blending. Milam & Greene operations, warehousing, and distilling remain in Blanco, Texas under the helm of Master Distiller Marlene Holmes.
Milam & Greene Castle Hill Series, Batch 1 is bottled at barrel proof 108.5 (54.25 ABV), and is available for an SRP of $119.99 at select retailers that can be found on their website here.
The Castle Hill Series Batch 1 /Photo Credit: Milam & Greene
Evan Williams To Honor Veterans With American Hero Edition
Evan Williams Bourbon has announced the 2021 class of veterans selected as American-Made Heroes. Each veteran's picture and story of service in their active duty and civilian life will be featured on the side of a special-edition Evan Williams Black Bourbon label. The American-Made Heroes Foundation Fund, now in its second year, will award support through the 2021 Veteran Community Action grants.
As a new feature this time round, invitations to be featured as an American-Made Hero were extended to veterans whose affiliate organization applied through the American-Made Hero Foundation Fund grant process. The 2021 Evan Williams American-Made Heroes were selected from more than 472 grant applications and are featured on more than 474,000 bottles available nationwide.
"We are honored to share the stories of this diverse group of veterans who have upheld the American spirit through extraordinary acts of service," says Julie Cole, Evan Williams Bourbon senior brand manager. "Through the American-Made Heroes Foundation Fund we are humbled to offer help to organizations that support veterans and lift up these communities."
Evan Williams American Hero Edition bottle
American-Made Hero Foundation Fund 2021 Grant Applications Now Open
Applications are now open from May 17, 2021 through June 18, 2021 for the 2021 Veteran Community Action Grants through the American-Made Hero Foundation Fund. The grant applications are open to a variety of projects intended to substantially serve veterans and make meaningful differences in quality of life. Full grant eligibility, rules and application details can be found here.
To date, Evan Williams has recognized 42 veteran heroes on its American Hero Edition bottles and donated more than $375,000 to nonprofits including FOB Hope, Backpacks for Life, Combined Arms, Hero's Bridge and more.
The Evan Williams American Hero Edition bottle is available nationally in a 1.75L for an SRP of $24.99 and is bottled at 43% ABV (86 proof). To learn more about each of the 2021 American-Made Heroes and to apply for funding through the American-Made Heroes Foundation Fund, visit the website here.
Tidbits From Around the World
Let's take a quick look at what else is going on around the world this week…
Wild Turkey Introduces New Packaging for 101 Bourbon & Rye
Wild Turkey 101 is getting a makeover! The new bottle design, which will be available for both the Bourbon and Rye expressions, features an embossed, more tactile Wild Turkey logo in place of the old 2D label. The label itself will be a bit more minimalist, with new colors.
The SRP is $24.99 for 101 Bourbon (750ml) and $36.99 for 101 Rye (1L). The new design will start appearing on shelves in early June!
Wild Turkey 101 Bourbon /Photo Credit: Wild Turkey
Laws Whiskey Announces Third Release of Bonded Centennial Straight Wheat Whiskey
Laws Whiskey House, a grain-to-glass distillery in Denver, has announced the third release of its Bonded Centennial Straight Wheat Whiskey. Launched in 2019 as one of the first Bonded Wheat Whiskey releases in the nation, the Bonded Centennial Wheat expressions are made from 100% Colorado grown wheat. This bottling at 50% ABV marks the third expression in the series and will be available in key markets across the country starting May 2021 for an SRP of $75.
The Bonded Centennial Straight Wheat Whiskey is made with 100% Soft White Centennial Wheat grown in the San Luis Valley of Southern Colorado by Jason Cody, of the Cody Family Farm and Colorado Malting Company.
The whiskey's mash bill features both raw and malted centennial wheat that is then aged in fourteen hand-selected barrels produced at Laws Whiskey House in the summer of 2015. The liquid is aged for a total of five years eight months before it is bottled.
Laws Centennial Straight Wheat Whiskey
Barrell Bourbon Batch 029 Released
The new batch from Barrell Craft Spirits is a blend of straight bourbon whiskeys (6, 7, 9, 10, 14, and 16-year-old barrels), distilled and aged in KY, TN and IN. It's bottled at cask strength (115.88 proof) with an SRP of $90.
Castle & Key Restoration Rye 2021 Out Now!
Castle & Key Distillery has announced the third installment of its Restoration Rye series with Restoration Rye 2021 Batch #1. As with the others, it pays tribute to the restoration of its home at the historic Old Taylor Distillery, originally built over a century ago. The Restoration Rye 2021 Batch #1 is available for purchase at the distillery and in stores in Kentucky, Indiana, Tennessee, South Carolina, Texas and Georgia starting this week.
"The Restoration Rye 2021 release features one batch with unique flavor profiles created from a blend with 80 barrels. During the blending process, the barrels are grouped into pods with specific sensory profiles. Those pods are then blended to achieve the unique, high quality flavor profiles," says the press release.
20,500 bottles were produced, bottled at 50.5% ABV and will sell for a suggested retail price of $39.99.
New Belvedere Organic Infusions Reimagine Flavored Vodka
Belvedere's new range will feature 3 flavors: Lemon & Basil with a touch of elderflower, Pear & Ginger with a drop of Linden Honey, and Blackberry & Lemongrass with a hint of sage. According to the release, these are all "made with 100% organic real fruits and botanicals."
The Polish rye used to make Belvedere vodka is organic and 100% traceable to ensure quality. For Belvedere Organic Infusions, Belvedere sought out 100% certified organic fruits, spices and botanicals with no additives or synthetic flavors.
Belvedere has committed to using only 100% organic-certified ingredients in Belvedere Organic Infusions and are extending that commitment by pledging that all of their spirits will be certified as organic by 2030.
The 40% ABV products are available as of May 18 in Florida, Georgia, New Jersey, Ohio, New York and California (in-store date for NY and CA is June). It will sell for $14.99 per 200 mL and $35.99 per 750 mL.
Belvedere Organic Infusions /Photo Credit: Belvedere
Joe Jonas Partners with Tanqueray to Launch Sevilla Orange
Tanqueray has teamed up with celebrity Joe Jonas for a content series to introduce its newest offering, Tanqueray Sevilla Orange. 'Today's Forecast: Sunshine in a Glass" features Joe Jonas as a "not-so-average weatherman", delivering the Tanqueray Sevilla Orange Weather Report. The concept was designed for "transporting viewers to those ideal days of summer," says the press release.
Now available nationwide, Tanqueray Sevilla Orange is inspired by the flavor of Sevilla oranges and the flavors of the Mediterranean. The gin can now be purchased through a Joe Jonas-curated cocktail kit on CocktailCourier.com. The kit includes everything needed to prepare a Sevilla Sunshine Fizz, along with merch inspired by Joe's retro wardrobe in the content series.
You can check out the full video here.
Joe Jonas and Tanqueray /Photo Credit: Tanqueray
Crystal Head Pride Bottle Returns for a Limited Time
Known for its signature skull bottle, Crystal Head Vodka has announced another release of its limited-edition Pride bottle in celebration of diversity and equality. This time it will also be available in a 1.75 L size.
Crystal Head Vodka's Pride bottle uses a "one-of-a-kind proprietary decoration process unique to the brand. It shines proudly and brightly, inspiring freedom of expression and creative thought," says the release. The brand also says 2021 is the last year to purchase this Pride bottle design.
The Crystal Head Vodka Pride bottle will be available in 750 mL and 1.75 L formats at an SRP of $49.99 and $99.99 respectively. It will be available in select U.S. markets, Canada and Europe from May to July 2021, and is currently available for pre-sale on ReserveBar.
In addition, Crystal Head Vodka partnered with Gay Pride Apparel, a first-generation Mexican American & LGBTQIA+ owned brand, to create a cobranded "Made with Pride" t-shirt. A portion of proceeds from each shirt sold will benefit the Human Rights Campaign. T-shirts can be purchased here.
Crystal Head Pride Bottle /Photo Credit: Crystal Head
---
Ready to grab a bottle of Heaven's Door Master Blenders' Edition?
With Distiller, you'll always know what's in the bottle before you spend a cent. Rate, Review, and Discover spirits. Head on over to Distiller, or download the app for iOS and Android today!
Want to enjoy Distiller ad-free? Join Distiller Pro today to support the Distiller platform and keep ads off of your screen.