New Booze News: Jameson Bow Street 18, Teeling, Rhetoric, and More!
By Stephanie Moreno
April 27, 2018
The month of April ends with a bounty of new whiskey releases, so we'll just get right to it. To begin, Jameson has added a new addition to its portfolio—and its bottled at cask strength. Next, Teeling released the fifth and final bottling in its Revival series, but US fans will need to use their passports to find it. Moving on to Scotland, Benromach celebrated its 20th distillery reopening anniversary with a new whisky. Additionally, Douglas Laing released a special bottling of The Epicurean honoring the company's Glaswegian heritage.
Moving on to the US, the fifth annual Rhetoric release is out now—this one aged for 24 years. Meanwhile, the new Abraham Bowman Bourbon experimented with barrel entry proofs, but supplies are limited. Finally, Charbay Distillery is celebrating its 35th anniversary with a new whiskey—this one distilled from bottle-ready beer. All the details are in the booze news for the week of April 23, 2018!
This bottling marks the first cask strength Jameson whiskey to be released globally. It's a combination of pot still and grain Irish whiskeys aged in a collection of bourbon and sherry casks at the Midleton Distillery in Cork for 18 years. The whiskey is married and recasked into first-fill American oak ex-bourbon barrels for an additional six to twelve months. During that time, it lived in the maturation house at the Jameson Distillery Bow Street in Dublin.
Bottled without chill filtration at 55.3% ABV for the first batch. Availability in 20 markets beginning July 2018.
Suggested retail price €240 (~$295).
Jameson Bow Street 18 Year Cask Strength / Photo Credit: Jameson
Teeling released its fifth and final bottling in The Revival series in April 2018. This series was first launched to commemorate the opening of Dublin's first distillery in over 125 years. Volume V is a 12-year-old single malt aged initially in ex-bourbon casks. The whiskey then finished its maturation in cognac and brandy barrels. Bottled at 46% ABV non-chill-filtered—as is the case with all Teeling whiskeys.
Availability includes the distillery in Newmarket, Dublin, as well as specialty retailers in Ireland, followed by other international markets such as the UK, Germany, Belgium, Holland, Denmark and Italy. Only 15,000 bottles are available.
Suggested retail price €120 (~$145).
Teeling Whiskey The Revival 12 Year Single Malt (Volume V) / Photo Credit: Teeling
Released in April 2018 to celebrate the 20th anniversary of the reopening of Benromach on April 23rd, 1998. A lightly peated single malt, it matured in first-fill ex-sherry and first-fill ex-bourbon casks. Bottled at cask strength, only 3,000 bottles are available for purchase.
Suggested retail price £299 (~$415).
Benromach 20th Anniversary Bottling / Photo Credit: Benromach
The Epicurean is part of Douglas Laing's Remarkable Regional Malts series, with a highlight here on Lowland malts. Released May 2018, this limited edition blended malt bottling marks the 70 years Douglas Laing & Co. has had its family firm located in Glasgow. The company created the whisky in collaboration with some Glaswegian bartenders and spirit experts. Bottled at cask strength and, as is the case with all Douglas Laing bottlings, with no chill filtration or color added. Only 3,000 bottles are available globally.
Suggested retail price £45.99 (~$63).
The Epicurean Cask Strength Glasgow Edition / Photo Credit: Douglas Laing
Rhetoric falls under the The Orphan Barrel Whiskey Distilling Co. portfolio, a brand owned by Diageo. Released annually beginning in 2014, this marks the 5th edition of Rhetoric. Each year of its release, the whiskey is older and of slightly higher proof. It's made from a mash bill of 86% corn, 8% barley and 6% rye and distilled at the new Bernheim Distillery in Kentucky. After 24 years of maturation, it was bottled at 90.8 proof.
Suggested retail price $130.
Rhetoric 24 Year Bourbon / Photo Credit: The Orphan Barrel Whiskey Distilling Co.
Abraham Bowman represents the experimental line released by the A. Smith Bowman Distillery and this bottling marks the 17th release in the line. Sweet XVI Bourbon is made from a selection of bourbons, all aged for 16 years in new, charred American oak. The distillery experimented with different barrel entry proofs, and for this bourbon they included 125, 114, 105 and 90 proof. The bottle includes the distillation date (April 16, 2002) and bottling date (April 26, 2018), along with the batch number and bottle number. Virginia gets the bulk of the release, but availability expands to a few other states in summer 2018.
Suggested retail price $69.99.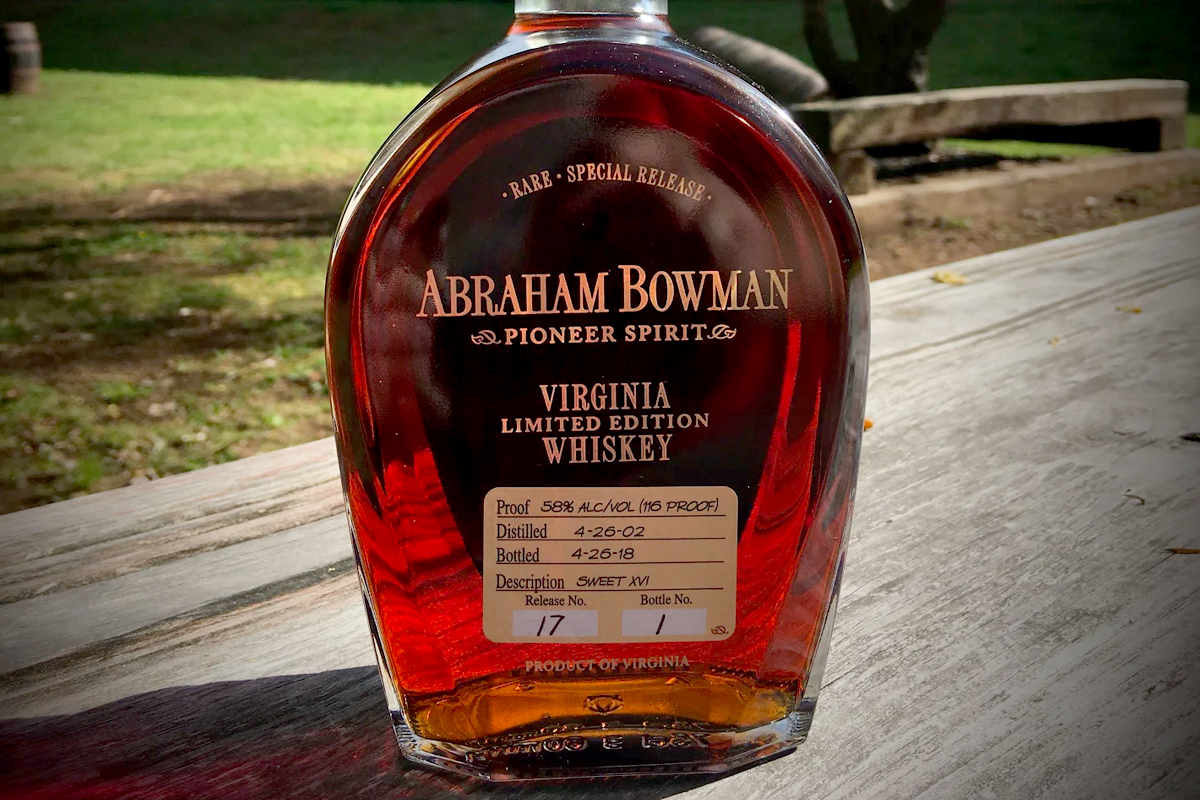 Abraham Bowman Sweet XVI Bourbon / Photo Credit: A. Smith Bowman Distiller
Charbay released this whiskey in celebration of the distillery's 35th anniversary. Lot No. 1 was produced from a blend of aged whiskeys ranging from 3-7 years old. Charbay distilled the whiskey from bottle-ready beer, two of which Bear Republic custom-brewed especially for Charbay. The ratio of the blend is: 50% 3 year-old single malt, 30% 7 year-old aged stout whiskey, and 20% 3 year-old aged pilsner whiskey. French and American oak were used for maturation. Available beginning spring 2018.
Suggested retail price $50.
Charbay Doubled & Twisted (Lot No. 1) / Photo Credit: Charbay
---
With Distiller, you'll always know what's in the bottle before you spend a cent. Rate, Review and Discover spirits! Head on over to Distiller, or download the app for iOS and Android today!