September has arrived! It's the most wonderful time of the year for whiskey drinkers. Not only is September National Bourbon Heritage Month, it is also the time for announcing annual releases. This includes the Diageo 2020 Special Releases collection, details of which are below. Also hitting shelves soon is the fall 2020 release of Old Fitzgerald Bottled in Bond Bourbon. We expect more annual releases to be revealed in the coming days so keep your eyes open for those.
This Labor Day weekend includes the Kentucky Derby for the first time in its history. You've still got time to stock up on Kentucky bourbon for your necessary Mint Juleps before race time. We've got a lot to cover this week so without further ado, here's Distiller's Friday Roundup for September 4, 2020!
Jeff Arnett, Jack Daniel's Master Distiller Stepping Down
After nearly 20 years with Jack Daniel's and 12 years as master distiller, Jeff Arnett is stepping down, according to a statement released by Brown Forman on Thursday. Named master distiller in April 2008, Arnett has contributed various additions to the Tennessee whiskey brand. In addition to Sinatra Select, Heritage Barrel and Tennessee Tasters', among several others, the brand added Tennessee Rye to its portfolio under his tenure. This was the first new mash bill for the brand since Prohibition.
"The last 20 years at the Jack Daniel Distillery have been an incredible chapter in my life and I look forward to spending some time to think about what the next chapter will hold," said Arnett. "I wish everyone in Lynchburg the best and I am appreciative of the support and confidence they have shown in me to represent Jack Daniel's to the world during my time there. It has been an honor and privilege to be one of only a handful of people to have served as the master distiller of this wonderful brand known around the world as simply 'Jack'."
Brown Forman expects to announce Arnett's replacement in the coming weeks.
Jeff Arnett /Photo Credit: Jack Daniel's
Diageo 2020 Special Releases Whiskey Collection Revealed
The details of the Diageo 2020 Special Releases were recently revealed. As we teased earlier this year, the collection features eight cask strength single malt whiskies curated by Master Blender Dr. Craig Wilson. The theme for this year's collection is Rare by Nature which is reflected in the labels and packaging details.
Notable bottlings include the first pot-distilled rum finish for the series and a rare 30-year-old release from the closed Pittyvaich Distillery. Limited availability for these whiskies begin in late fall 2020 in Europe, the US, Canada, Australia, South Africa and select Asian markets as well as airport duty free. You can find the details for the Diageo 2020 Special Releases below.
Diageo 2020 Special Releases /Photo Credit: Diageo
Cask: refill, new, and ex-bourbon American oak
ABV: 56%
Limited quantities worldwide
SRP: $111
Cask: refill and new freshly-charred casks
ABV: 55.8%
Limited quantities worldwide
SRP: $171
Cask: refill hogsheads
ABV: 51.9%
Available bottles: 6,978
SRP: $722
Cask: refill American oak casks
ABV: 56.4%
Limited quantities worldwide
SRP: $164
Cask: finished in Pedro Ximenez and oloroso sherry seasoned casks
ABV: 56.9%
Available bottles: 7,692
SRP: $755
Cask: first-fill ex-bourbon casks
ABV: 50.8%
Available bottles: 7,056
SRP: $522
Cask: finished in pot still Caribbean rum casks
ABV: 57.9%
Limited quantities worldwide
SRP: $119
Cask: exclusively refill American oak hogsheads
ABV: 55.1%
Limited quantities worldwide
SRP: $145
Heaven Hill Announces Fall 2020 Old Fitzgerald Bottled in Bond Release
Old Fitzgerald Bottled in Bond 14 Year is the sixth release in the bottled in bond decanter series which first began with a spring 2018 release. This wheated bourbon was produced by Heaven Hill and was distilled in one distillation season (fall 2005). Aged for 14 years, this fall 2020 release bears a black label just like the previous fall releases.
This is the first Old Fitzgerald 14-year-old to be nationally released in the decanter series; previously there was a Visitors Center & Kentucky allocated 14 Year bottling with a red label released in 2018. This black label release was pulled from different warehouses, different floors, and from different dates than that red label release. Available on an allocated basis this fall at an SRP of $140.
Midleton's Microdistillery Method and Madness Irish Whiskeys to Arrive in the US
Method and Madness is the experimental microdistillery at Midleton Distillery. Midleton is responsible for making Irish whiskey brands like Jameson and Redbreast among many others. Launched in 2017, these limited edition whiskeys are only now arriving stateside. Selective markets nationwide include AZ, CA, FL, MA, MN, NV, PA SC, TX and WA.
Method and Madness Irish Whiskeys /Photo Credit: Method and Madness
This single grain whiskey ages initially in first-fill bourbon barrels, but it finishes its maturation in virgin Spanish oak. Bottled at 92 proof, it has an SRP of $60.
This single malt is initially aged in ex-bourbon barrels, but part of the single malt finishes its maturation in French Limousin oak. This type of oak's most common use is for aging cognac. Bottled at 92 proof, it has an SRP of $75.
This single pot still whiskey matures in sherry and bourbon casks initially, but then finishes in French Chestnut casks. Bottled at 92 proof it has an SRP of $90.
Tidbits From Around The Spirits World
Let's take a quick look at what else is going on around the world this week…
Chris Blackwell Releases 007 Limited Edition Blackwell Fine Jamaican Rum
Blackwell Rum 007 is a limited edition bottling of the dark rum brand. The release will coincide with the November 2020 release of the James Bond film "No Time To Die". The film begins with a retired Bond enjoying a tranquil life in Jamaica. Chris Blackwell—founder of Island Records and owner of this rum brand—owns the Goldeneye estate in Jamaica, the former residence of Ian Fleming. Notably, Goldeneye is the location where Fleming wrote all of the Bond novels. Blackwell Rum 007 will retail for $35 in major metro markets in November 2020.
Blackwell Rum 007 /Photo Credit: Blackwell Rum
Snoop Dogg Releases INDOGGO Gin
INDOGGO Gin is a strawberry-flavored gin developed by hip-hop legend Snoop Dogg in partnership with Keenan Towns of Trusted Spirits and Prestige Beverage Group. This gin contains seven botanicals including orange, coriander, cassia, orris root, angelica root and angelica seed. However, it is light on the juniper. Infused with an "all natural strawberry flavor", this gin has no added sugar. Available in California in late September 2020 with expansions across the country through early 2021. The SRP is $29.99 for a 750ml and $1.99 for 50ml.
INDOGGO Gin /Photo Credit: INDOGGO
Mijenta Blanco Tequila
Mijenta Tequila is a tequila brand which launched in the US in August 2020. It is made by Maestra Tequilera Ana Maria Romero from ripe agaves harvested in the Highlands of Jalisco. Notably, all of the paper-related products for the bottle and box come from agave waste. Mijenta is inspired from "mi gente" which means "my people". This blanco expression is unaged and bottled at 40% ABV with an SRP of $50. A reposado tequila is expected to be released later this year
Mijenta Tequila /Photo Credit: Mijenta Tequila
Vamonos Riendo Mezcal Joven
This is a triple distilled mezcal is made from a blend of espadín and tobalá agaves harvested at 8 and 14 years respectively. Vamonos Riendo, which means "let's go laughing", is available in Southern California as of August 2020 with more markets to follow with an SRP of $59.99.
Vamonos Riendo Mezcal Joven /Photo Credit: Vamonos Riendo
New Releases on the Horizon
We try to keep an eye on all of the label approvals that go through the TTB (The Alcohol and Tobacco Tax and Trade Bureau) so we know which releases to look out for. Here are a few of the most interesting looking approval submissions we'll likely see in the not-too-distant future. Keep in mind that ABVs listed are also subject to change.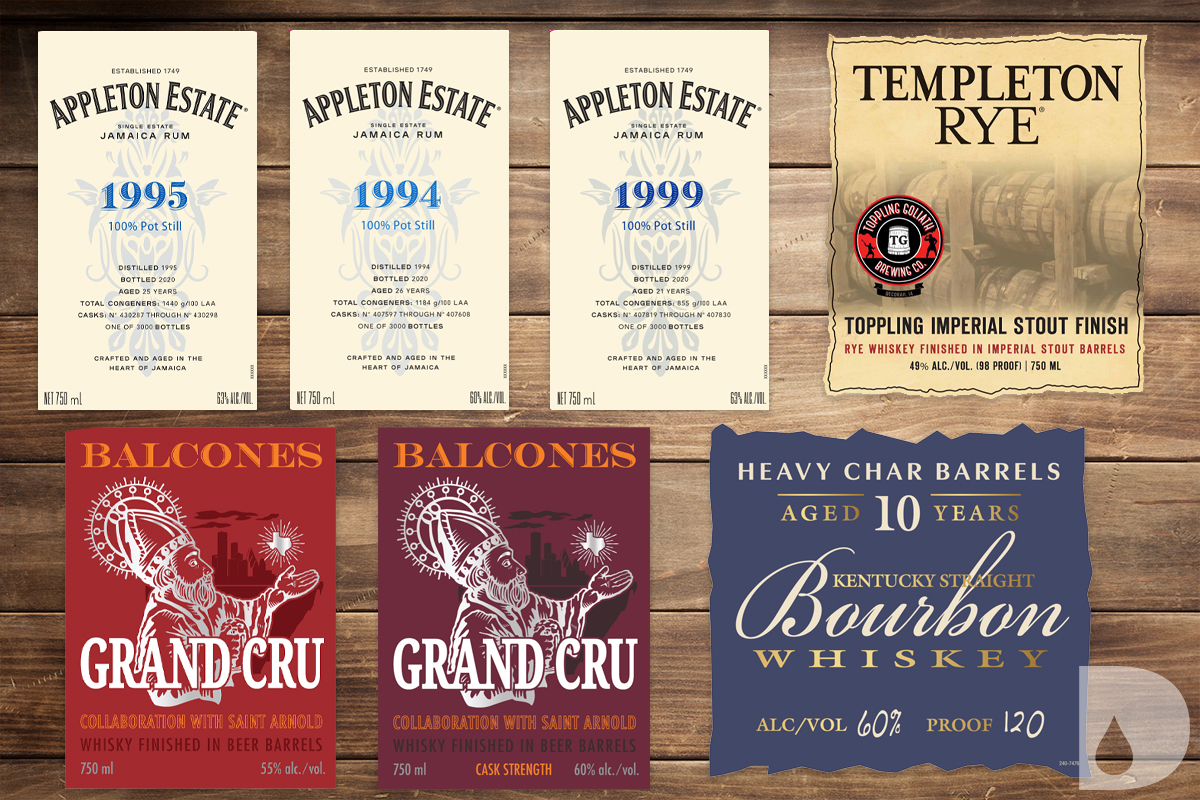 Upcoming TTB Labels
This is the upcoming 14th edition for Heaven Hill's Parker's Heritage Collection. This annual series which began in 2007 honors the late Parker Beam, master distiller for Heaven Hill.
What We Know:
This release appears to build on last year's Heavy Char Rye theme. Beginning with the distillery's traditional rye bourbon mash bill, the barrels used for maturation are charred for one minute and 30 seconds which is a char level 5. Traditionally, Heaven Hill uses a char level 3 which lasts for 40 seconds. After 10 years of maturing in these heavy char barrels, the bourbon enters the bottle at 120 proof without chill filtration.
Appleton Estate Hearts Collection
Appleton Estate is releasing three vintage dated 100% pot still rums for this limited edition rum collection.
What We Know:
Selected by Master Blender Joy Spence, these three bottlings feature rums distilled on Forsyth pot stills. There's a 1994 vintage (26 Year), a 1995 vintage (25 Year), and 1999 vintage (21 Year) in the collection. Details on the bottle include the cask numbers selected as well as the congener levels of each rum. This release includes 3,000 bottles of each vintage. The ABV for each are 60%, 63% and 63% respectively.
Balcones Grand Cru and Grand Cru Cask Strength
Waco, Texas-based Balcones is partnering with Houston's Saint Arnold Brewing Company for these limited edition whiskeys.
What We Know:
To celebrate the brand's 25th anniversary, Saint Arnold released Grand Cru, a blend of three bourbon-barrel aged beers: Belgian-style quadrupel, Russian imperial stout, and English-style barleywine. Balcones is then using those barrels to finish these whiskeys released at 55% ABV. There's a Cask Strength version at 60% ABV as well.
Templeton partners up with Iowa-based Toppling Goliath Brewery for this rye whiskey.
What We Know:
The barrels from Toppling initially held Kentucky bourbon before the brewery used them to age their Imperial Stout. Templeton took these stout barrels and filled them with four-year old rye to finish its maturation.
---
Ready to grab a bottle from the Diageo 2020 Special Releases collection?
With Distiller, you'll always know what's in the bottle before you spend a cent. Rate, Review, and Discover spirits. Head on over to Distiller, or download the app for iOS and Android today!
Want to enjoy Distiller ad-free? Join Distiller Pro today to support the Distiller platform and keep ads off of your screen.