New Booze News: Booker's 30th Anniversary, Wyoming Whiskey, The Macallan and More!
By Mollie Berntsen
December 20, 2018
Can you believe 2018 is almost over? You'd think with the holidays so close-by people would be too busy decking the halls to release new spirits—but you'd be wrong. It's been another week of non-stop spirits news starting with a whole bunch of new bourbons from Booker's including Booker's 30th Anniversary Bourbon, Wyoming Whiskey, Barrell Craft Spirits and Finger Lakes Distilling. A new spirits venture from Sazerac and Casa San Matias also hit markets this week along with another bottling from The Macallan's Fine & Rare collection. Finally, Douglas Laing is ending the year on a high note with two more limited-edition Platinum offerings.
Booker's Bourbon
Booker's is giving us the gift of not one but two new year-end releases.
This special release is in celebration of Booker's founder, the late Beam master distiller Booker Noe, who started the brand three decades ago. This offering is a blend of uncut, unfiltered 9-year (70%) and 16-year (30%) Kentucky straight bourbon whiskeys. It comes in a wooden box made from reclaimed floorboards from the distillery's Clermont rackhouses. It is bottled at 125.8 proof and available in limited quantities. SRP $200.
Booker's 30th Anniversary Bourbon
This release marks the fourth and final batch from Booker's Bourbon for 2018. It has been dubbed "Kitchen Table" in tribute to one of Booker Noe's favorite places in his home. In fact, Noe's kitchen table is a family heirloom passed down from Jim Beam himself. This bourbon was aged for 6 years, 8 months and 7 days, and bottled at 64% ABV. It is available now in limited quantities nationwide. SRP $75.
Booker's Bourbon Batch 2018-04 "Kitchen Table" / Photo Credit: Booker's
This latest offering from Wyoming Whiskey, barrel #3242, marks the brand's second ever single barrel, Barrel Strength Bourbon release. It offers a peek into the deepest recesses of the Wyoming Whiskey warehouse, where the finest casks are kept. The cask was selected by distiller Sam Mead, with the support of blender and consultant Nancy Fraley. Bottled at 124.7 proof, only 50 bottles will be available in select markets starting in December 2018. And if it's anything like the last release, it will go quickly. SRP $199.
Wyoming Whiskey Barrel Strength Bourbon (Barrel #3242)
Barrell Craft Spirits
This trio of releases from Barrell Craft Sprits range widely in flavor and barreling, but all are available at an SRP of $90. It's like a choose-your-own-adventure version of whiskey.
The first release, Dovetail, is a whiskey that is not technically a whiskey according to the TTB. It is a blend of 10-year-old whiskey finished in Dunn Vineyards cabernet barrels and an 11-year-old bourbon finished in black strap rum casks and LBV port pipes. Barrell Craft Spirits spent almost a year perfecting the blend before settling on the final product. This is a cask-strength release, bottled at 122.9 proof. SRP $90.
Barrell Craft Spirits Dovetail / Photo Credit: Barrell Craft Spirits
Batch 017 is a tribute to classic bourbon. It is a combination of a 10-year 4-month, a 14-year and a 15-year barrel. It is made from a mash bill of corn, rye and malted barley and bottled at a cask strength 112.5 proof. SRP $90.
Barrell Bourbon Batch 017 / Photo Credit: Barrell Craft Spirits
Barrell Craft Spirits is ringing in the new year in a big way with this release. The brand sourced a selection of 4, 5, 8, 11, 14 and 15-year-old straight bourbon whiskeys from 6 different barrels from 6 different states to create this bottling. It also includes reserves from some previous batches. It is bottled at 112.1 proof and available in limited quantities. SRP $90.
Barrell Bourbon New Year 2019 / Photo Credit: Barrell Craft Spirits
This release from New York's Finger Lakes Distilling is made from local corn, red winter wheat and malted barley. Meeting the strict requirements of the Bottled-in-Bond Act, it is the product of a single distilling season, aged a minimum of four years and bottled at 100 proof. It is available at select retailers in NY, NJ, CA, NV and AZ. SRP $43.
McKenzie Bottled-in-Bond Wheated Bourbon
This mezcal shows what can happen when a tequila company and a spirits powerhouse join forces. Los Vecinos Mezcal is born from a partnership between Sazerac and Casa San Matias, whose CEO Carmen Villarreal shares a special connection to Oaxaca. "While in Oaxaca, I learned the importance of supporting communities," she says. "We are excited that our friends at Sazerac share our enthusiasm for representing Mexican culture and tradition and rewarding the families and communities that make Los Vecinos Mezcal." The mezcals are all are produced in small batches by a group of 10 master mezcaleros in the Valles Centrales of Oaxaca. This Espadin expression will be the first from the brand, with two other expressions—Tobala and Ensamble No. 1—to be released in 2019. Los Vecinos Del Campo Espadin is double distilled and bottled at 90 proof. Available in several markets at an SRP of $34.
Los Vecinos Del Campo Espadin / Photo Credit: Los Vecinos Del Campo
If you're looking to really treat yourself in the new year, try getting your hands on this unique vintage. The latest release in The Macallan's highly regarded Fine & Rare collection, this 39-year-old single malt was distilled in 1978. Made with the very best of the brand's finest maturing stock, the whisky aged in a second-fill American oak hogshead cask. This offering is limited to just 243 bottles globally (5 for the US) and retails for an SRP of $11,700 USD.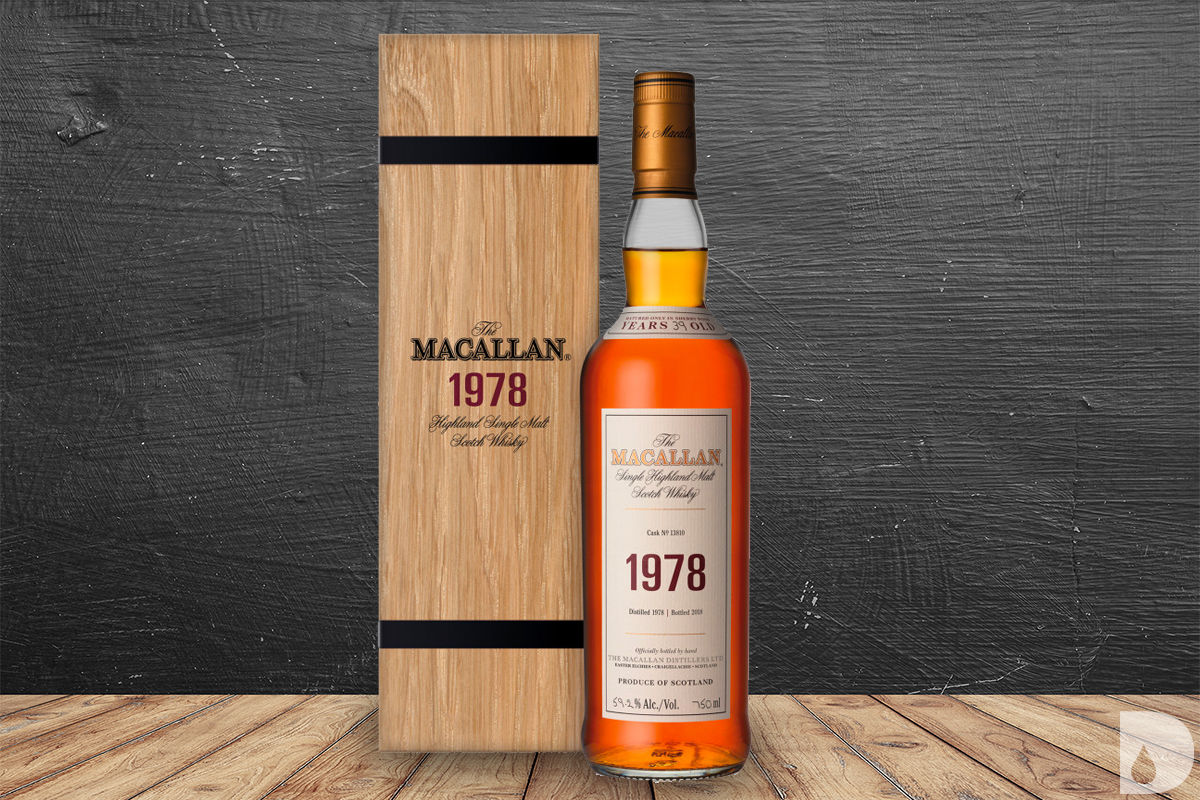 The Macallan 1978
Douglas Laing
This family-owned company had quite the 2018. It celebrated its 70th anniversary with a gala and some very special editions. To top off its Platinum Anniversary, the brand is releasing two more limited-edition bottlings.
XOP Platinum Port Ellen 1982 Vintage Single Cask & Big Peat Platinum Edition 26 Year / Photo Credit: Douglas Laing
The release is in tribute to Douglas Laing's founder whose favorite distillery was Port Ellen. Aged in a sherry butt for 35 years, this single-cask offering yielded just 273 bottles. Each bottle is personally signed by Fred Laing and his daughter Cara Laing. It is uncolored, non chill-filtered and bottled at a cask strength of 54.5% ABV. Available from select retailers in the UK, Europe and Asia.
This bottling marks the second release of Big Peat's limited edition trilogy. This Islay blended malt was aged for 26 years in American oak. It is bottled at a cask strength of 51.5% ABV. Only 3,000 bottles are available from select retailers in the UK, Europe and Asia.
---
With Distiller, you'll always know what's in the bottle before you spend a cent. Rate, Review and Discover spirits! Head on over to Distiller, or download the app for iOS and Android today!