New Booze News: WhistlePig FarmStock Rye No. 003, Glenlivet Enigma, Michter's Rye and More!
By Stephanie Moreno
June 28, 2019
June is nearly over and we've got the scoop on some new whiskey releases expected to hit shelves soon. With an American holiday next week, we'll start with the American whiskey releases, all hailing from Kentucky. Michter's announced the latest batch of its 10 year single barrel rye, the first from the brand's new master distiller. WhistlePig has completed its Farmstock Crop trilogy with WhistlePig FarmStock Rye Crop No. 003 hitting shelves next month. Moving over to bourbon news, Heaven Hill announced a new 7-year-old bonded bourbon. Meanwhile, Brown-Forman disclosed details on this year's King of Kentucky single barrel bourbon release. And finally, Barton 1792 is set to debut a new limited edition addition to its portfolio and this time, it bears a substantial age statement.
Looking across the pond to Scotland, The Glenlivet released its latest mystery single malt complete with black bottle. Lastly, Speyburn revealed a new permanent addition to its portfolio with its 18 year single malt, set to hit shelves next month.
Hopefully more than a few of you are set to take some much needed time off in the next couple of weeks. Take a moment to get acquainted with these new offerings and make sure to add them to your wish lists. Without further ado, here's the booze news for the final week of June 2019!
The 2019 release for Michter's 10 Year Single Barrel Kentucky Straight Rye is set for July 2019. It is the first release by newly named master distiller Dan McKee. McKee selected this year's batch along with master of maturation Andrea Wilson. Due to limited supply, this will also be the only batch released for the year.
"In my years at Michter's, I've seen how incredibly focused our previous Master Distillers Pam Heilmann and Willie Pratt have been on waiting to release whiskey 'til it was just right," says McKee. "Working with our Master of Maturation Andrea Wilson, I will continue that tradition of only releasing whiskey that makes us extremely proud."
SRP $160.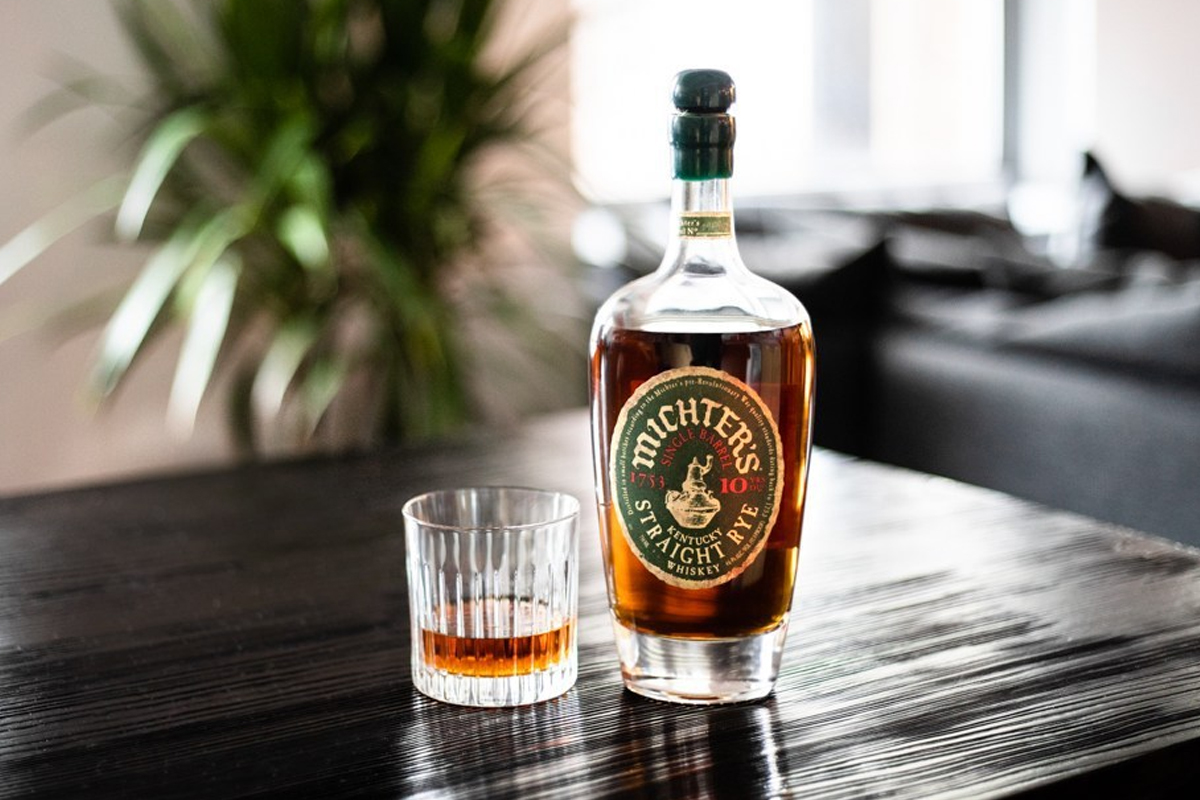 Michter's 10 Year Single Barrel Kentucky Straight Rye / Photo Credit: Michter's
The third release of WhistlePig FarmStock Rye—what the brand calls its "Triple Terroir Whiskey"—is scheduled for a July 2019 release. This is a blend of straight rye whiskeys, two from Canada and one the brand's own Vermont-distilled rye. The latter whiskey makes up a majority of the blend. It's made from estate-grown rye that's first brought to proof with the estate's own water then aged in Vermont white oak barrels. The breakdown is as follows: 52% 3 year Vermont rye, 31% 6 year Canadian rye, 17% 10 year Canadian rye.
"It's our absolute pleasure to introduce the next version of FarmStock Rye, particularly as this 3rd edition contains over 50% whiskey distilled on the farm," says Pete Lynch, WhistlePig's master blender. "With this release, we're able to cement not only Dave Pickerell's dream, but his legacy as well, by bringing the whiskey he laid down years ago to life."
This third bottling is also the final release in the WhistlePig Farmstock Rye trilogy. It is bottled at 43% ABV has a SRP of $72.99.
WhistlePig FarmStock Rye Crop No. 003 / Photo Credit: WhistlePig
Heaven Hill Bottled In Bond 7 Year Bourbon is produced from the brand's traditional mash bill. The family-owned brand originally launched its eponymous bottled in bond brand in 1939 with a four-year-old bourbon release. This Kentucky straight bourbon is aged for 7 years, though only 4 years are required for this category.
The bourbon is bottled at 100 proof and two Distilled Spirits Plant (DSP) are featured on the label. DSP KY-1 is listed for the Bernheim Distillery in Louisville, KY and DSP KY-31 for Heaven Hill's headquarters and bottling facility in Bardstown, KY. It will be available in select markets of California, Texas, New York, Georgia, Florida, Illinois, South Carolina and Colorado beginning in October 2019 at a SRP of $39.99.
Heaven Hill Bottled In Bond 7 Year Bourbon
King of Kentucky is a whiskey brand that was first introduced in 1881. Brown-Forman acquired the brand in 1936 but retired it in 1968. Last year Brown-Forman resurrected the brand, only this time as a Kentucky straight bourbon—formerly it was a blended whiskey. The name is a reference to horse racing, "the sport of kings". The bourbon is made from the Early Times mash bill (79% corn, 11% rye, 10% malted barley).
Once again selected by master distiller Chris Morris, this year's batch was aged for 15 years. The bourbon will be bottled in single barrel, cask strength releases, so expect the proof to range from around 125-133. Furthermore, the details regarding proof, age, warehouse location, lot number, serial number and barrel number will be handwritten on each bottle.
"As we sample and taste our barrels in inventory, the selection is made based on flavor profile development," says Morris. "Some barrels take longer than others to reach their peak of perfection. This year we have selected barrels from two different production dates, both 15 years of age."
Availability is limited to Kentucky with only around 2,000 bottles produced at a SRP of $250.
King of Kentucky 15 Year Kentucky Straight Bourbon (2019 Release)
1792 Aged Twelve Years is the latest bourbon offering from Barton Brands, owned by Sazerac. The Kentucky straight bourbon is made using the same high-rye mash bill as the brand's flagship no-age statement Small Batch Bourbon bottling. Aged for 12 years, this bourbon bottling will be released each summer going forward.
This limited edition bottling joins the other bourbons in Barton Brands' portfolio including Bottled In Bond, Full Proof, High Rye and Sweet Wheat. The first batch of 1792 Aged Twelve Years is set to launch in July 2019 at a SRP of $49.99.
1792 Aged Twelve Years
Crafted by master distiller Alan Winchester, The Glenlivet Enigma is another in the brand's line of no-age statement releases following Alpha, Cipher, and Code. These single malt releases were all released with no bottle information disclosed besides the ABV—48%. Additionally, the brand encourages drinkers to "solve the puzzle" and share their tasting notes on social media and the distillery's own website.
If you're interesting in unlocking these tasting notes, you can head over to the brand's website. Once there, you'll be asked to solve a few crossword puzzles to unlock the tasting descriptors. The brand will disclose the distilling and aging process at the end of 2019. In case you missed it, the brand revealed the details regarding The Glenlivet Code in late 2018. Those barrels used for maturation were "a mixture of America oak barrels and selectively finished in ex-Canadian first fill Rye barrels".
SRP $119.
Glenlivet Enigma / Photo Credit: Glenlivet
Speyburn 18 Year is a new permanent addition to the Speyburn portfolio. Its first bottling in late 2018 coincided with the 18th anniversary of the tenure of distillery manager Bobby Anderson. This single malt matured for 18 years in American and Spanish oak. It is bottled at 92 proof and available globally at a SRP of $125. However, just 9,000 bottles will be released annually.
Speyburn 18 Year
---
With Distiller, you'll always know what's in the bottle before you spend a cent. Rate, Review and Discover spirits! Head on over to Distiller, or download the app for iOS and Android today!