New Booze News: Midleton Very Rare, High West A Midwinter Night's Dram, Compass Box, and More!
By Stephanie Moreno
October 6, 2017
Before our official reviews arrive, we wanted to give you a sneak preview of the new products hitting shelves soon. Midleton's Very Rare annual whiskey is out—and with a new look. High West's highly anticipated seasonal release, A Midwinter Night's Dram, is ready with Act 5. Compass Box has a couple of limited edition blended malts for you, one of which is their peatiest release ever. All this and more in the Booze News for the week of October 2, 2017!
IRELAND
First released in 1984, Midleton Very Rare incorporates a blend of different whiskey styles, ages and barrels types in this annual bottling—typically using whiskeys aged between 12-30 years of age. Master distiller Barry Crockett was the first to create these whiskeys and now, Brian Nation has that title and honor.
The 2017 vintage highlights a blend of ex-bourbon barreled whiskeys aged from 12-32 years, as well as 32 year-old Midleton single grain whiskey. Additionally, single pot still whiskey aged 26 years is also included in the blend. 2017 marks a new look for the bottle and presentation box. Bottled non chill filtered at 40% ABV. Availability beginning October 2017 in the US, Canada, Ireland and Irish Travel Retail. Suggested retail price €180/US $210.
Midleton Very Rare 2007 / Photo Credit: Midleton
USA
The fine folks over at High West Distillery don't mind experimenting. Taking their Rendezvous Rye Whiskey—a blend of two different straight rye whiskeys of different ages and different mash bills—the rye finishes its maturation in French oak ex-port barrels. Bottled at 98.6 proof.
The name is a take on Shakespeare's famous play as this dram is a perfect way to keep you warm on a midwinter night. This seasonal release lists its batches as different acts and scenes. Suggested retail price $90, though this price varies wildly across the country.
High West A Midwinter Night's Dram, Act 5 / Photo Credit: High West Whiskey
SCOTLAND
This limited edition bottling from Compass Box is their "peatiest whisky yet". As to the details of the bottle they are as follows:
-75.5% of the volume hails from "a well-known distillery located along Pier Road" (Ardbeg), aged in re-charred American standard barrels.
-10.6% originates "near the village of Port Askaig" (Caol Ila), aged in refill American standard barrels.
-13.4% is "a much-loved distillery in the northern Highlands village of Brora" (Clynelish), aged in re-charred hogshead.
-0.5% is a Highland malt blend (undisclosed), aged in a heavily-toasted French hybrid cask.
Bottled at 48.9% ABV. No Name hits shelves in October 2017 in the EU and November 2017 in the US. Availability limited to 15,500 bottles. Suggested retail price £100/US $125.
Compass Box Phenomenology & No Name / Photo Credit: Compass Box
Phenomenology is, as Compass Box defines it, "an approach that concentrates on the study of consciousness and the objects of direct experience." Unlike other releases from Compass Box, they would like you to try this blended malt without any preconceived thought about how the whisky was created or how it tastes.
Bottle details will be provided if you email them a request, but only after you've experienced the whisky. You must also share your thoughts about it…and promise to keep the details a secret. Bottled at 46% ABV, this blended malt is non chill-filtered and has no color added. The whisky is available beginning October 2017 in the EU and the US in November 2017 with 7,908 bottles produced. For those that simply must have the information, Compass Box will release the bottle details in December 2017. Suggested retail price £150/US $180.
BOWMORE VINTNER'S TRILOGY
This trilogy of single malt whiskies was matured in Bowmore's No. 1 Vaults. Each one has also undergone a secondary wine cask maturation.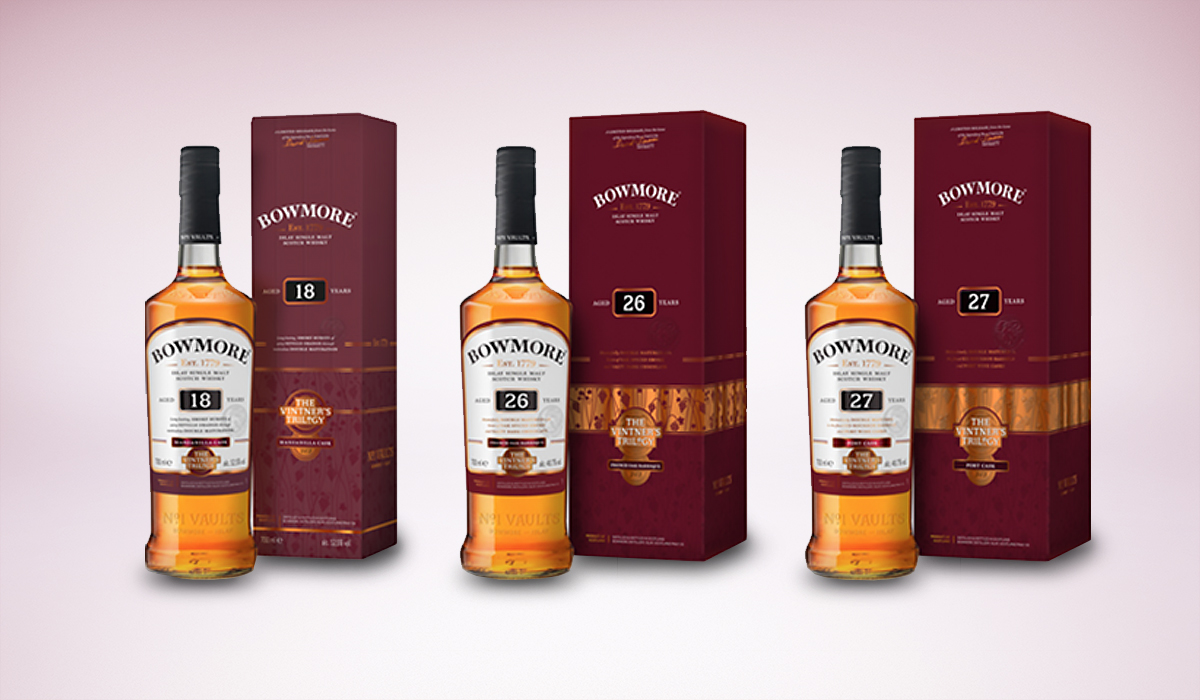 Bowmore Vintner's Trilogy / Photo Credit: Bowmore
This 18 year-old single malt matures in two types of casks. For the first 13 years, it ages in ex-bourbon barrels. Following that, the whisky spends its remaining five years in former ex-manzanilla sherry casks. Bottled at 52.5% ABV. Available beginning October 2017. Suggested retail price $127.
This 26 year-old single malt aged in two types of barrels. For the first 13 years, it matured in ex-bourbon barrels. The whisky then transferred to former wine barriques for the last 13 years. Bottled at a cask-strength of 48.7% ABV. Available beginning October 2017. Suggested retail price $540.
Bowmore 27 Year
The 27 year-old bottling in this trilogy is expected to hit shelves in 2018. The single malt finishes its maturation in port wine casks. More information coming soon.
---
With Distiller, you'll always know what's in the bottle before you spend a cent. Rate, Review, and Discover spirits! Head on over to Distiller, or download the app for iOS and Android today!