As Old Forester just celebrated its 150th anniversary in 2020, you can expect the brand to have quite an extensive whiskey portfolio. In fact, Old Forester has an entire collection which takes a look back at the history of the brand in liquid form. We'll go over that Whiskey Row Series at a later date. But today we'll cover their core bourbon expressions as well as an annual release which celebrates their founder George Garvin Brown. Fun fact: It was he who first decided to sell bourbon exclusively by the bottle (before then, it was sold by the barrel).
Brown-Forman is the parent company for Old Forester and like other brands in its portfolio such as Jack Daniel's and Woodford Reserve, barrels for maturation are made at Brown-Forman's own cooperage. Another key point to go over is the brand's use of a high-rye bourbon mash bill. Each bourbon in the portfolio is made with it. We've got a few more facts to share as well as a brief expert tasting note and our own Distiller's Community Ratings. These will all help you decide on your next bourbon purchase.
Established in 1870, Old Forester was America's first bottled bourbon.
What to Know:
Like all Old Forester bourbon bottlings, this is made with a high-rye bourbon recipe (18%).
What Our Experts Think It Tastes Like:
Cinnamon-dusted apricots, oak, leather and nutmeg.
Avg US Price: $21
ABV: 43%
Community Rating: 3.26 out of 5 stars (1,459 Ratings)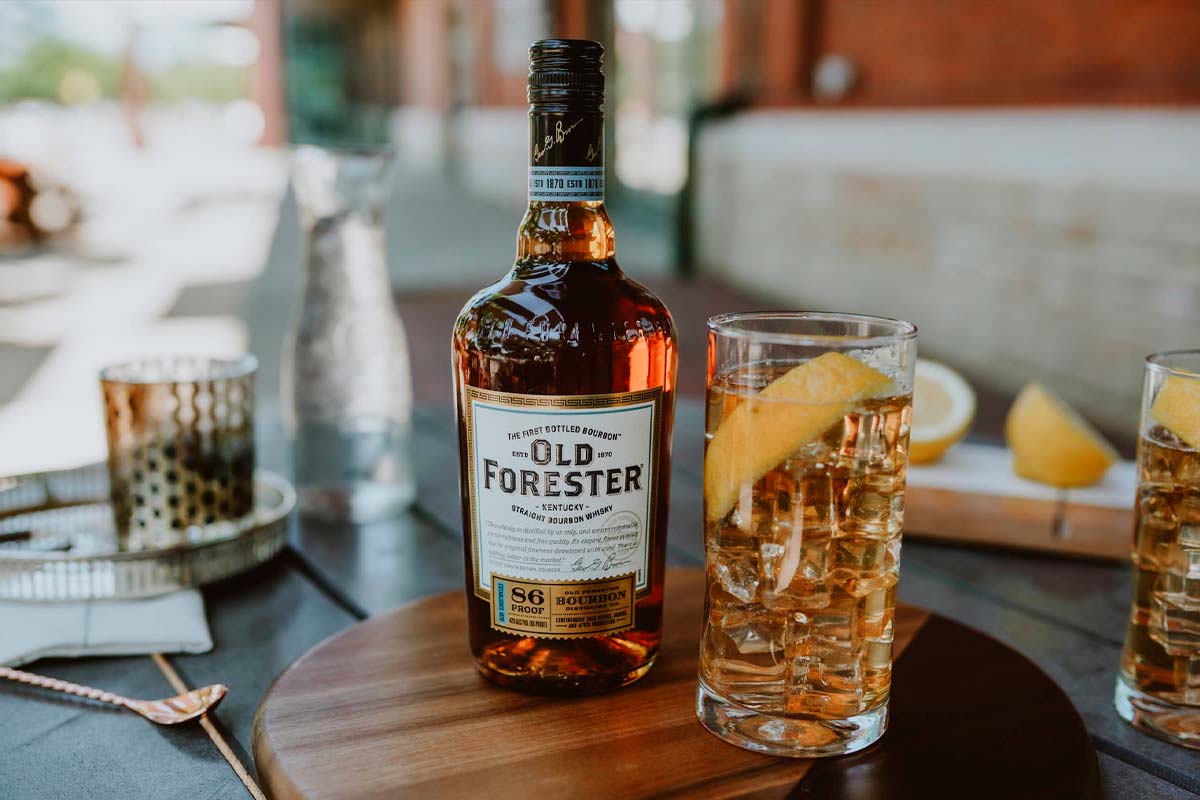 Old Forester Classic 86 Proof /Photo Credit: Old Forester
This bourbon is batched from selected hand-picked barrels.
What to Know:
As it's bottled at 100 proof, it's great for mixing.
What Our Experts Think It Tastes Like:
Crème brûlée and mint chocolate with vanilla and oak followed by a rye spiciness.
Avg US Price: $23
ABV: 50%
Community Rating: 3.58 out of 5 stars (1,152 Ratings)
Old Forester 100 Proof Bourbon /Photo Credit: Old Forester
This single barrel bourbon replaces the former Single Barrel 90 proof version.
What to Know:
Retailers and bars select the single barrels to their taste. Depending on the barrel, each selection produces 200-240 bottles. Bottles are also available to purchase at the Old Forester Distilling Co. in Louisville.
What Our Experts Think It Tastes Like:
Toasted bread, vanilla extract, earthy cardamom, rye bread and honey.
Avg US Price: $55
ABV: 50%
Community Rating: 3.91 out of 5 stars (35 Ratings)
Old Forester Single Barrel Bourbon 100 Proof

This limited-edition bourbon is released on founder George Garvin Brown's birthday (Sept 2nd). It is one of the most in-demand bourbons on the market so expect prices to be hundreds more than it's suggested retail price of $129.99.
What to Know:
Each release is vintage dated and aged 10-12 years. The proof varies depending on the batch, but it's around 100 proof.
What Our Experts Think It Tastes Like:
A healthy dose of oak and breakfast foods like oatmeal with brown sugar and apples; maple syrup and pancakes; and bacon with buttered toast.*
Avg US Price: $1,370
ABV: 48-52%
Community Rating: 4.43 out of 5 stars (95 Ratings)*
*Tasting Notes and Rating for the 2020 Old Forester Birthday Bourbon bottling.
Old Forester Birthday Bourbon 2021 /Photo Credit: Old Forester
Other Old Forester Bourbon Brands to Know:
These hand-selected barrels are managed by Master Taster Jackie Zykan. For the Barrel Strength version, the bourbon is unfiltered and will vary in proof as is the nature of these releases. Each barrel should yield ~160 per barrel. Like the Single Barrel 100 Proof bottling, this too is available for retailers to purchase a full barrel.
Statesman was created as a tie-in with the 2017 movie sequel, "Kingsman: The Golden Circle." In the film, The Statesman are a spy organization who are bourbon master distillers by day and spies at night with headquarters based inside the fictional Statesman Distillery. The bourbon is made with whiskey taken from the warmest places in the warehouse. This no-age statement is bottled at 95 proof.
---
Ready to do your own Old Forester Bourbon comparisons?
With Distiller, you'll always know what's in the bottle before you spend a cent. Rate, Review, and Discover spirits. Head on over to Distiller, or download the app for iOS and Android today!
Want to enjoy Distiller ad-free? Join Distiller Pro today to support the Distiller platform and keep ads off of your screen.