Happy August, spirits fans! This week's news all happens to be whiskey-related.
But just because there are only four items to discuss this Friday doesn't detract from how interesting each announcement is.
This week brings news of the first rye to be fully-distilled and matured at J. Rieger & Co. in modern history, J. Rieger & Co. Bottled-in-Bond Straight Rye. Yep, another entry into the ever-expanding BIB category. Speaking of, Old Fitzgerald Bottled-in-Bond Fall 2021 from Heaven Hill is also on the way!
We also got word that Coors is entering the spirits space, and it's starting with whiskey. Wait! Come back. What if we told you the product is meant as a way to tap into the market for whiskey drinkers who appreciate a bit of adventure and trying new things? Coors Whiskey Co. Five Trail is a hybrid Colorado single malt and bourbon blend made in partnership with Bardstown Bourbon Co., and the first of more to come. Read on for details.
First, we start with the launch of Basil Hayden Toast, the first brand extension from Freddie Noe of Jim Beam.
Happy sipping!
Introducing Basil Hayden Toast
Basil Hayden Toast, the newest expression in the Basil Hayden portfolio debuted this week. Part of the reason for the hoopla surrounding the launch is that it contains an entirely new mash bill for the product lineup.
Made by eighth generation Beam family distiller, Freddie Noe, Basil Hayden Toast reimagines Basil Hayden with the use of, you guessed it, a toasted barrel. The twist is that in lieu of traditional rye grain, Basil Hayden Toast is made using US-grown brown rice to impart more sweetness and less spice. It also undergoes a secondary toasted barrel finish. After aging, the toasted brown rice bourbon is blended back with more brown rice bourbon which was rested in level four char barrels.
"Basil Hayden Toast is truly a whiskey for fans of all taste and experience levels to share," said Freddie Noe. "When my grandfather Booker Noe first made Basil Hayden, his intention was always to create bourbon that opened people's minds to what bourbon can be. Inspired by his mission, I've spent many years working to produce a new bourbon that speaks to this sense of discovery. The unexpected addition of brown rice, as well as the toasted barrel finish of Basil Hayden Toast does just that. It delivers an intriguing avenue into the warm and memorable bourbon sipping occasion. I encourage you to raise a toast with friends to this exciting addition to the Basil Hayden family!"
Basil Hayden Toast /Photo Credit: Basil Hayden
Packaging Update
In addition to being the newest permanent expression in the Basil Hayden portfolio, Toast marks the debut of a packaging update for the brand with a zhuzhed-up monogrammed belt on the bottle. It is intended to represent the metal hoops on bourbon barrels. The brand says this update will extend across the entire portfolio, although the liquids themselves will stay the same.
To celebrate the launch of Toast, Basil Hayden partnered with contemporary design studio and manufacturer, Fort Standard to give fans a chance to win a custom-made oak home bar. Obviously, it's a grand excuse to show off the new bottle. For more information on how to enter for a chance to win, please follow @basilhaydens on Instagram.
Basil Hayden Toast is bottled at 40% ABV and now available in the United States at a suggested retail price of $49.99 per 750 mL.
Heaven Hill Distillery Announces Fall 2021 Edition of the Old Fitzgerald Bottled-in-Bond Series
Heaven Hill Distillery has announced the release of the fall 2021 edition of Old Fitzgerald Bottled-in-Bond Kentucky Straight Bourbon Whiskey at 11 years old. It is composed of barrels produced in spring of 2010, and bottled in spring of 2021. This is the eighth national release in the series.
Bottled in its signature decanter, as with every fall edition, this one has a black label. Consistent with past releases, this edition features a signature tax strip, which discloses when the liquid was produced and bottled. The Old Fitzgerald Bottled-in-Bond fall edition will be available in the 750 mL size on an allocated basis. In keeping with bottled-in-bond standards, it is produced at a single distillery from a single distilling season, aged (way over) the minimum of four years, and is bottled at 100 proof or 50% alcohol by volume. The SRP is $110.
Fun facts: the fall 2021 edition of Old Fitzgerald Bottled-in-Bond Kentucky Straight Bourbon Whiskey features bourbon selected from rickhouse EE. This is the second time it is an 11-year-old release—the first was spring 2018.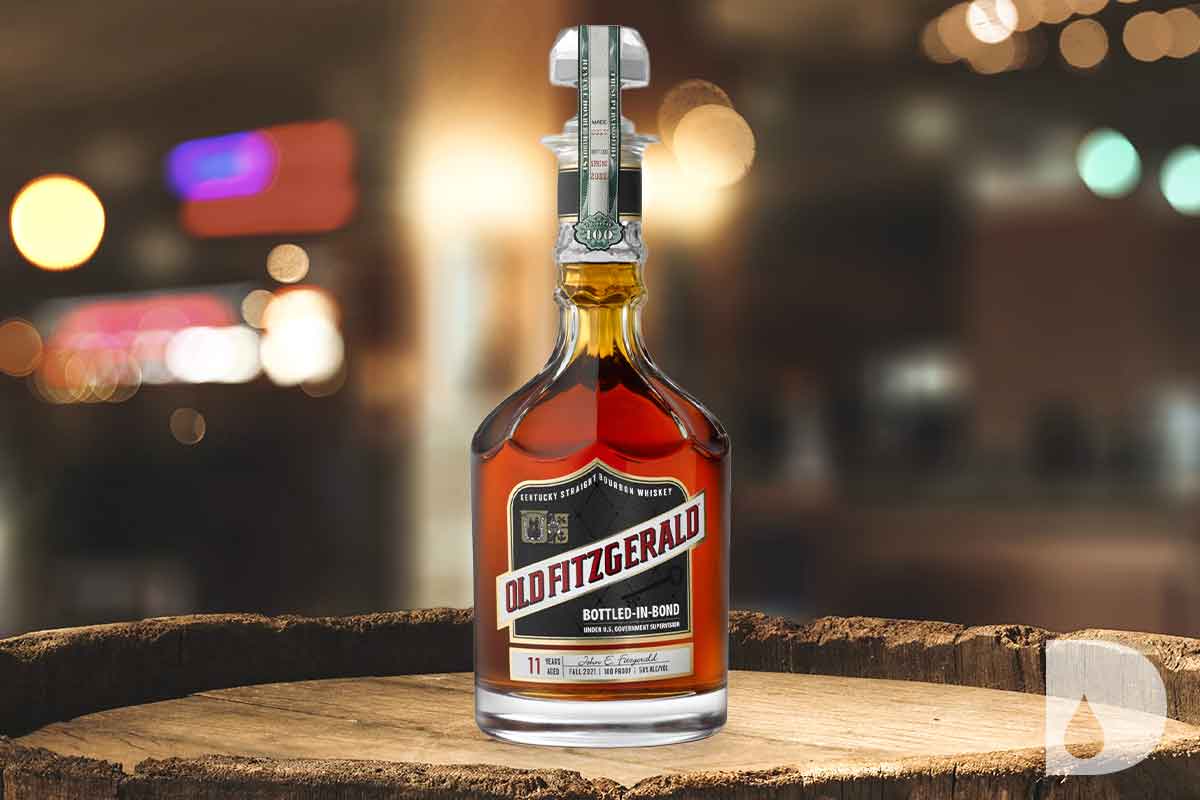 Old Fitzgerald Bottled-in-Bond Fall 2021
J. Rieger & Co. Announces the Release of Rieger's Bottled-in-Bond Straight Whiskey To Coincide With Kansas City's 816 Day
Missouri-based J. Rieger & Co. has announced the release of its Bottled-in-Bond Straight Rye Whiskey. Approximately 6,000 bottles will be available at the distillery in Kansas City and in select markets throughout the country beginning August 16, 2021. August 16 also happens to be 816 Day—an annual celebration in Kansas City named after its area code.
J. Rieger & Co.'s Bottled-in-Bond Straight Rye Whiskey was barreled in the fall of 2015 and is the first whiskey fully distilled at J. Rieger & Co. in nearly a century. The brand says it is also the first legally distilled whiskey in Kansas City since Prohibition. The rye is milled, distilled, aged, and bottled at the J. Rieger & Co. facility in KC's Electric Park district.
"This product is a tribute to Dave Pickerell, the larger-than-life legendary Master Distiller, who was kind enough to bestow upon us his knowledge and passion for creating the finest whiskeys in America," said Ryan Maybee, J. Rieger & Co. co-founder. "And to Kansas City, our hometown since 1887, for supporting us, believing in us and rooting us on. This is your whiskey to show the world. We're just getting started."
"This whiskey is a pot distilled rye that consists of 96% rye and 4% malted barley. We really wanted to showcase the rye which is why we chose to make it a very dominant rye grain bill," said Nathan Perry, J. Rieger & Co. head distiller.
In keeping with all BIB standards previously detailed in the Old Fitz announcement above, J. Rieger's Bottled-in-Bond Straight Rye is bottled at 100 proof. It is available at an SRP of $49.99.
J. Rieger & Co. Bottled-in-Bond Straight Rye Whiskey /Photo Credit: J. Rieger & Co.
Molson Coors to Release Five Trail Blended American whiskey, Its First Entry Into Full-strength Spirits
Molson Coors Beverage Company has announced its first endeavor into the world of full-strength spirits — a blended American whiskey made with Coors malt and Rocky Mountain water called Five Trail.
Five Trail will be released under the brand name Coors Whiskey Co. and is slated to roll out Sept. 1 via Molson Coors' distributor network at select liquor retailers in Colorado, Georgia, Nevada and New York.
The 95-proof whiskey was distilled, blended and bottled in partnership with Bardstown Bourbon Co. in Bardstown, Ky. It's made from a blend of Colorado single malt whiskey and three bourbons, proofed using Rocky Mountain water. The 750 mL bottles have an SRP of $59.99.
"This is not just about acquiring a brand or working with a distiller on a blend," says Kimberli Fox, Molson Coors' marketing manager for wine and spirits. "This is a true collaboration that marries Colorado provenance with innovative distilling techniques of pioneering Kentucky-based distillers."
Fox also says the product is meant to entice drinkers who are in it for the thrill of exploration. "That makes this a very interesting place for us to play as a beverage company. Within whiskey, there's so much rich territory to explore and you don't have to stay within the confines of a singular consumer expectation."
Five Trail whiskey label /Photo Credit: Molson Coors
Apparently there is more to come from Coors' spirits program. Stay tuned.
---
Ready to grab a bottle of Basil Hayden Toast?
With Distiller, you'll always know what's in the bottle before you spend a cent. Rate, Review, and Discover spirits. Head on over to Distiller, or download the app for iOS and Android today!
Want to enjoy Distiller ad-free? Join Distiller Pro today to support the Distiller platform and keep ads off of your screen.