There's definitely a theme going on with this Friday roundup—anniversaries. Almost every announcement this week has to do with a limited edition bottle marking an anniversary of some sort. One notable exception is Elijah Craig Toasted Barrel. Moreover it's a new permanent addition to the bourbon brand. Now that's something to celebrate! We've got a lot to cover this week so let's just get to it. Here's the Friday Roundup for July 31, 2020!
Heaven Hill Adds Elijah Craig Toasted Barrel to Its Portfolio
Elijah Craig Toasted Barrel Bourbon begins its life as fully matured small batch bourbon. Then the bourbon goes into a secondary barrel at barrel proof. These secondary barrels, crafted in partnership with Independent Stave Company, were made with 18 month air-dried staves which were toasted (moderate toast) then flash charred. Markedly, both the initial and finishing barrels were made from new American oak.
"Elijah Craig Toasted Barrel pays homage to our namesake's pioneering spirit as the first to char oak barrels through thoughtful innovation in the barrel-aging process," said Max Stefka, Elijah Craig senior brand manager. "It was a pleasure partnering with Independent Stave Company to create a custom toast profile and char level designed to best complement fully matured Elijah Craig. Twice barreled for nuanced flavor, Toasted Barrel showcases a Straight Bourbon process unique in the marketplace."
Bottled at 94 proof, Elijah Craig Toasted Barrel is a permanent addition to the portfolio available beginning September 2020. It has an SRP of $49.99.
Elijah Craig Toasted Barrel Bourbon /Photo Credit: Elijah Craig
Angel's Envy Announces New Bourbon Finished with Japanese Mizunara Oak
This upcoming release from Angel's Envy is meant to celebrate the 10th anniversary of the brand's founding on August 19, 2010. On this day the brand filled its first port barrel with Kentucky straight bourbon to begin the finishing process. Angel's Envy Bourbon Finished in Mizunara Oak begins with a blend of 4 and 9-year-old Kentucky straight bourbons. That whiskey is then placed into select charred new Japanese Mizunara oak barrels for two years.
Pre-orders are available for 500 Main members, the brand's fan club, as of August 19, 2020. The bourbon's availability expands on September 1, 2020 to the Angel's Envy Distillery in downtown Louisville and select retailers in Kentucky. Unfortunately, just 1200 bottles were produced. As a result, there will be a limit of one bottle per person. This bottling carries an SRP of $350.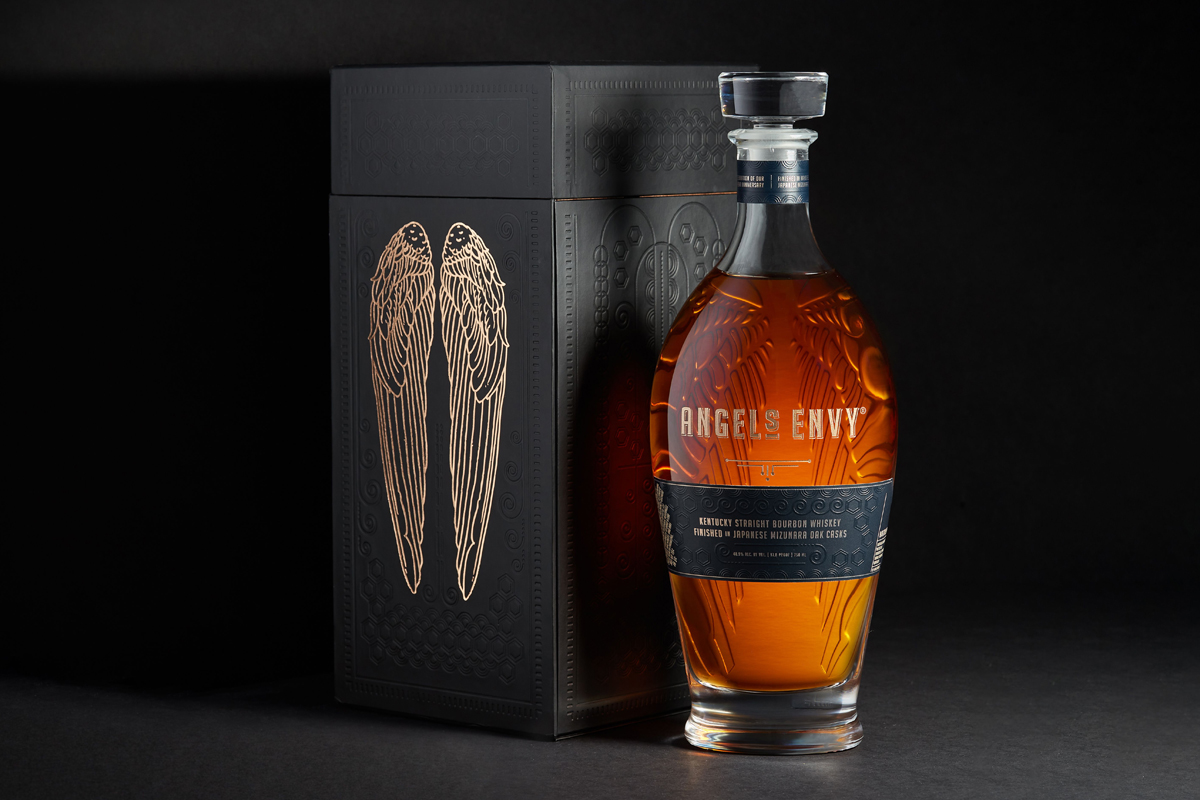 Angel's Envy Bourbon Finished in Mizunara Oak /Photo Credit: Nathan Pedigo for Angel's Envy
Johnnie Walker Celebrates Its 200th Anniversary With Four Limited Edition Releases
This year marks the 200th anniversary since John Walker first opened the doors of his grocer's shop in Scotland in 1820. To mark that occasion, Johnnie Walker's parent company Diageo has released four limited edition releases, including three new blends. These four blended whiskies will be available globally as of October 2020.
John Walker & Sons Celebratory Blend
This blend honors the brand's launch of Old Highland Whisky in the 1860s. Celebratory Blend is made by using whiskies from distilleries which were operating during that time. Bottled at 51% ABV, it carries an SRP of $75.
This whisky features a special bottle design that pays homage to the cities and countries that have played a part in the brand's history. The whisky inside is the same Johnnie Walker Blue Label you know and love. Notably, this limited edition design will not be available in the US.
As the name suggests, eight distilleries are featured here in Johnnie Walker Blue Label Legendary Eight. Each of the eight were also around when John Walker founded the brand in 1820 including some "ghost" or closed distilleries. The single grain distilleries are Port Dundas, Carsebridge and Cambus. Meanwhile, the single malt distilleries include Brora, Blair Athol, Teaninich, Oban and Lagavulin. Bottled at 43.8% ABV, it has an SRP of $350.
Bicentenary features "rare and exceptional" malts, all aged at least 28 years. The blend also includes whiskies from "ghost" or closed distilleries such as Pittyvaich, Cambus, and the recently reopened Port Ellen. Bottled at 51% ABV, it has an SRP of $1000.
Virtual Experiences
50th Anniversary Black Tot Day
On July 31, 1970, the British Royal Navy's over 200 year tradition of issuing daily rum rations to sailors ended. That day is known as Black Tot Day and this year marks the 50th anniversary of that event. To commemorate that day, Elixir Distillers' Black Tot Rum brand is hosting a 24-hour Rum Festival to celebrate the world of rum.
The virtual event begins on July 31st at 10am BST on the brand's Facebook page. The event will feature an impressive list of guest speakers including rum experts and employees at some of the best rum brands in the world. All rum fans are sure to see some of their favorites on the schedule, so make sure to pour yourself a dram and follow along.
Black Tot Day /Photo Credit: Black Tot Rum
Tidbits From Around The Spirits World
Let's take a quick look at what else is going on around the world this week…
Bruichladdich Launches No Hidden Measures Campaign
Fans of Islay-based Bruichladdich are familiar with the brand's commitment to provenance, traceability and transparency. But in a continued effort to bring even more transparency to Scotch whisky, this week Bruichladdich announced a new campaign called "No Hidden Measures".
With this campaign, the brand seeks to bring even more education and awareness around the quality and sourcing of the ingredients used in Scotch whisky. You can see examples of this effort at work with its two flagship single malts: The Classic Laddie and Laddie Eight. When you purchase a bottle of either, you can enter the bottle's unique code into the Bruichladdich website. Once there you'll find an extraordinary amount of detail regarding the bottle's make up. These details include the number of casks in your batch, the distillation year, the barley origin, and the cask type.
Furthermore, the website details how the various ingredients—barley, casks, time and other factors—affect your whisky's flavor. You can get more information about the brand's philosophy on its website. Additionally, Bruichladdich has been hosting several videos on its Instagram page this week regarding the new campaign. Take a look if you'd like to learn more.
The Classic Laddie /Photo Credit: Bruichladdich
Maker's Mark 46 Celebrates Its 10th Anniversary with Cask Strength Release
This summer marks the 10th anniversary for Maker's Mark 46. Bill Samuels Jr. created 46 by adding French oak staves to fully matured, cask strength Maker's Mark. When it launched in 2010, 46 was the brand's first extension for Maker's Mark. To commemorate this occasion, the brand will be releasing Maker's Mark 46 Cask Strength at select retailers around the country. Previously this cask strength version was only available at the distillery in Loretto, KY.
No word yet on pricing and exact markets, but be sure to check in with your favorite retailer to inquire about its availability.
Maker's Mark 46 Cask Strength /Photo Credit: Maker's Mark
Nikka Releases Two Apple Brandy Cask Finish Whiskies
Nikka announced two new limited edition single malts this week. These whiskies celebrate the 100th wedding anniversary of Nikka's founder Masataka Taketsuru and his wife Rita who were married in Glasgow in 1920. The couple moved to Japan a few years later and Nikka was founded in 1934. When Nikka was first established, apple products helped to keep the distillery afloat while waiting for the whisky to mature.
Both Nikka Yoichi Single Malt Apple Brandy Barrel Finish and Nikka Miyagikyo Single Malt Apple Brandy Barrel Finish are no-age statement single malts. They are each finished in apple brandy casks for 6 months. Both were bottled in 2020 at 47% ABV and availability is limited globally. Each will have an SRP of £195 (US$248).
Teeling Launches Oldest Vintage Reserve Release To Date
Teeling Vintage Reserve 37 Year Single Malt was distilled in 1983. It matured in an ex-bourbon cask for over 37 years and was bottled at a cask strength of 41.3% ABV. Additionally, only 175 bottles were produced. Availability will begin at the Teeling Distillery in Dublin as of August 2020 with select availability to follow for domestic and international markets.
Each bottle is individually numbered and comes with its own unique certificate of authenticity and an invitation to visit the Teeling Whiskey Distillery for a special tasting. The SRP will be €7000 ($8300).
---
Looking to grab a bottle of Elijah Craig Toasted Barrel Bourbon?
With Distiller, you'll always know what's in the bottle before you spend a cent. Rate, Review, and Discover spirits. Head on over to Distiller, or download the app for iOS and Android today!
Want to enjoy Distiller ad-free? Join Distiller Pro today to support the Distiller platform and keep ads off of your screen.