It's that time of year where weekends are filled with apple picking, pumpkin carving and checking out the fall foliage [Leafers!]. It's also the time to visit haunted houses and deck out your house in spooky decorations to really get into the spirit of Halloween. But if you want to take it a step further, you can choose a spirit of a different kind. These bottles both fit the theme and come highly recommended.
The Gauldrons Blended Malt features single malts from Campbeltown. The bottle itself features a gold-foiled compass along with a spider in its web. Legend has it that Robert the Bruce (1274-1329) was inspired to "try, try, and try again" to free Scotland from English rule after witnessing a spider fail and reattempt to weave her web numerous times. Finally, she succeeded on the seventh attempt, inspiring him along the way. Batch 3 was released in October 2018, just in time for Halloween.
The Gauldrons Blended Malt / Photo Credit: Remarkable Malts
Cù Bòcan is named for the ghost of a Scottish hound who has been known to spook the residents of the village of Tomatin for centuries. There are many stories about the beast, but one in particular sites an incident where he appeared before a distillery worker with steam flaring from his nostrils. Despite the frightening sight of the hellhound, the worker, for some unbeknownst reason, reached out to pet its black fur, only to see it dissolve into a fine mist over the peaty moor.
To match the fiery legend, this single malt is lightly peated. Note: There are also some vintage dated versions out there which we also recommend.
Tomatin Cù Bòcan
The latest Black Art release, 6.1 1990, is aged for 26 years. It is the sixth in the series and just the second for current master distiller Adam Hannett. Black Art was first created by former master distiller Jim McEwan who crafted a blend of aged Bruichladdich whiskies from a variety of cask types. The "black art" is the magic of creating such a blend with a recipe which is not disclosed. We highly recommend spending your evening trying to guess its make-up.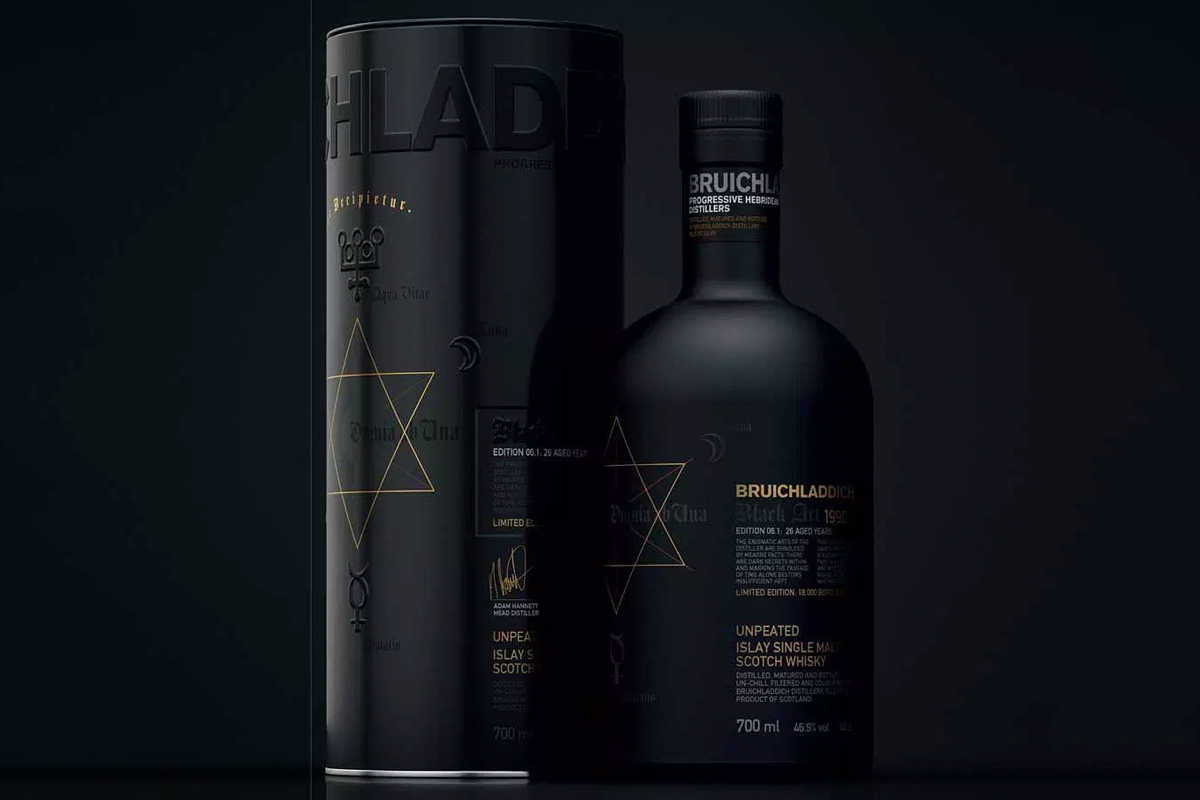 Bruichladdich Black Art 6.1 1990/ Photo Credit: Bruichladdich
First released in 2015, Blood Oath is a blended Kentucky straight bourbon brand released by Luxco. Each release showcases a different bourbon blend, some with wood finishing. Pact 4 is the latest release and features 9, 10 and 12 year bourbons, with the former finished in toasted bourbon barrels. It is charmingly bottled at 98.6 proof, the average body temperature of a human.
Blood Oath Bourbon Pact No. 4/ Photo Credit: Luxco
Whiskey drinkers have likely heard about the Angel's Share—the amount of liquid that evaporates while aging in a barrel. Well, Jim Beam has termed the liquid that remains in the barrels after they've been dumped as the Devil's Cut. This liquid that was trapped in the wood staves is extracted and then aged a bit more in new barrels. It is then blended with "extra-aged" bourbon (around 6 years old).
Jim Beam Devil's Cut
This monster is not one you should fear. At least not if you're a fan of peat. Peat Monster is a blended malt whisky that uses various single malt whiskies from different areas of Scotland—primarily the Isles of Islay and Mull, as well as the Highlands. Using only peated whiskies with different levels of peat smoke doesn't create a super smoke bomb, but rather provides a layered and complex dram. Peat Monster is a featured ingredient in the now classic Penicillin cocktail crafted by Sam Ross in 2005. The monster indeed can cure what ails you.
Compass Box Peat Monster / Photo Credit: Scotch Trooper
Naturally, the walkers from beyond the wall should be included in our holiday roundup. White Walker by Johnnie Walker was created by whisky specialist George Harper along with a small team of expert blenders at Johnnie Walker. Included in the blend are single malts from Cardhu and Clynelish, the latter being one of the most northern distilleries in Scotland. White Walker is designed to be served directly from the freezer and the bottle features a "temperature-sensitive ink technology." When the bottle is frozen, it will display the graphic icy reveal that Winter is Here.
White Walker by Johnnie Walker / Photo Credit: Johnnie Walker
This has to be about the coolest bottle ever created. This tequila is a collaboration between acclaimed film director and writer Guillermo del Toro and Patrón. The limited edition box set contains a 750ml sized bottle of extra añejo and a 100ml sized bottle of aged Patrón orange liqueur. The extra añejo tequila is aged an average of five years in a mix of used and new barrels.
The packaging was designed by del Toro and when opened, the box can be transformed into an alter equipped with two candles. The two bottles themselves form a fantastical winged creature. The larger extra añejo bottle sits upside down creating the "torso" while the smaller aged orange liqueur sits on top forming the "skull." Although it was released in 2017, bottles are still to be had so go out and get one!
Patrón x Guillermo del Toro / Photo Credit: Patrón
Of course, we have to mention Dan Aykroyd's vodka brand. John Alexander, a renowned American artist, created the signature Crystal Head skull bottle, an exact rendering of a human skull. If you want to get even more into the Halloween spirit, seek out the brand's The John Alexander Artist Series No. 1 bottling just released last month. The limited edition bottle was designed from the artist's 1988 oil painting "Dancing on the Water Lilies of Life", which is currently hanging in the Dallas Museum of Art.
Crystal Head Vodka The John Alexander Artist Series No. 1 / Photo Credit: Crystal Head Vodka
There are many more bottles to include, especially if you are fans of tequila and mezcal. So don't forget these options while looking ahead to your Day of the Dead celebrations.
---
With Distiller, you'll always know what's in the bottle before you spend a cent. Rate, Review and Discover spirits! Head on over to Distiller, or download the app for iOS and Android today!