If you're planning your own celebration to mark the anniversary of the Battle of Puebla, don't limit yourself to tequila. Mexico has many other equally enticing spirits on offer that rarely get the same hype that tequila or mezcal do. Those two spirits only scratch the surface of Mexico's wonderful distilling traditions. Don't miss out on these lesser-known and equally incredible Mexican spirits. From a traditional rum with a touch of funk to fortifying bitter liqueurs that feel like a warm embrace, these are just some of the exciting Mexican spirits worthy of exploration.
SOTOL
Unless you're deep into mezcal and tequila nerd-dom, you may not be familiar with sotol. But if you're generally drawn to agave spirits, you're likely to enjoy it. This incredible spirit has a rich, though contentious history in the northern region of Mexico. In 2004 it received a denominación de origen or DO status in the states of Chihuahua, Durango and Coahuila. Sotol is made by roasting the heart of the Dasylirion wheeleri, which is more commonly referred to as a desert spoon plant (a relative of the agave). It then follows a fermentation and distillation process that closely resembles that of mezcal. Also like many mezcals, the finished product often exhibits strong terroir.
Sotol Por Siempre, one of the more widely available sotols on the market, is made in Chihuahua's Sierra Madre Mountains. The hearts of the desert spoon are roasted in a pit lined with volcanic rock. This method of production imparts rich smokiness alongside peppery notes and a slight sweetness. Enjoy the easy-drinking Mexican spirit on the rocks or swap it in as a base in classics like the Margarita.
RAICILLA
Sometimes referred to as the moonshine of Mexico, raicilla is also the most wild of spirits to fall under the umbrella of mezcal. That's partially because it's loosely regulated, with no official DO. Typically, it's made throughout the state of Jalisco from a number of agave varietals, and has been for hundreds of years. With the attention it's received recently and an uptick in producers, odds are it won't be long before regulation begins.
La Venenosa is one such producer, with a range of raicillas made from agave grown in different regions of Jalisco. The brand was created by Chef Esteban Morales of 400 Rabbits Agaveria in Guadalajara with the goal of expanding raicillas reach to a larger market. Not sure where to begin? Pick up a bottle of La Venenosa Costa Raicilla. It's made in Llano Grande from the Rhodacantha agave and is distilled in a wooden still. The Mexican spirit is bright, savory and slightly tannic—characteristics you wouldn't want to dampen by mixing it. The most it needs is a bit of ice and a slice of lime.
La Venenosa Costa Raicilla
CHARANDA
If you can't get enough hogo—palate-consuming rum—it's time to branch out a bit and try Mexico's answer to sugarcane spirits: charanda. In the Indigenous Purépecha language, charanda means "red-colored soil," referring to the area's volcanic soil where sugarcane grows. The centuries-old Mexican spirit can be distilled from sugarcane juices or the byproducts of sugarcane, which include melado, piloncillo and molasses. Granted DO status in 2003, charanda can officially only be made in the region of Uruapan, Michoacán.
Though there aren't many commercially available charandas, Uruapan Charanda Blanco has been gaining some traction—and for good reason. This unaged rum is an interesting blend of two distillates: molasses that's distilled in a modified French-style column still and sugarcane juice that's distilled in a copper pot still. It imparts a rich, fruity, and funky flavor for a host of rum cocktails, from Mojitos to Piña Coladas.
BITTER LIQUEURS
Much of Mexico's history of distillation can be connected with periods of colonization—and that's as much the case for these bitter liqueurs as it for tequila and mezcal. Two bitter amargos (Spanish for amari, the plural form of amaro) made by Royal Vallet have been made in Mexico since the 1860s. It was then that Henri Vallet emigrated to Mexico from France and opened his own distillery. Amargo-Vallet Angostura and Fernet-Vallet are also still made from Henri Vallet's original recipes.
A 90-proof infusion of Angostura bark, cherries, and various other spices and roots, Amargo-Vallet has a deep, chocolaty flavor that would be at home in cocktails or on the rocks. Fernet-Vallet is similarly versatile and a wonderfully unique option for fernet enthusiasts. At 70-proof, it has a heavily bitter flavor with hints of anise and gentian root that would be overpowering if not for a balance of sweet herbaceousness. Use it in anything that calls for fernet.
You'll likely also want to keep an eye out for Royal Vallet's latest expression: Granada-Vallet. The ruby-hued aperitivo is distilled in Hidalgo, Mexico, and flavored with pomegranate, citrus and various bittering agents for a flavor that's as intensely concentrated as its predecessors.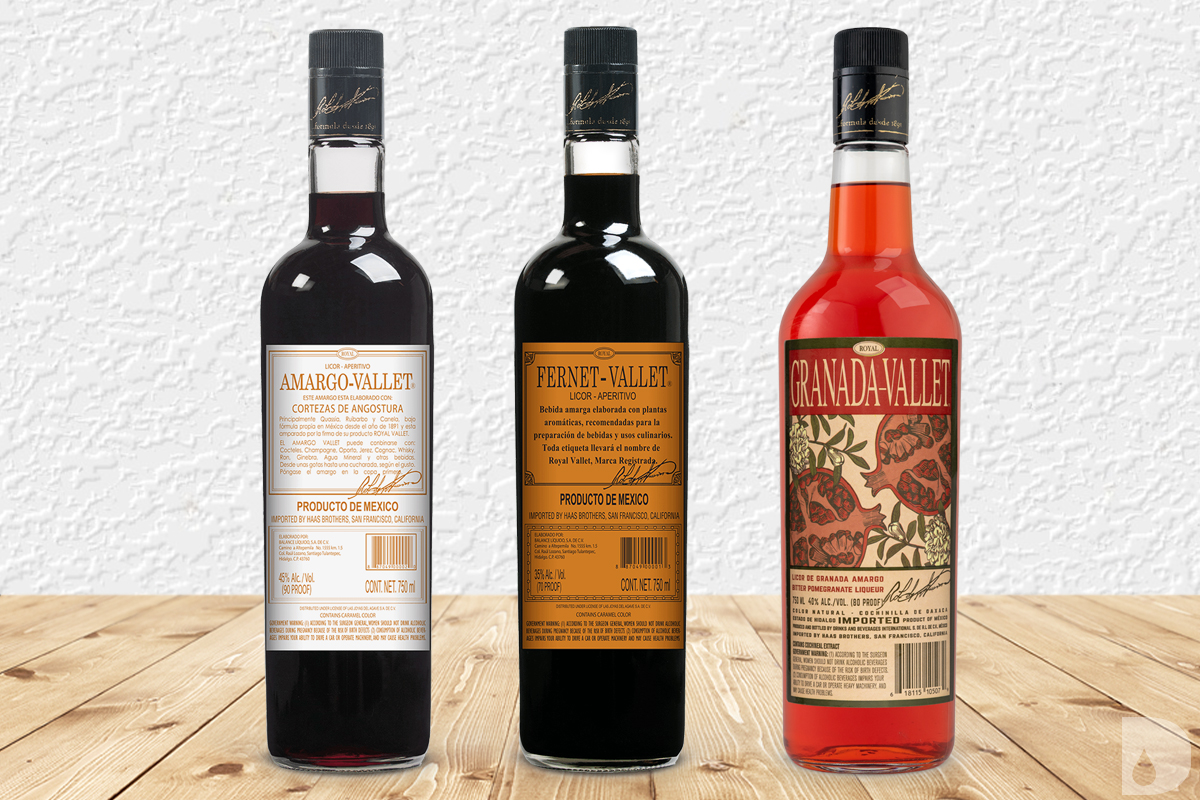 Amargo-Vallet Angostura, Fernet-Vallet & Granada-Vallet
OTHER LIQUEUR
Made in Southeastern Mexico's Yucatan Peninsula, D'Aristi Xtabentún (pronounced shta-ben-toon) Liqueur blends honey and anise flavors to create this 30% ABV liquid gold. The drink is also a nod to the beverage Indigenous Mayans made centuries ago from the nectar of the Xtabentún flowering vine. This liqueur, however, is made by fermenting the honey produced by bees who feast on that same flower. The resulting elixir is then combined with rum and anise to create this final product. After you get a feel for its flavor, try mixing it into honeyed cocktails like The Bee's Knees. With the right gin or even a rum as a base, you'll be doing this storied Mexican spirit justice.
---
With Distiller, you'll always know what's in the bottle before you spend a cent. Rate, Review and Discover spirits! Head on over to Distiller, or download the app for iOS and Android today!