New Booze News: Old Overholt Bonded, Jameson St. Patrick's Day, Bruichladdich and More!
By Stephanie Moreno
February 9, 2018
Although February is a short month, it's action-packed with holidays and events like Mardi Gras, Valentine's Day and the 2018 Winter Olympics in PyeongChang (The latter event has us pouring our whiskeys on ice to stay on theme!). In the whiskey world, you better believe there's action here too. We have loads of new products to talk about, particularly in the Irish whiskey department. So without further ado, we present the booze news for the week of February 5th 2018!
New for 2018 is this bonded straight rye from Beam. That's right, folks, a bonded version of Old Overholt. Distilled in one season, at one distillery, and bottled at 100 proof. It is aged for four years in new, charred American oak. Beam has been quiet about this release thus far, but it has already been seen on shelves around the US, so time to head to your retailer!
Suggested retail price $25.
Old Overholt Bonded Straight Rye Whiskey / Photo Credit: Beam
This is the seventh annual limited edition bottling celebrating St. Patrick's Day from Jameson. This year's bottle features a label designed by a group of artists: Irish illustrator, Claudine O'Sullivan; British designer, Alex Mellon; and Irish photographer, Leonn Ward. The design is inspired by the Fianna–Irish mythological warriors.
There is an NFC chip for each bottle which allows further access on jamesonwhiskey.com to find more info on the artists and the story behind the design. Available in early 2018 in 35 countries globally including Ireland, Australia, and Japan (excluding the US).
Suggested retail price £20/€30.
Jameson St. Patrick's Day Edition 2018 / Photo Credit: Jameson
This brand was reintroduced in 2018 by M.S. Walker, a New England-based importer and distributor of wines and spirits. The whiskey is triple-distilled and aged in former bourbon barrels. It's named after an Irish-American professional boxer, John L. Sullivan. Born in Boston in 1858, he was the last bare-knuckle boxing heavyweight champ and the first gloved boxing heavyweight champ.
Availability beginning March 2018 with a suggested retail price of $25.99.
John L Sullivan Irish Whiskey / Photo Credit: John L Sullivan
Available in the US beginning March 2018, this is a grain Irish whiskey released sourced by The Connacht Whiskey Co. while they wait for their whiskey to age. With a mash bill of 93% corn and 7% malted barley, the whiskey is then aged initially in ex-bourbon barrels. Then the whiskey transfers to port casks for finishing.
Suggested retail price $29.99.
Ballyhoo Irish Whiskey / Photo Credit: Ballyhoo Irish Whiskey
This release from Bruichladdich is made entirely from organic barley grown at Mid Coul Farm in the north of Scotland, just east of Inverness. The barley was harvested in 2008 and the whisky was distilled the following year using Islay spring water. It aged for eight years in American oak casks which previously held bourbon and Tennessee whiskeys. The whisky is non-chillfiltered and has no color added. Bottled at 50% ABV, there are 18,000 bottles available.
Suggested retail price $89.99.
Bruichladdich The Organic 2009 / Photo Credit: Bruichladdich
Available beginning February 2018, this is the ninth batch release in the Grandeur series from GlenDronach. This batch is a vatting, or blend, of three vintages: 1990, 1992 and 1993. All of the whisky in this batch aged in Spanish oak sherry butts. Only 1487 bottles were produced. This is non-chillfiltered and no color has been added. Bottled at 48.7% ABV.
Suggested retail price £450/$625.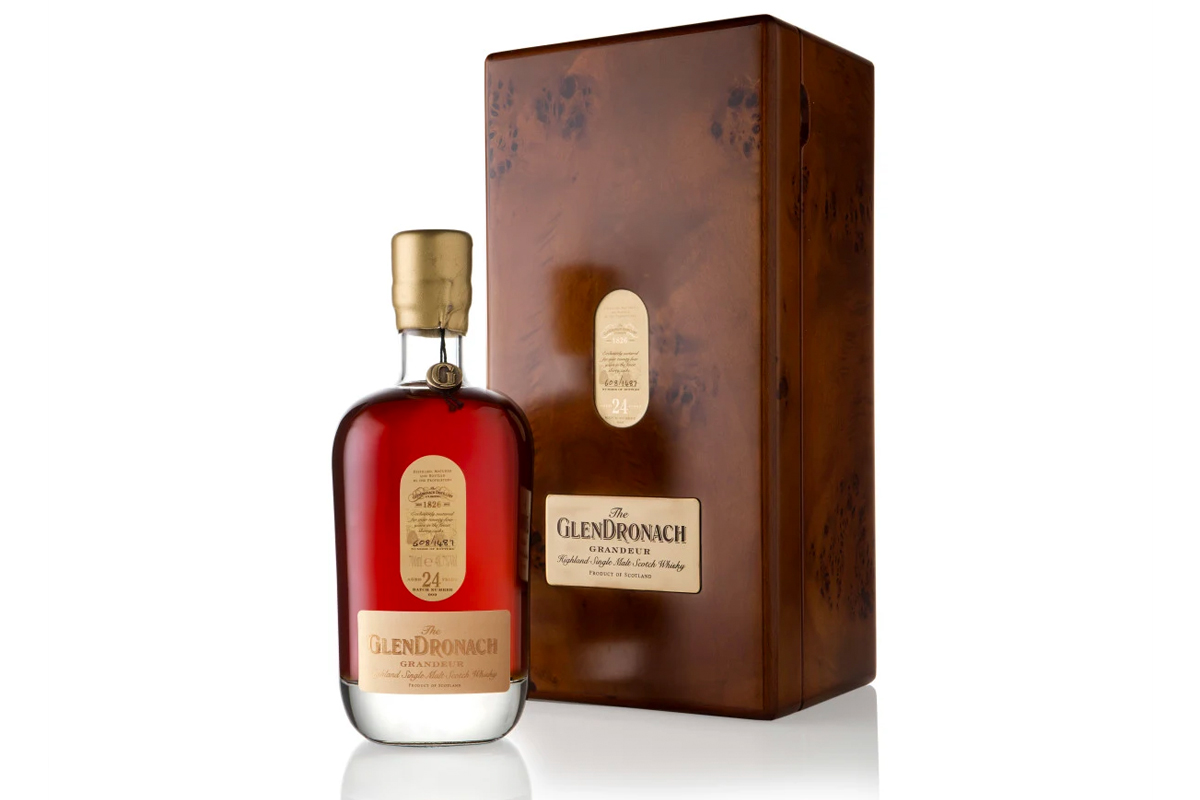 GlenDronach Grandeur 24 Year Batch 9 / Photo Credit: GlenDronach
---
With Distiller, you'll always know what's in the bottle before you spend a cent. Rate, Review and Discover spirits! Head on over to Distiller, or download the app for iOS and Android today!