Paso Robles Spirits in the Heart of Wine Country
By Jacob Grier
January 16, 2020
When most people think of California's Paso Robles, they probably think of wineries. Or if they're into beer, perhaps they recognize the city as the home of celebrated brewer Firestone Walker. But Paso Robles spirits are something to include in the conversation as well. The area has recently become a destination for craft distilleries thanks in no small part to the city's long-standing connections to wine. Also helping matters is the creation of a Paso Robles Distillery Trail.
With so much fermentation going on, it's no surprise that some wineries would get into the distillation game. This is further encouraged by a California law that creates a specific license for brandy distilleries, which are only permitted to make fruit-based spirits. As a result, you could say grape-based spirits could are a specialty of Paso Robles.
Brandy and Other Grape-Based Spirits
For RE:FIND Distillery, distilling spirits offers a way of putting excess grape juice to use. During the production of some red wines, a portion of the free-run juice (called saignée, or "bleed") is removed to concentrate the final product. Rather than discard this saignée, winemaker Alex Villicana of Villicana Winery ferments and distills it. The resulting grape-based neutral spirit is used for vodka, gin and more unexpected spirits. This includes a flavorful cucumber vodka and a delicious kumquat liqueur.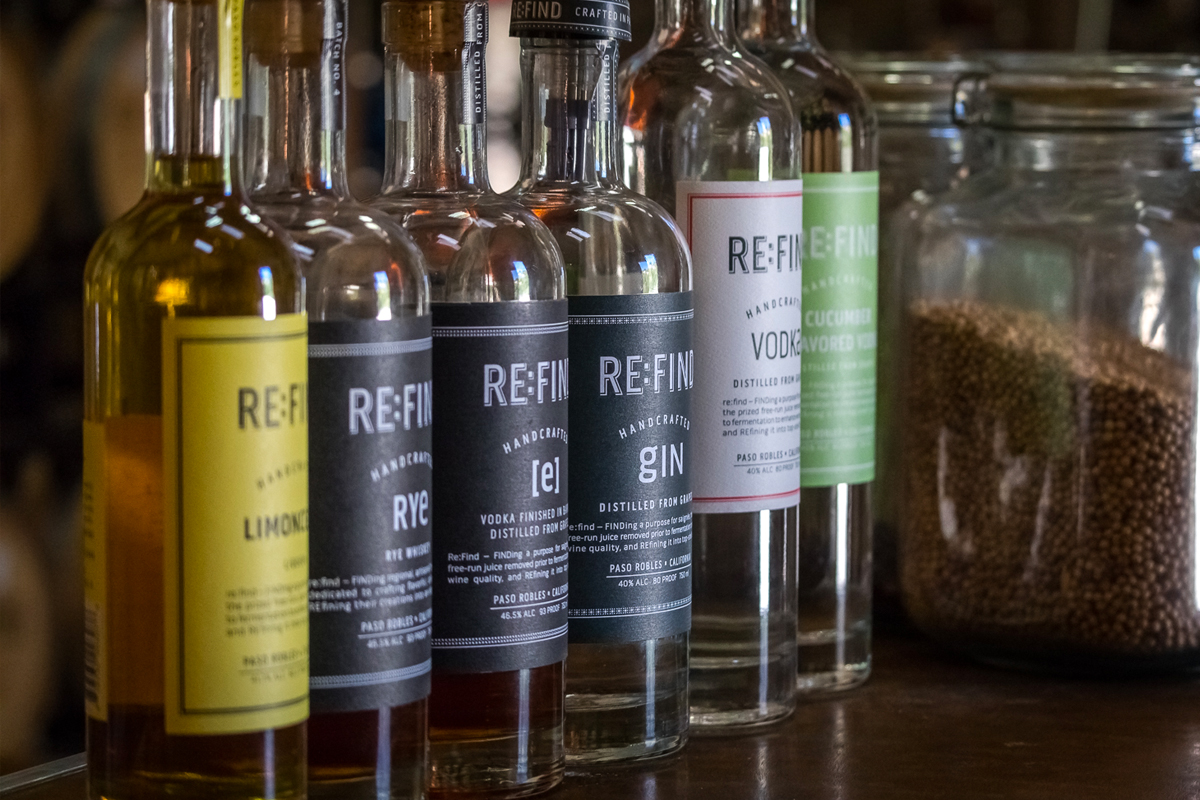 Spirits at RE:FIND Distillery /Photo Credit: RE:FIND Distillery
A more obvious step for a winemaker is to make grape brandy. Of course, California has a long history of brandy production. But the Paso Robles offerings are far more interesting than the mass-market options. Additionally, these local products often put wine casks into service for unique finishes. Standout Paso Robles spirits are being produced at Red Soles Stillhouse, the distilling arm of Red Soles Winery. The brand's five-year old brandy is made from chardonnay grapes and aged in French oak barrels. It is one to seek out!
PasoPort Winery, a producer specializing in port-style wines, takes its Pendray's Distillery brandy in an entirely different direction. Made from viognier grapes and aged in white port barrels, the spirit is fruit-forward and aromatic with flavors of pear and elderflower.
Grappa and Eau-de-Vie
Pendray's also ventures into grappa, another spirit that's right at home in winemaking culture. The brand's zinfandel grappa is earthy and assertive with a rich color imparted by port barrels. And the nebbiolo is a bit spicier with hints of vanilla and cinnamon. For a lighter take on grappa, turn to Autry Cellars' rendition, which is distilled from viognier and bottled without aging. This allows the character of the spirit to shine through with appealing floral notes.
Spirits at Willow Creek Distillery /Photo Credit: Willow Creek Distillery
Departing from grapes, Autry also excels with in apple brandy. Its offering is aged in Hungarian oak barrels, producing a nicely balanced spirit with layers of autumnal flavor. For unaged takes on fruit brandy, Willow Creek delivers flavorful eaux-de-vie expressions of Morello cherry and Williams pear.
And Whiskey Too!
The wealth of wine and the ease of getting licenses for brandy distilling favors the makers of fruit-based spirits. However, Paso Robles spirits also put grain to use. Whiskey lovers will want to make their way to Krobar Craft Distillery, which makes a variety of ryes and bourbons. A standout is the cask strength rye, the fourth batch of which comes in at a hefty 114 proof. It offers notes of vanilla, banana and cinnamon, with a warming finish. RE:FIND has also begun producing whiskeys, including rye and bourbon. A wheat whiskey made from locally grown malted wheat and barley is also in the works, which is soft and sweet with vanilla and hints of cherrywood.
Paso Robles is not a place to commercially grow agave or sugarcane, but you can get spirits made from both from Azeo. And at Calwise, which makes a diverse line of spirits, their Blonde Rum is aged in chardonnay barrels. These unexpected Paso Robles spirits are proof that they can fruitfully intersect with the area's wine culture.
---
With Distiller, you'll always know what's in the bottle before you spend a cent. Rate, Review and Discover spirits! Head on over to Distiller, or download the app for iOS and Android today!