And just like that, August is over—but not without a bang. In fact, a lot has been happening in the spirits world this week. First, Pernod Ricard is acquiring Castle Brands—that's two major acquisitions in one month. Next, Ardbeg is launching its oldest permanent age statement whisky to date: Ardbeg Traigh Bhan. Plus, a Jonas Brother is launching his own tequila brand and the Uncle Nearest distillery is almost ready to open its doors. Finally, Jameson has two new limited-edition Caskmates releases for you and New York's Vale Fox Distillery just debuted its first release. For all that news plus much more, dig in to Distiller's Friday Roundup for August 30th, 2019.
Pernod Ricard Acquires Castle Brands for $223 Million
Pernod Ricard is on an acquisition tear. Earlier in August the brand announced the acquisition of Firestone & Robertson Distilling Co., maker of TX Whiskeys. Now, they plan to acquire Castle Brands in a $223M deal.
While the flagship spirit in the Castle Brands portfolio is Jefferson's bourbon, the deal also includes Arran, Clontarf, Goslings and Knappogue Castle. This deal brings Jefferson's into Pernod's expanding United States brand portfolio alongside Rabbit Hole and Smooth Ambler, as well as the aforementioned TX Whiskey.
"Through this acquisition we welcome this great brand portfolio, in particular, Jefferson's Bourbon, to the Pernod family," says Pernod Ricard's CEO, Alexandre Ricard. "Bourbon is a key category in the US, which is our single most important market."
Jefferson's bourbon / Photo Credit: Jefferson's bourbon
Phase One of New Uncle Nearest Distillery To Open in September
This week Uncle Nearest announced that the first phase of the brand's new distillery in Shelbyville, TN will open to the public on September 14th, 2019. Uncle Nearest is named after the first known black master distiller, Nathan "Nearest" Green, who taught Jack Daniel how to distill. This new distillery is the first in the United States to commemorate an African American whiskey maker.
The new distillery occupies the former site of Sand Creek Farms, a famous Tennessee Walking Horse farm. New buildings and experiences will continue to be built on the 270 acre property over the next few years. Once it is fully completed, the distilling, aging and bottling of Uncle Nearest whiskeys will all take place on site.
Until then, Phase One will include a Tennessee Walking Horse experience where visitors can learn the history of the Walking Horse. Visitors will also be able to visit 50 championship walking horses and their offspring. The site will also include a custom horseshoe bar, retail store, bottling house and hard hat tour of the facilities under construction.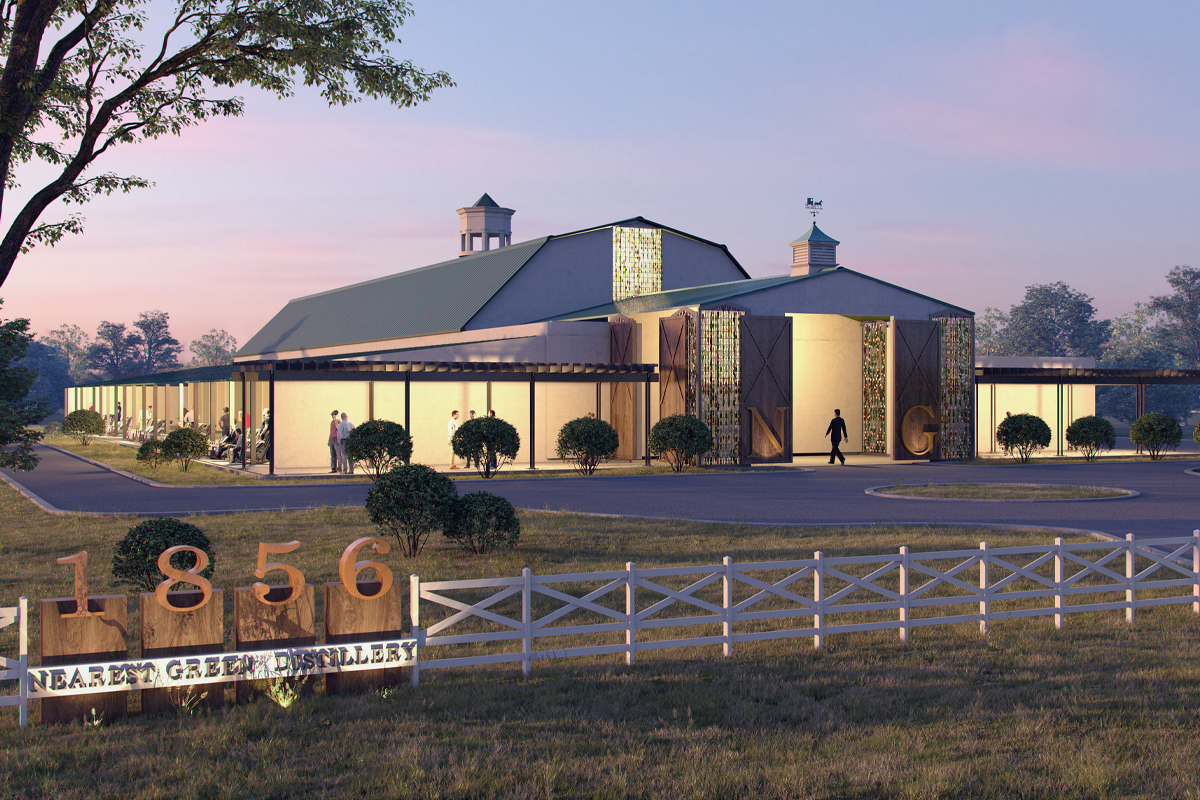 Uncle Nearest Distillery / Photo Credit: Uncle Nearest Distillery
One of the Jonas Brothers Has A Tequila Brand Because The World Needs More Celebrity Spirits
This week Nick Jonas announced his involvement with a new tequila brand. Crafted by the Stoli Group, best known for Stolichnaya Vodka, Villa One tequila includes silver, reposado and añejo expressions. Alongside Jonas as a stakeholder is menswear designer John Varvatos.
Priced in the $45-60 range per bottle, Villa One hopes to compete with similarly priced celebrity-backed tequila brand Casamigos from George Clooney. The brand will go on sale in the United States in September of 2019 and will appear in lounges during the Jonas Brothers tour.
If you're a celebrity reading this and you don't have your own spirits brand yet, it's time to hurry up. You don't want to be the literal last celebrity on earth without one.
Villa One tequilas / Photo Credit: Villa One
China adds further tariffs to American Whiskey in ongoing trade war
The Chinese Finance Ministry has announced that it will impose an additional 5% tariff on American whiskey as part of the ongoing trade war between the United States and China. This latest move comes in response to Trump's plan to put a 10% tariff on $300 billion worth of Chinese goods.
In July of 2018, China imposed a 25% hike in tariffs on American whiskey. The new 5% will be implemented in two phases. The first will occur on September 1st and the second on December 15th.
Earlier in August, United States drinks trade groups petitioned for alcoholic products to be removed from the products in the line of fire. They claimed that 78,000 American jobs in the spirits industry were being placed at risk.
Ardbeg Launches its Oldest Permanent Age Statement Release to Date with Ardbeg Traigh Bhan
Ardbeg Traigh Bhan is the first permanent age statement release for Ardbeg since its 10 Year debuted in 2000. Traigh Bhan (Tri-Van) is named after the local Islay beach also known as the Singing Sands. The 2019 expression matured for 19 years in American oak and ex-oloroso sherry casks.
The brand plans to release limited batches on an annual basis with each batch bearing a unique code on the packaging. Bottled without chill-filtration at 46.2% with an expected global release to begin mid-September 2019. SRP £169 ($209)
Ardbeg Traigh Bhan / Photo Credit: Ardbeg
Two New Jameson Caskmates Limited Editions
Jameson has added two new marques to its Caskmates Hyperlocal Editions. For this round, the Irish whiskey brand features brewers from Washington State and Chicago.
Bale Breaker Brewing in Yakima, Washington brewed its TopCutter IPA for the Jameson Caskmates Bale Breaker bottling. Then, Jameson seasoned its whiskey barrels with the craft beer. Finally, the barrels were filled with Jameson's signature whiskey to finish the maturation process.
The same steps were taken for the Jameson Caskmates Revolution Brewing Edition. The Chicago-based Revolution Brewing crafted its Fist City Pale Ale for the barrel seasoning.  Each limited edition is bottled at 80 proof and is available at select retailers for $29.99 a piece.
Jameson Caskmates Bale Breaker & Revolution Brewing Edition / Photo Credit: Jameson
Sazerac & Casa San Matias introduce two new expressions of Los Vecinos del Campo Mezcals
Joining the brand's Espadín Mezcal—released in late 2018—are two new joven mezcals. The first is Los Vecinos del Campo Ensamble No. 1, which is made with three varieties of agave: 90% espadín, 5% barril, and 5% madrecuishe. Bottled at 90 proof, it has a SRP of $55.
Next is Los Vecinos del Campo Tobalá which is made from 100% tobalá agaves—also known as agave potatorum.  It is bottled at 92 proof and has a SRP of $100.
Ten families of mezcaleros located in the Valles Centrales of Oaxaca make up the producers of the Los Vecinos del Campo brand. Each of the mezcals are artisanally produced and available now at select retailers in the US.
Los Vecinos del Campo Ensamble No. 1 & Tobalá
Tanqueray Sevilla Orange Arrives in the US
First introduced in Europe in 2018 as Flor de Sevilla, Tanqueray Sevilla Orange Gin has now arrived in the US. It was based on an original recipe from Charles Tanqueray that was inspired by his travels to Spanish groves in the 1860s. It's made with bittersweet Seville oranges and orange blossom. Bottled at 41.3% ABV, Tanqueray Seville Orange will first be released in liter-sized bottles in the Miami and Orlando markets. Additionally, expect 750ml to be released in October 2019 with more markets to follow.
To celebrate the launch, the brand has unveiled a mural in Miami's Wynwood art district located at the corner of NW 5th Ave and NW 27th (2701 NW 5th Ave).
"Working with Tanqueray Sevilla Orange was an exciting experience," says mural artist and Miami local Nicole Salgar. "Their team did a great job of capturing the Miami feel with this mural, and it was a very fun challenge for me to execute. The Wynwood Arts District is a perfect setting for this mural, as it is a Miami landmark of public art and culture!"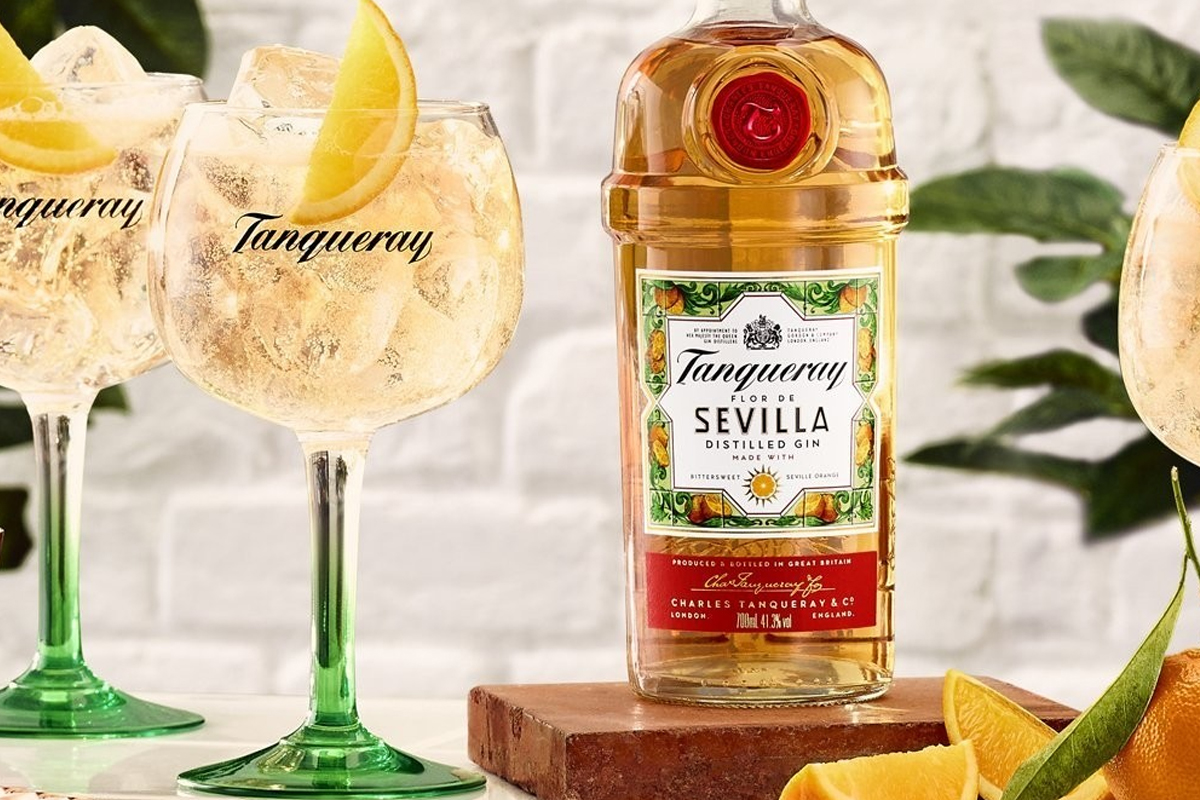 Tanqueray Sevilla Orange Gin / Photo Credit: Tanqueray
New York Distilling Co announces Rose Petal Flavored Gin
Dorothy Parker Rose Petal Gin is a limited edition flavored gin from Brooklyn-based New York Distilling Co. This pink-hued gin is made with both pink and red rose petals along with crushed elderberries. Additionally, juniper, coriander, green cardamom pods, and lemon and orange peels are used. Only 10,000 bottles were produced with select US availability beginning in August 2019. SRP $29.99
Dorothy Parker Rose Petal Gin / Photo Credit: New York Distilling Co
Debut Release from New York-based Vale Fox Distillery
Tod & Vixen's Dry Gin 1651 was made in consultation with three top bartenders: Gaz Regan, Leo Robitschek, and Jeffrey Morgenthaler. It was specifically designed to be a good base for a cocktail. The botanicals, which include rooibos red tea and Makrut lime, each macerate in a neutral spirit made from 100% wheat. Distilled at the Vale Fox Distillery located in the Hudson Valley, New York, it is non-chill filtered and bottled at 48% ABV.  SRP $39.99
Tod & Vixen's Dry Gin 1651 / Photo Credit: Gabi Porter
---
Keeping an eye out for Ardbeg Traigh Bhan? Us too.
With Distiller, you'll always know what's in the bottle before you spend a cent. Rate, Review, and Discover spirits! Head on over to Distiller, or download the app for iOS and Android today!