Well, here we are in what is referred to as the dog days of summer. You know what that means, don't you? More whiskey! (Because what whiskey hound doesn't love discovering a new expression?) This also means that whiskey producers are furthering the trend of exploring unusual cask finishes and limited releases to evoke a summery sense of adventure.
This week we announce the details and release date of the much-anticipated Dewar's Japanese Smooth. We also have the specifics on the 2021 Yellowstone Limited Edition Kentucky Straight Bourbon Whiskey. Notably, a portion of the bourbon is finished in Amarone wine casks. Also, we learned that Baltimore Spirits Company is adding Epoch Straight Bourbon to its lineup.
If you're on the hunt for rare bottles, American independent bottlers Lost Lantern have released a single cask release from Ironroot Republic. Likewise, Scotch indie bottler aficionados might want to get their paws on The Last Drop first signature blend — The Last Drop 50 Year Old Blended Scotch. There is also a new Glenmorangie Limited Edition Cadboll Estate Batch #2 and Wyoming Whiskey Thunder Basin Wyoming Exclusive.
And if you want to channel your inner expressionist artist in a cocktail, you're in luck! There's a new French summer garden-inspired liqueur called Fleur Charmante.
But first, let's hit the road with WhistlePig RoadStock Rye!
WhistlePig Whiskey Unleashes RoadStock Rye Whiskey
Following the releases of WhistlePig's FarmStock Rye and Bourbon, WhistlePig RoadStock Rye Whiskey is rolling out this month. It was created in collaboration with Jordan Winery and Firestone Walker Brewery, beginning earlier this year at WhistlePig's 500-acre farm in Shoreham, VT. This is where WhistlePig commissioned an 18-wheeler "Rolling Rickhouse," which would make its way on a 6,000-mile barrel finishing journey.
"WhistlePig's commitment to elevating great whiskey with unique finishes has been a passion since the very beginning, so when the opportunity arose to try something brand new in the category, we were all in. The barrels, still saturated with the distinctive aromas and flavors of their previous fills, were a game-changing match for what would become RoadStock Rye," says WhistlePig Blender Megan Ireland. "In the spirit of innovation, we decided to literally drag them from Vermont to California and back, knowing that the shake, rattle and roll of a cross-country road trip would ensure an incredible finish that could not be achieved any other way. The individual wine and beer finishes are fantastic on their own, but the final finish is pure gold."
When the RoadStock Rolling Rickhouse was finished, half of the future RoadStock Rye Whiskey was transferred into Bordeaux blend casks from Jordan Winery in Sonoma's Alexander Valley. The whiskey would then make the full 6000-mile round-trip journey in order to absorb the casks' flavors and aromas.
WhistlePig RoadStock Rye /Photo Credit: WhistlePig
Whiskey Power in Full Effect, Literally
In addition, WhistlePig also created a custom RoadStock Dodge Hellcat, powered by aged WhistlePig whiskey. Yes, you read that right: WhistlePig partnered with VP Racing Fuels to create a custom fuel blend using aged WhistlePig Whiskey that was track tested at Radford Racing School in Chandler, AZ. To drive this whiskey-fueled machine on the last leg of the journey, WhistlePig enlisted racing personalities Chris Jacobs and Cristy Lee.
"I've had some unique experiences in the automotive space over the years, but when WhistlePig called and asked me if I would like to track test and then drive their whiskey powered Hellcat alongside the Rolling Rick House to Paso Robles, I mean, who could say no to that. What an amazing adventure," says Chris Jacobs.
After making its way along Route 66, the RoadStock Rolling Rick House, now tailed by the RoadStock Dodge Hellcat, headed to Firestone Walker Brewing Company in Paso Robles, CA. There the balance of the whiskey was transferred into Firestone's Imperial Stout, Imperial Blonde Ale and Experimental Ale barrels before heading back to Vermont.
Once back home at WhistlePig, the distillery team married the whiskeys in these finishes and bottled them. Naturally, the RoadStock bottles are adorned with a custom rubber tire topper.
WhistlePig's RoadStock Dodge Hellcat will visit key markets throughout the rest of the summer and into the fall at exclusive sampling events. Further information will be provided via WhistlePig's social media channels and website. WhistlePig RoadStock Rye Whiskey is bottled at 86 proof. It has an SRP of $72.99 per 750ml bottle at select liquor stores across the country.
Dewar's Launches 8-Year-Old Japanese Mizunara Oak Cask Finish Whisky
Dewar's Scotch Whisky has announced the launch of Dewar's Japanese Smooth, the latest in its Dewar's Cask Series. Beginning with Dewar's 8-year-old double-aged Scotch whisky, the whisky is finished in Japanese Mizunara Oak casks for six months. For those unfamiliar, Mizunara is a rare 200-year-old oak tree variety found in Japan.
"The guiding principles in the creation of this whisky were balance and smoothness," says Dewar's Master Blender Stephanie Macleod. "This Mizunara finish enhances the signature Dewar's heathery floral honeyed notes whilst subtly imparting complex woody notes of sandalwood and cinnamon spice. It is an indulgent and pleasurable whisky with a rare breadth and depth of complex and subtle flavors. The smooth yet full-bodied finish makes it perfect to enjoy neat, on the rocks, or in a classic Japanese style highball."
According to the press release, this expression is planned as a permanent addition to the range.
Dewar's Japanese Smooth 8-year-old Mizunara Oak Cask Finish is bottled at 40% ABV. It's available in a 750ML bottle with an SRP of $24.99 at select retailers nationwide as of August 1, 2021.
Dewar's Japanese Smooth /Photo Credit: Dewar's
2021 Yellowstone Releases Limited Edition Kentucky Straight Bourbon Whiskey
Limestone Branch Distillery has announced the release of 2021 Yellowstone Limited Edition Kentucky Straight Bourbon Whiskey.
The bourbon is made from 7-year-old and 15-year-old bourbons selected by Limestone Branch Master Distiller Stephen Beam. These include an unusual selection of 7 year-old barrels finished in Amarone casks. Yellowstone Limited Edition 2021 will be available at retailers for a suggested price of $99.99 per bottle.
The program has existed since 2015 using unique bourbon casks selected by Beam under the Yellowstone brand. Yellowstone is a name established in 1872 by Beam's great-great-grandfather and early bourbon pioneer, J.W. Dant.
"Amarone is a rich, red wine that — much like bourbon — takes time and patience to craft and requires at least two years in oak casks to age," explained Beam. "Finishing select barrels in these Amarone casks brings notes of fresh cracked pepper and tobacco, as well as hints of black cherry, fig and dark chocolate to the classic bourbon notes of caramel, vanilla and hints of citrus. With a finish of oxidized fruit, cherry and black currant, this bourbon is reminiscent of pre-Prohibition whiskeys."
2021 Limited Edition is bottled at 101 proof (50.5% ABV). Beginning in July, 7,500 cases (3 bottles per case) will be available at retail locations nationwide. This is a 50% increase in production over 2020.
2021 Yellowstone Limited Edition Kentucky Straight Bourbon Whiskey
Baltimore Spirits Company Announce Release of New Bourbon
Baltimore Spirits Company (BSC) has released the latest entry into its Epoch lineup with Epoch Straight Bourbon. It is scheduled for an official release this Saturday, July 17th at noon at the distillery in Medfield's Union Collective. This is their first bourbon and will become a regular part of the product line.
BSC likes to tweak the rules a bit. Bourbon is typically made with malted barley, but BSC went with a wheated bourbon using malted rye — the same one used in Epoch Rye Whiskey.
Epoch Straight Bourbon Whiskey will eventually become a regularly offered BSC product. However, this initial release is limited to only two barrels with plans for more towards the end of 2021. In fact, according to the press release, the majority of their product won't be fully matured until 2024.
Interested in tasting this new Baltimore bourbon? If so, you're encouraged to attend the release this Saturday in BSC's recently completed tasting room, The Cocktail Gallery.
"While rye was our first love, of course, we have a soft spot for bourbon. After all, Basil Hayden himself, 'the Father of High Rye Bourbon', was a Marylander," said Max Lents, BSC co-founder
and CEO. "We're incredibly proud of our Epoch line, and this bourbon is definitely a worthy addition to it."
Epoch Straight Bourbon Whiskey is bottled at 100 proof and has an SRP of $49.99. It's available now for online pre-order as well as this Saturday at the BSC distillery and for curbside pickup or delivery through the website for $49.99. For more information or to place an order, visit the website here.
Epoch Straight Bourbon
Lost Lantern Releases Ironroot Republic Texas Straight Bourbon
Independent American whiskey bottler Lost Lantern has announced its first solo single cask drop. Cask #10 Ironroot Republic Texas Straight Bourbon (SRP $115) is limited to 136 bottles and is now available on the Lost Lantern website as of 7:30pm EDT July 14th. Purchases are limited to a maximum of two bottles per customer.
This is the second single cask release from Ironroot Republic selected by Lost Lantern — co-founded by Nora Ganley-Roper and Adam Polonski. Single cask picks are the hallmark of the Lost Lantern model. The brand is inspired by traditional independent bottlers in Scotland, but with an American whiskey twist.
The bourbon is made from 85% yellow dent corn, 5% purple corn, 5% flint corn and 5% rye. Aged in a 53-gallon new American oak barrel for 3 years, it's bottled at cask strength (129.2 proof) and is non-chill-filtered with no color added.
Ironroot Republic Texas Straight Bourbon Single Cask #10
The Last Drop Debuts First Signature Blend: The Last Drop 50 Year Blended Scotch
The Last Drop 50 Year Signature Blended Scotch Whisky was created by Master Blender Colin J.P. Scott, and marks the brand's first foray into the blending world. It's limited to just 500 bottles worldwide. Bottled at 47.8% ABV, it's available in the US at an SRP of $4,250 as of mid-July 2021.
"For centuries, Scotland's finest malt and grain distilleries have been distilling unique spirits and laying them in casks for the future," says Scott. "Yet in my half-century career, this is only my second 50-year-old blend, as access to these exceptional liquids is rare. I'm immensely proud of the complexity of this whisky as well as its significance as my inaugural release as The Last Drop's master blender and our first Signature Blend."
While The Last Drop is known for its rare single cask selections, this is the first time its unique inventory has been used to create a blend. According to the press release, future expressions will be created in partnership with "The Assembly," a coalition of experts drawn from across the spirits industry. These will be available along with other Last Drop bottlings of rare cask selections.
The Assembly has plans to include Drew Mayville (master blender & director of quality, Sazerac Company), Richard Seale (master distiller & blender, Foursquare Rum), Louise McGuane, (owner & bonder, JJ Corry Irish Whiskey), Michael D'Souza (master distiller & blender, Paul John Indian Whisky) and Denis Lahouratate (cellar master, Domaine de Sazerac, Cognac).
The Last Drop 50 Year /Photo Credit: The Last Drop
Tidbits From Around the World
Let's take a quick look at what else is going on around the world this week.
Glenmorangie Introduces Limited Edition Cadboll Estate Batch #2
Cadboll Estate is the latest limited edition from Glenmorangie, celebrating its homeland.
This 15-year-old limited edition is the second batch release of Glenmorangie's Cadboll Estate single estate whisky. Made from barley grown at the estate, it was created by Dr. Bill Lumsden, Glenmorangie's Director of Whisky Creation. According to our communications, it was made "to share the taste and spirit of Glenmorangie's homeland with whisky lovers across the world, even if they are yet to visit the single malt's beautiful, yet remote, corner of the Highlands."
Cadboll Estate Batch #2 is matured in American oak and bottled at 43% ABV, with an SRP of $85.
Cadboll Estate Batch #2 /Photo Credit: Glenmorangie
Wyoming Whiskey Releases Thunder Basin Bourbon, The 2021 Wyoming Exclusive
Wyoming Whiskey Thunder Basin Wyoming Exclusive bourbon has hit the shelves! This release pays tribute to the grasslands in the eastern part of Wyoming.
Thunder Basin is the fifth installment in the Wyoming Exclusive series that includes Eclipse (2017), Steamboat (2018), Statesman (2019), and Hole in the Wall (2020). It is made from a combination of twelve barrels selected from the middle of the warehouse. Additionally, the bourbon has an age statement of 7 years and is bottled at 96 proof.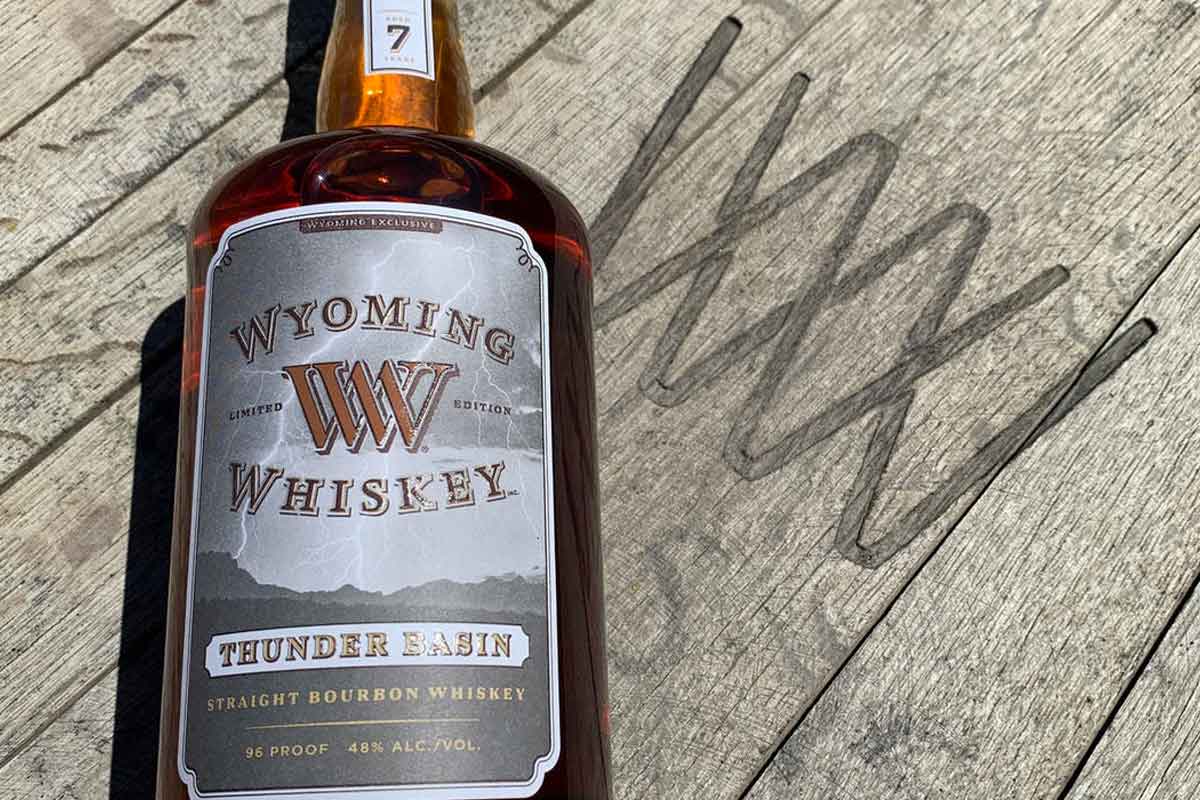 Wyoming Whiskey Thunder Basin /Photo Credit: Wyoming Whiskey
Introducing Fleur Charmante
Fleur Charmante is a new French liqueur made with a blend of fruits and herbs. The liqueur which means "charming flower" is made in Saint Sauvant in the Saintonge area of France. Its base spirit is macerated in a combination of blackcurrant, raspberry and cherry fruits along with essences of violet, lavender, and jasmine. Use as a mixer or served with crushed ice and soda water with a twist as a low ABV aperitif.
Fleur Charmante is bottled at 34% ABV and sells for $36.99. Although it's currently only available in Florida, Georgia, New York and South Carolina, expanded distribution is expected to follow in several states. For more information or to check shipping availability, visit the website here.
Fleur Charmante /Photo Credit: Fleur Charmante
---
Ready to grab a bottle of WhistlePig RoadStock Rye?
With Distiller, you'll always know what's in the bottle before you spend a cent. Rate, Review, and Discover spirits. Head on over to Distiller, or download the app for iOS and Android today!
Want to enjoy Distiller ad-free? Join Distiller Pro today to support the Distiller platform and keep ads off of your screen.