It's been a busy week in the spirits industry! The biggest sports tournament on Earth is underway and there's plenty to toast there. Teeling turned three, Cruzan Rum launched a disaster relief fund that you can donate to by drinking rum, and Buffalo Trace is undergoing a truly massive expansion. Then on the new booze side of things, Hibiki announced a new Japanese whisky that we can't have, and we caught wind of Wild Turkey Master's Keep Revival. Read on!
Reyka Vodka thinks you should root for Iceland
It's been another four years and now the 2018 World Cup is finally here. It started yesterday with the opening game between host country Russia and their first opponent, Saudi Arabia. This Cup is missing some countries that the world regularly associates with soccer excellence. Italy didn't qualify. Neither did the Netherlands. Perhaps most upsetting for American fans, the United States also failed to earn a spot. Fear not, however. Your friends at Reyka Vodka have a solution: root for Iceland! They'll be running ads all through the Cup, and they even have merchandise that you can pick up.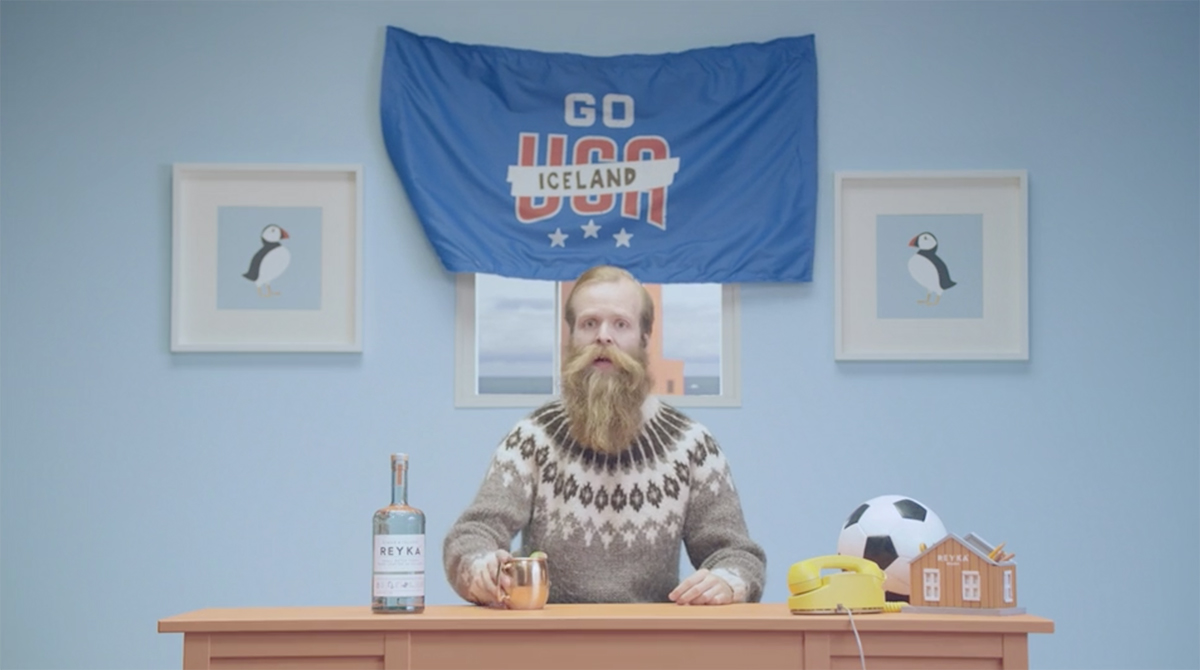 Reyka Vodka: Go USA Iceland
66,000 Icelandic fans requested tickets for their country's first appearance in a World Cup. That's 20% of their entire population. That is insane. They perform viking chants, they dress up, and they're a lot of fun to watch. Since you can't root for the USA, we agree with Reyka—root for Iceland! Tune into their first game against Argentina this Saturday, June 16th at 6AM Pacific Time. And bring your viking horns.
Teeling Irish Whiskey Turns 3 Years Old
It's strange to think that Teeling has only been open since 2015. The distillery has won award after award, and quickly made a huge name for itself internationally. Boasting over 300,000 visitors since it opened, Teeling was named "Whiskey Visitor Attraction of the Year" at the Icons of Whiskey Awards in 2016. It was also given the top Masters honor for its "Consumer Experience" at the 2017 Global Distillery Masters. That's all well and good, but the most exciting news is that the release of the company's first Dublin-distilled whiskey is imminent. The first cask of Single Pot Still will be a celebratory release of just 250 bottles in August. This will be followed with the first commercial release of the new Teeling Single Pot Still in October.
The Teeling Team Celebrates 3 Years
This will be the first Dublin born Irish whiskey to be released in over 40 years. The fact that it's going to come from Teeling, which already has a spectacular track record, means that this is bound to be something special. We can't wait.
Cruzan Rum launches disaster relief fund
Cruzan Rum is distilled on the island of St. Croix in the US Virgin Islands. After the devastation caused to St. Croix by Hurricane Maria in 2017, the brand has decided to launch the Island Spirit Fund. The fund aids relief efforts across the U.S. and its territories, helping to rebuild and renew communities impacted by storms of all kinds. Cruzan Rum has pledged to donate $1 to the fund for every case of rum sold. The brand is expected to raise nearly $1 million for the Fund in 2018 alone.
The Cruzan Rum Team
There aren't always opportunities to do good while also enjoying a tasty drink, but the fine folks at Cruzan have provided you with that exact opportunity. Help others by drinking rum. Maybe sign me up. Okay, definitely sign me up.
If you'd like to learn more about The Island Spirit Fund, or to donate directly, you can visit the website.
Buffalo Trace is expanding like crazy
"When I started with the company in 1995, we filled 12,000 barrels a year. Today the growth seems moderate, but when you think about how far we've come, it's actually phenomenal, considering when we're on track to produce 200,000 barrels this year," said Harlen Wheatley, master distiller at Buffalo Trace.
That's quite the increase in just over two decades. Now, however, Buffalo Trace is charging forward full steam ahead. The company plans to spend $1.2 billion over the next 10 years to expand the distillery. Two new barrel warehouses have been built, with a third currently going up and a fourth on the way. Each warehouse will hold 58,800 barrels of whiskey. Buffalo Trace plans to build a new warehouse every four months for the next several years, each costing $7.5 million to build and another $21 million to fill with barrels.
Buffalo Trace Distillery / Photo Courtesy of Buffalo Trace
The company also plans to insulate the warehouses, an industry first, in order to protect the resting whiskey from the Kentucky winters. Buffalo Trace will also be replacing boilers, adding a new cooling tower, new cookers, and four new 92,000 gallon fermenting tanks.
As if that wasn't enough, a brand new bottling hall is also being built—at a cost of $50 million—which is scheduled to be finished by the end of 2018.
So what does this mean for fans of Buffalo Trace and its other brands? For right now, nothing too different. The products will continue to be allocated, although there are plans to have slightly more availability this year. Still, it takes time to create and age bourbon, so it'll be a few years before any increase in availability is noticeable.
News About New Booze
Suntory has announced the Hibiki Blender's Choice, a no age statement blended whisky comprised of grain whisky from the Chita distillery and malt whisky from Yamazaki and Hakushu distilleries.
Unfortunately for those of us not currently living in Japan, these 700ml bottles will only be released for the domestic Japanese market on September 4th with no plans announced for a wider international release.
The third expression under the Master's Keep series, this release was inspired by Wild Turkey Signature, sold in the early 2000s. For this release, Master Distiller Eddie Russell traveled to Jerez, Spain to find the 20 year-old oloroso sherry barrels he used to finish this expression. It's a combination of bourbon barrels aged from 12 to 15 years, and is bottled at 101 proof.
Limited availability is set to begin in June of 2018 nationally, and bottles will also be sold at the Wild Turkey Visitor Center in Lawrenceburg, Kentucky.
Wild Turkey Master's Keep Revival
Master Distiller Jean-Sébastien Robicquet, the man behind Cîroc's vodkas, produced this French brandy. It's the first brown spirit sold by the brand and like the vodka, French grapes are distilled.  The brandy is then aged in French oak.
Announced in June 2018, the roll out of the brandy will commence in New York City before being released in eight other markets throughout the summer including Los Angeles, Houston, and Miami.
---
That does it for Distiller's Friday Roundup for this week. The sun is out, the World Cup has started, and it's Father's Day this Sunday. Bring your father a bottle of something he loves, and if he's a soccer fan, try showing up and rooting for Iceland with him.
So with that, I wish you a good weekend!
Cheers,
Mikael
With Distiller, you'll always know what's in the bottle before you spend a cent. Rate, Review, and Discover spirits! Head on over to Distiller, or download the app for iOS and Android today!