The whiskey industry as a whole has undergone quite a few changes since the turn of the century. It was hobbling along during the "dark ages" of the '70s, '80s and '90s, when consumers had turned to light spirits like vodka, rum and tequila. Weak sales caused quite a few brands to go under. But what a difference a decade (or two) makes.
Demand for whiskey is through the roof, with some brands nearly impossible to find. We are in the midst of a whiskey renaissance that seems to have no end in sight. Every category is having a moment, and Irish whiskey is no exception. The number of Irish whiskey distilleries opening has exploded in recent years. No longer are we limited to the two giants in the industry: Midleton, makers of Jameson—among several other brands—and Bushmills. They have a lot of company on the shelves these days.
This demand has caused brands to want to stand out from the others, and special barrel finishings are certainly one way to do that. Forget about the—now standard—sherry cask finishing. No, we have gone beyond that. These products are just a few for you to check out. Note: prices listed are average retail prices in the US.
RED WINE FINISHES
Fortified wines like sherry, port and Madeira routinely get mentioned with regards to whiskey production. Producers use casks, which often held sweet wines, to finish or sometimes fully mature their whiskeys. Red wine is less commonly seen. These fruity, but dry wines add subtle hints of fruit without providing too much sweet to the mix.
Teeling Single Grain Whiskey / Photo Credit: Teeling
Released in the fall of 2017, this is the second release in the Wine Geese series from Green Spot. Green Spot began this wine finishing series in 2015 with a casks sourced from Château Léoville Barton, a highly regarded second-growth Bordeaux red wine. Chateau Montelena, founded in 1882, is also highly regarded. Based in Napa Valley, Calif., their zinfandel wine highlights this bottling. $100.
Teeling launched this bottling in 2015. Their single grain Irish whiskey fully matures in California red wine casks. Bottled without chill-filtration at 46% ABV. $51.
BEER FINISHES
If you thought that American craft distillers had a hold on this market, think again. Jameson joined the fun, first with their Stout Edition in 2015. They followed up on that success with an IPA version released in late 2017. Glendalough just released their stout finished whiskey in early 2018.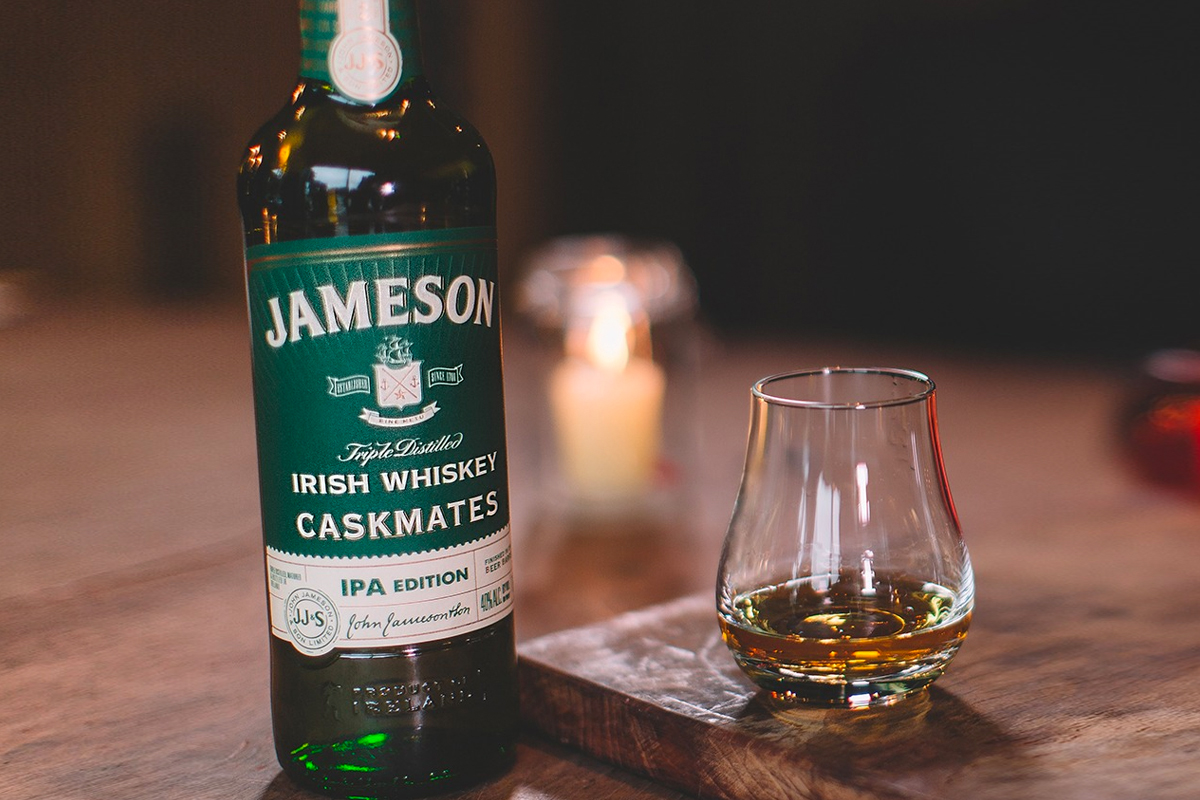 Jameson Caskmates IPA Edition / Photo Credit: Jameson
This is a collaboration between the distillery and nearby brewery, Franciscan Well Brewery in Cork, Ireland. Brewmaster Shane Long asked to borrow some used Jameson casks to use for stout aging. When the casks were returned to Jameson, they were refilled with their cask strength, blended whiskey and aged for about 6 months. Bottled at 40% ABV. $32.
This edition features an Irish India pale ale also from Franciscan Well Brewery. The brewery ages their beer in former Jameson whiskey casks then sends these barrels back to Jameson. These used IPA barrels are used to finish aging the whiskey. Bottled at 40% ABV. $32.
After 7 years of aging, this single malt then finished its maturation in Blackpitts Porter barrels from Dublin-based The 5 Lamps Brewery. Bottled at 46% ABV, it launched in February 2018. $60.
RUM FINISHES
Sure, some whiskey producers have used other spirits like brandy before, but what about rum? A gentle hand is needed here, so as not to overpower the whiskey. These Irish whiskeys are fine examples of the genre.
Tullamore D.E.W. XO Caribbean Rum Finish / Photo Credit: Tullamore D.E.W.
This was Teeling Whiskey's first release as a new company. They used former Caribbean rum casks to finish their blended whiskey. Bottled at 46% ABV. $37.
Available beginning October 2017, this from Tullamore D.E.W. is a triple wood whiskey which finishes its maturation in first-fill Demerara rum barrels from the Caribbean. Bottled at 43% ABV. $30.
Produced by West Cork Distillers, founded in 2003, this limited edition single malt first aged for 12 years in first-fill bourbon barrels. It then finished its maturation in rum casks for an additional 110 days. Bottled at 43% ABV. $57.
---
With Distiller, you'll always know what's in the bottle before you spend a cent. Rate, Review and Discover spirits! Head on over to Distiller, or download the app for iOS and Android today!