Celebrate World Cocktail Day with Classics from Around the Globe
By Jake Emen
May 13, 2020
One of the best parts about traveling is the exploration of local food and drink in a new city, or even in a new country. Just like many dishes are intrinsically linked to specific places, so too are a variety of drinks. That means making and sipping a cocktail from the comfort of home could have an entirely transportive effect. World Cocktail Day falls on May 13th, but you needn't limit the festivities to this day alone. Pick a destination or pick a drink, and start roving around the U.S. and the rest of the globe with these classic selections.
World Cocktail Tourism
Pisco Sour: Peru
Pisco is the national spirit of Peru, and the Pisco Sour is the ubiquitous drink which best brings the spirit to life. This recipe comes from the JW Marriott El Convento Cusco's Qespi Restaurant and Bar, where bartender Alvaro Escobar taught the author the dark arts of the perfect Pisco Sour.
Pisco Sour Recipe
– 3 oz pisco
– 1 oz fresh lime juice
– 1 oz simple syrup
– 1 egg white
– Amargo Chuncho Peruvian Bitters
Directions: Vigorously shake the first four ingredients with ice for approximately 30 seconds. Strain into a glass and serve up, topped with a few dashes of foam-coloring bitters.
The call for three ounces of spirit in the drink is a hefty one, but gives the concoction the perfect balance and punch. With the correct amount of shaking you should have an approximately 1/2 inch thick layer of foam.
Pisco Sour /Photo Credit: Caravedo Pisco
Caipirinha: Brazil
Take a sip of a well made, icy cold Caipirinha and close your eyes. It'll be hard not to envision you're sitting on the beach in Rio de Janeiro with the sand in your toes and the waves crashing in the distance.
"The Caipirinha is the signature cocktail of Brazil, and with just a few ingredients, it is quick and easy to make which embraces the easy-going Carioca culture here," says Anderson Tavares, the head barman of the Belmond Copacabana Palace. According to Tavares, the key is to avoid crushing the peel too much; so muddle minimally. "This is the secret for a Caipirinha to not become bitter," he says.
When you've mastered the basic recipe, feel free to riff on it, too. "It's a classic drink that offers many twists," Tavares says. "It can have several variations depending on the fruit used in the recipe and what's in season."
Caipirinha Recipe
-2 oz cachaça
-1 lime
-2 teaspoons sugar
Directions: Cut off the ends of the lime and cut into four wedges. Muddle the lime and sugar together in the bottom of a glass. Add ice and cachaça and stir.
Caipirinha /Photo Credit: Wine Dharma
Daiquiri: Cuba
Sip for sip, few drinks match the simple elegance of the Daiquiri. "The Daiquiri is without a doubt a very simple yet important cocktail that embodies the perfect concoction," says Juan Coronado, bartender and partner in Colada Shop and Serenata in Washington, D.C. "It's a regal combination of golden drops of Caribbean sun—better known as our rum—lime juice and sugar."
"It's named for the Cuban Daiquiri mines where American Jennings Cox was a general manager, back in 1898," Coronado continues. "The drink was later immortalized by Hemingway, who loved to visit the Floridita Lounge and have a version made with double the rum, lime juice and a touch of Maraschino liqueur. This is what we now know as the 'Papa Doble'. The real beauty of a Daiquiri is that it is incredibly unpretentious having only 3 ingredients that bring you freshness, light, and zest and creating the perfect union of sweet, sour and spirit."
Daiquiri Recipe
– 2 oz white rum
– 1 oz fresh lime juice
– .5 oz simple syrup or 1/2 teaspoon sugar
Directions: Shake all ingredients vigorously with ice. Strain into a glass and serve up.
In Coronado's amplified Daiquiri recipe, he pays homage to the Cuban drink known as the Canchanchara, subbing in honey syrup for simple syrup, and further adding 3 cucumber wheels.
Daiquiri
Piña Colada: Puerto Rico
The Caribe Hilton made hotel history in 1949 when it opened as the first Hilton property outside of the continental United States. Luckily, there was more history to come.
Bartender Ramón "Monchito" Marrero is said to have concocted the original Piña Colada at the Caribe in 1954. His first take was actually alcohol-free, so luckily for once us again, there was still more to come.
Piña Colada Recipe
-2 oz light rum (Caribe uses Bacardi)
-1 oz coconut cream (Caribe uses Coco Lopez)
-1 oz heavy cream
-6 oz pineapple juice
Directions: Mix rum, coconut cream, heavy cream and pineapple juice in a blender. Add half cup crushed ice and mix for 15 seconds. Serve in a 12 oz glass and garnish with fresh pineapple and a cherry.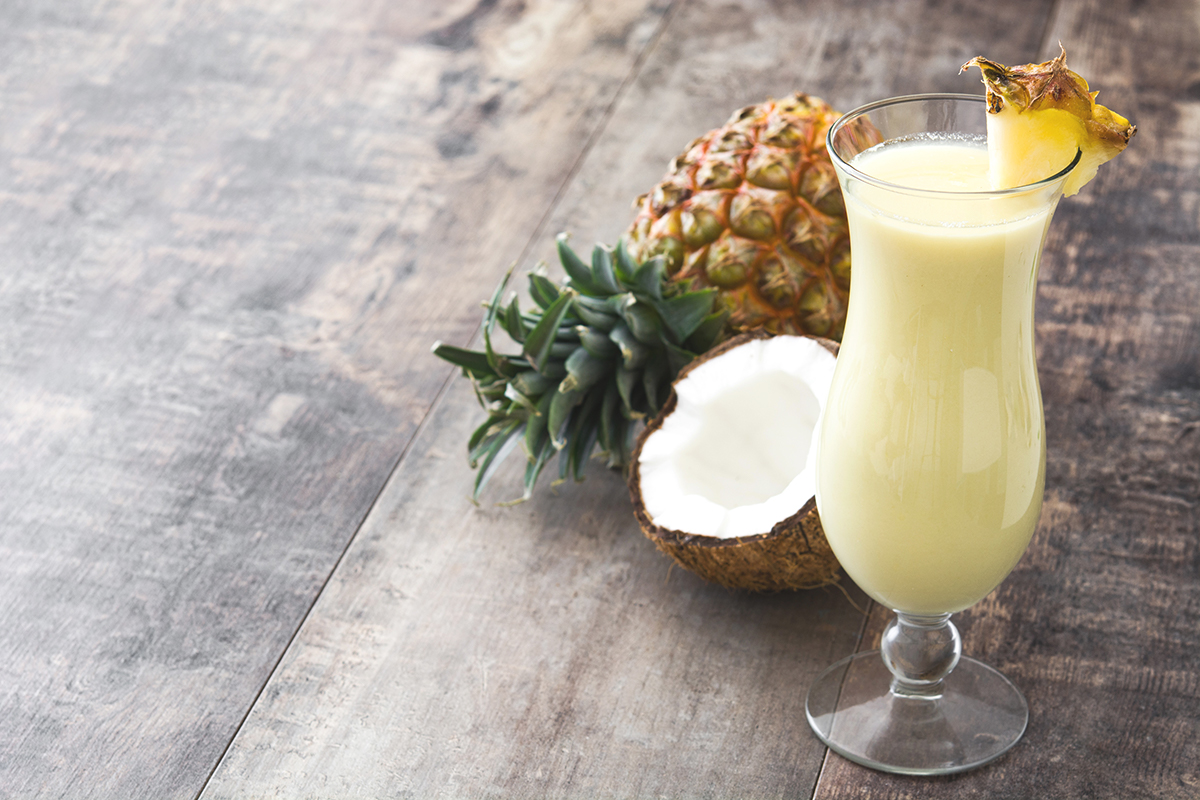 Piña Colada
Negroni: Italy
For many imbibers, the Negroni is the ideal simple cocktail. Three ingredients in equal parts manage to integrate together seamlessly, becoming far greater than the sum of their parts.
A captivating bright red in the glass, a Negroni instantly calls to mind a sunny day well-spent in your favorite Italian piazza.
Negroni Recipe
– 1 oz gin
– 1 oz Campari
– 1 oz sweet vermouth
Directions: Stir all ingredients well with ice. Strain and serve over ice (or optionally serve up), garnished with an orange peel.
Now that you know the basics, go forth and attempt to find your own perfect Negroni by experimenting with different combinations of gin and vermouth.
Negroni
Stay in the States
Mint Julep: Louisville
The Mint Julep is as much a part of the Kentucky Derby as the big hats. Perhaps even as much as the horses themselves. That's why in a typical year over 100,000 of them are served at Churchill Downs for the affair.
Even if the drink itself wasn't concocted in Louisville, the city and the cocktail are forever linked. This classic rendition comes from perhaps the preeminent historian of the drink, bartender Jim Hewes, of the Round Robin Bar at the Willard InterContinental in Washington, D.C.
Mint Julep Recipe
– 2 oz bourbon
– 1 teaspoon sugar
– 6-8 mint leaves
– sparkling water
Directions: Stir the mint, sugar, half the bourbon, and a splash of water together. Add a half cup crushed ice, stir, and top with more crushed ice. Pour in the remaining bourbon and another splash of water and garnish with a mint sprig and lemon twist. Deploy a straw for your imbibing of this world cocktail.
Mint Julep
Sazerac: New Orleans
The Sazerac stands tall not only among the earliest, most iconic cocktails, but also among the ones most strongly linked to a specific place. So strong are its New Orleans roots that the city named the Sazerac its official drink.
"The best way to excel at preparing a Sazerac is to achieve the perfect balance," says Alan Walter, spirit handler of Loa at the International House Hotel in New Orleans. "It's easy to make a Sazerac that is too sweet, or not stirred to the right dilution. And, of course, don't forget the lemon. Citrus adds the flavor and acidity for this very boozy drink."
Sazerac Recipe
– 2 oz Sazerac Rye
– 2-3 dashes Peychaud's Bitters
– .25 oz simple syrup
–  absinthe
Directions: Rinse chilled rocks glass with absinthe. Stir remaining ingredients with ice and strain into glass. Garnish with twisted lemon peel.
Walter actually prefers to use Herbsaint Legendre in place of absinthe in his Sazerac. "This anise-flavored liqueur was originally created as an absinthe-substitute in New Orleans in the 1930s," he says. "I find that absinthe can tend to be a little strong for this application."
When you're ready to really get creative, Walter further suggests his Haitian Sazerac for a true world cocktail in a glass.. Pay homage to what Walters calls the city's "Caribbean connections" by subbing in Barbancourt 5 Star 8 year old rum for whiskey, and adding in .25 ounces of a roasted plantain syrup (make a simple syrup with the addition of thinly sliced plantains, allowing to simmer together for 15 minutes).
Sazerac
Gin Rickey: Washington, D.C.
Don't know much about the Gin Rickey, or why it's paired up with the nation's capital? Well, the duo made such a tag-team that Washington, D.C. named the Gin Rickey its native cocktail in 2011. It's a refreshing staple that dates to the late 1800s, and in true to D.C. fashion, traces its history to politicians and lobbyists.
Specifically, Joe Rickey is the progenitor of the drink, spreading the drink's merits at political haunt Shoomaker's Saloon.
Gin Rickey Recipe
-2 oz gin
-1/2 oz fresh lime juice
– sparkling water
Directions: Fill highball glass with ice. Add in gin and lime, briefly stirring. Top with sparkling water and optionally garnish with lime wheel.
The original Rickey actually called for bourbon, so feel free to celebrate World Cocktail Day with both versions.
Gin Rickey
---
Ready to celebrate World Cocktail Day?
With Distiller, you'll always know what's in the bottle before you spend a cent. Rate, Review, and Discover spirits. Head on over to Distiller, or download the app for iOS and Android today!
Want to enjoy Distiller ad-free? Join Distiller Pro today to support the Distiller platform and keep ads off of your screen.