If you're like us, you've been stuck in the snow and cold for a while now. We're going to do our best to warm you up with news of all the delicious bottles headed your way. Well, as soon as the roads open up anyway. This week Copper & Kings debuted two new brandy-based gins which are sure to be exciting. MGP has a new blended bourbon as part of its Rack House Series, and Douglas Laing celebrates a decade of Big Peat with Big Peat 10 Year. Cuddle up to the fire and come learn what's new.
Copper & Kings Debuts Two New Brandy-Based Gins
If there's one thing you can say about Louisville-based Copper & Kings American Brandy Co., it's that it is never boring. Long known for a creative take on craft brandy, it's back with two new brandy-based gins.
Copper & Kings The History Of Lovers Rose Gin is made from a base of 100% apple brandy. Rose hips, rose water, sweet orange, tangerine, lime and pink grapefruit peels, jasmine and lavender petals, coriander, pink peppercorns, and licorice root along with the requisite juniper berries are macerated in an apple brandy low-wine. The distillate is then vapor-distilled with more rose hips and pink grapefruit peels in the basket. Finally, the gin is quickly macerated with even more rose hips, hibiscus petals, and strawberry juice concentrate giving it a natural pink hue.
Copper & Kings new gins / Photo Credit: Copper & Kings
Copper & Kings The Ninth. A Symphony In Orange is made using crushed whole juniper berries, Seville bitter orange peels, sweet orange and grapefruit peels, coriander, cardamom and grains of paradise which are all macerated in an apple brandy low wine made from 100% apple wine and orange blossom honey. After that, Seville blood oranges, sweet orange peels and jasmine are placed in a gin basket while the distillate is vapor-distilled through the botanicals. Finally, the gin is aged briefly in orange curaçao barrels.
"We're an excitable bunch, and we are incredibly energized by our gin expressions," says Copper & Kings founder Joe Heron. "We don't do 'Barbie' gins, and we don't do gin flavored vodka. We make extraordinary gin, for grown-ups, with sophisticated palates, distinctive and differentiated."
MGP Introduces Eight & Sand Blended Bourbon
Whiskey fans will know MGP Ingredients as the folks behind some of the most popular sourced whiskeys in the United States. The company has recently begun to release some of its own brands on top of the whiskey it produces for other brands. The first release was Metze's Select Bourbon 2015 Medley. Now it's back with a brand new release named Eight & Sand Blended Bourbon.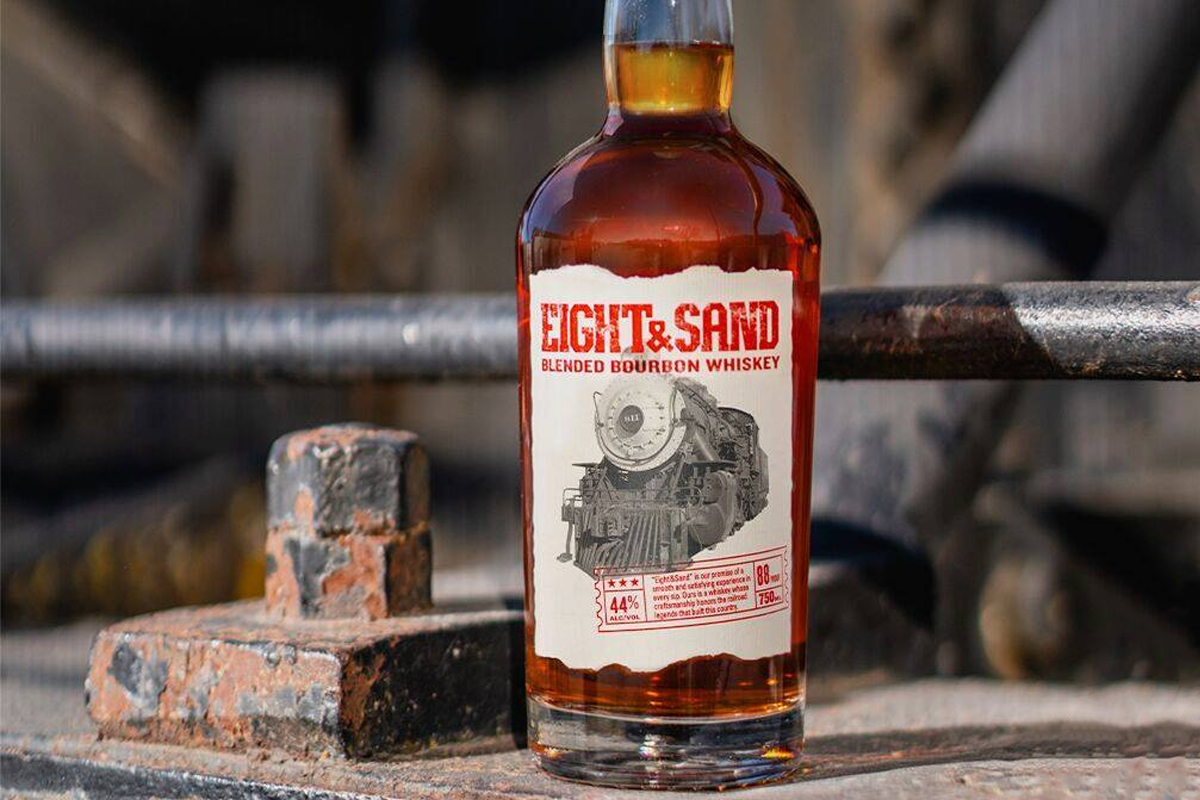 Eight & Sand Blended Bourbon / Photo Credit: MGP Ingredients
The name is inspired by the eighth notch on a locomotive's throttle, and the sand used on train wheels to prevent slipping. Wishing a train crew "eight and sand" is like telling an actor to break a leg. Eight & Sand Blended Bourbon is the first release in MGP's new Rack House Series of whiskeys. It is a blend of bourbons and whiskeys made with no additives and no color added.
The whiskey will be available in twelve US markets, primarily in the midwest and southwest, starting in February of 2018. It is bottled at 44% ABV with a suggested retail price of $29.99 per 750ml bottle.
Douglas Laing Unveils Big Peat 10 Year
It seems like only yesterday that Big Peat came into our lives, but time flies and they grow up so fast. It's been ten years since Big Peat first launched as the first release under Douglas Laing's Remarkable Regional Malts collection. Now, to celebrate Big Peat making it to double digits, Douglas Laing & Co. is releasing Big Peat 10 Year.
Big Peat 10 Year
"Back in 2009, I dreamt up a feisty Ileach fisherman who would later become Big Peat, a brand that would grow at an average of 29% year on year, and subsequently be joined by Scallywag, Timorous Beastie, Rock Oyster, The Epicurean and The Gauldrons," says Fred Laing, chairman at Douglas Laing and Big Peat.
Big Peat 10 Year is made exclusively from single malts distilled on Islay. It is aged for 10 years and bottled without added color or chill-filtration at 46% ABV. Only 850 cases will be available within the United Kingdom, Europe and Asia.
Jameson Launches Second Batch of Bow Street
Irish Distillers is back with the second batch of Jameson Bow Street 18 Year. Jameson Bow Street 18 Year Cask Strength (Batch Two) is a blended whisky comprised of pot still and grain Irish whiskeys that were aged in bourbon and sherry casks at the Midleton Distillery in Cork.
After aging for 18 years, the blend is re-casked in first-fill ex-bourbon American oak barrels. It is then aged for a final six to twelve months in the Maturation House at the brand's visitor center. The second batch is bottled at 55.1% ABV without chill-filtration. It will be available in 20 markets starting in August 2019. It has a suggested retail price of $270.
Jameson Bow Street 18 Year Cask Strength (Batch Two) / Photo Credit: Jameson
Crown Royal Is Peachy Keen
The folks at Crown Royal have their eyes on the warmer months ahead, and who can blame them? Gimli, Manitoba, where their headquarters is based, is hovering around the 5 °F mark right now. With summer in mind, they've launched Crown Royal Peach Flavored Whisky. It is a limited-edition release that takes Crown Royal's signature whisky and blends it with "the sweet and flavorful taste of juicy Georgia peaches".
It is bottled at 35% ABV and has a suggested price of $25.
Crown Royal Peach Flavored Whiskey / Photo Credit: Crown Royal
---
It's crazy to think it's only been ten years since Big Peat came into our lives. Big Peat 10 Year is the perfect way to celebrate the occasion.
With Distiller, you'll always know what's in the bottle before you spend a cent. Rate, Review, and Discover spirits! Head on over to Distiller, or download the app for iOS and Android today!