Well wouldn't you know it, July has come and nearly gone. With it came a variety of exciting new spirit releases. Some like Parker's Heritage Barrel Finished, Macallan Edition No. 4, and Little Book "Noe Simple Task" we've mentioned previously in our Friday roundups, so we won't discuss those below. But do check them out. Oh, and in case you missed the news, Game of Thrones themed Scotch whiskies are coming this fall. But there are lots of spirit releases that we DIDN'T cover. We have so much time and so little to see! Wait a minute. Strike that. Reverse it. This way please!
Glenfiddich Fire & Cane is the fourth installment in the Experimental Series from Glenfiddich. This no-age statement lightly peated release combines both peated and non-peated whiskies together. It should be noted that the peat was sourced from the Speyside, not Islay. The whiskies first aged side-by-side in ex-bourbon barrels. Once married, the whisky then finished maturing in ex-rum casks, sourced from several countries in South America.
Said Glenfiddich Malt Master Brian Kinsman about the release, "During the tastings, some experienced the unusual smoky notes, while others tasted toffee flavors—this phenomenon can be attributed to the Scotch spending three months in sweet rum casks. It's a bold combination, which I'm sure will appeal and intrigue single malt enthusiasts as well as those looking to try something new and different."
Available beginning August 2018 with an SRP of $49.99.
Glenfiddich Fire & Cane / Photo Credit: Jacob Tyler Dunn
This release from Chivas Regal was aged for a minimum of 15 years and it "selectively finished" maturation in Grande Champagne cognac casks. The naming convention is a nod to the cognac system, which tends to use letters such as XO and VS rather than age statements. The blended Scotch whisky will be available in two formats, either in a gold bottle or a clear bottle.
It will be sold exclusively in Global Travel Retail from July 1st, 2018 at an RRP of $69 for 1L and rolled out globally starting October 1st, 2018.
Chivas Regal XV / Photo Credit: Chivas Regal
Announced in July 2018 as a limited edition whiskey to the Basil Hayden's portfolio, Two by Two Rye is a blend of two Kentucky straight rye whiskeys and two Kentucky straight bourbon whiskeys. As for the two rye whiskeys, one is a 5 year-old and another is a "high-rye" 7 year-old. The two bourbons consist of a 13 year-old and a 6 year old. It is bottled at 80 proof.
Available now nationwide at an SRP of $44.99.
Basil Hayden Two By Two Rye / Photo Credit: Basil Hayden
Mortlach Single Malt Trio
These three new core single malts from Mortlach replace Rare Old, Special Strength, 18 Year and 25 Year—all introduced in 2014. "The Beast of Dufftown", as Mortlach is known, produces meaty, sulphury whiskies with its distillation process in a method called "The Way". The distillery boasts a 2.81 times distillation process which was invented in 1896 using a variety of shapes and sizes of pot stills, and is far too difficult to explain here. It will be released across Europe, Southeast Asia, Taiwan and the US this fall.
Mortlach Single Malt Trio / Photo Credit: Mortlach
-Aged in a combination of ex-sherry and ex-bourbon casks
-43.4% ABV
-SRP £50/$65
-Aged in a combination of refill and first-fill American and European oak ex-sherry casks
-43.4% ABV
-SRP £80/$105
-Aged in American oak ex-sherry casks
-43.4% ABV
-SRP £200/$262
The GlenAllachie Single Malts
Prior to 2017, when the distillery was acquired by a consortium led by managing director and master distiller Billy Walker, GlenAllachie was rarely seen as a single malt whisky. This much anticipated core range of the GlenAllachie distillery from Speyside has finally been launched. Each bottle is non-chillfiltered with no color added. Availability for the range is expected in September 2018.
"The first release of our GlenAllachie core range has been a culmination of months of hard work and a passion to turn GlenAllachie into a very popular and much sought after single malt whisky," says Walker. "It is an honor to be its custodian and to develop this range of single malts.
"The range of casks we have warehoused is tremendous with nearly 50,000 maturing at our distillery, some of which date back to the 1970's. Our aim is to nurture this tremendous spirit and for these single malts to be admired both home and abroad."
The GlenAllachie Single Malts / Photo Credit: The GlenAllachie
-Aged in a combination of American oak, Pedro Ximénez sherry, oloroso sherry and virgin oak barrels
-Batch 1 is bottled at a cask strength of 57.1% ABV
-Only 2000 cases available worldwide
-SRP $80
-Matured in Pedro Ximénez sherry, oloroso sherry and virgin oak casks
-46% ABV
-SRP $60
-Matured in Pedro Ximénez sherry, oloroso sherry and American oak casks
-46% ABV
-SRP $150
-Matured in former Pedro Ximénez sherry and oloroso sherry casks
-48% ABV
-SRP $400
This limited edition tequila first matured in American white oak for 8 months, just like the brand's traditional reposado bottling. The tequila then was transferred to barrels which held Buchanan's Blended Scotch Whisky for 30 days to finish its maturation. It is bottled at 80 proof.
Master Distiller Enrique de Colsa says, "I spent three years experimenting with various cask options to perfect the flavor of this variant and I'm proud to introduce it to the U.S. I found that finishing the tequila for one month in casks used in the making of Buchanan's Blended Scotch Whisky allowed me to create a tequila that perfectly balances the core flavor of Tequila Don Julio as well as the signature flavor of Buchanan's Blended Scotch Whisky. It's an incredibly unique flavor profile that is excellent enjoyed responsibly neat or on the rocks."
Available beginning Summer 2018 with an SRP of $59.99 at participating retailers nationwide.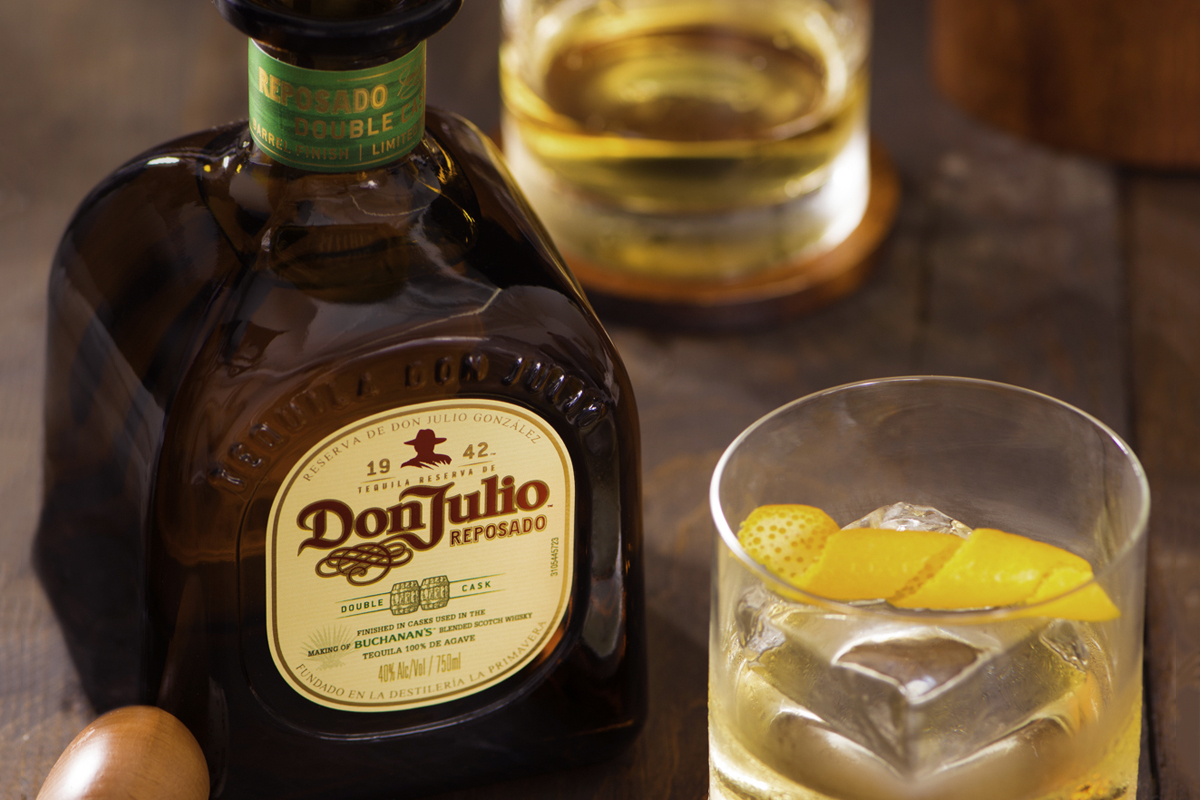 Don Julio Reposado Double Cask / Photo Credit: Don Julio
This flavor extension for Absolut launched in summer 2018. As is the case for all Absolut flavors, the brand's standard vodka, made from winter wheat, forms the base. Natural grapefruit flavor is added to show "the distinct character of pink grapefruit". No added sugar or artificial flavors are added. It is bottled at 80 proof.
Absolut Grapefruit will be available nationwide this summer for an SRP of $19.99 (750mL) and $24.99 (1L)
Absolut Grapefruit / Photo Credit: Absolut
---
With Distiller, you'll always know what's in the bottle before you spend a cent. Rate, Review and Discover spirits! Head on over to Distiller, or download the app for iOS and Android today!