The Explosion of Irish Whiskey Distilleries
By Jake Emen
August 19, 2017
Three. There were just three active distilleries producing the entirety of Irish whiskey with dozens of brands made under the same three roofs. That number stood for what seemed like an eternity for whiskey drinkers, but in reality it lasted from 1987 through 2007. For over a decade before that, there were just two.
There was the Midleton Distillery, home to Jameson and a slew of brands (Green Spot, Redbreast, Powers). And there was Bushmills Distillery in Northern Ireland with their arsenal of whiskeys. At long last, there was the Cooley Distillery, founded in 1987. From Cooley also came the eventual renewal of sister distillery Kilbeggan, in 2007. Today though, quite suddenly, from two, to three, to four, that number has skyrocketed. There are now at least 30 whiskey distilleries in Ireland which are either currently operational, or are in some stage of imminent planning.
INTRODUCING THE INDEPENDENTS
There's the Dingle Distillery, in Co. Kerry. They opened their doors in 2012, and their first "wide release" arrived earlier this year.  There's also the Glendalough Distillers, founded in 2011, out in Co. Wicklow, just south of Dublin. They currently sell a range of sourced whiskey releases such as a 7 year and 13 year single malt. But they too are laying down their own whiskey stock for future release while producing several gins and poitíns.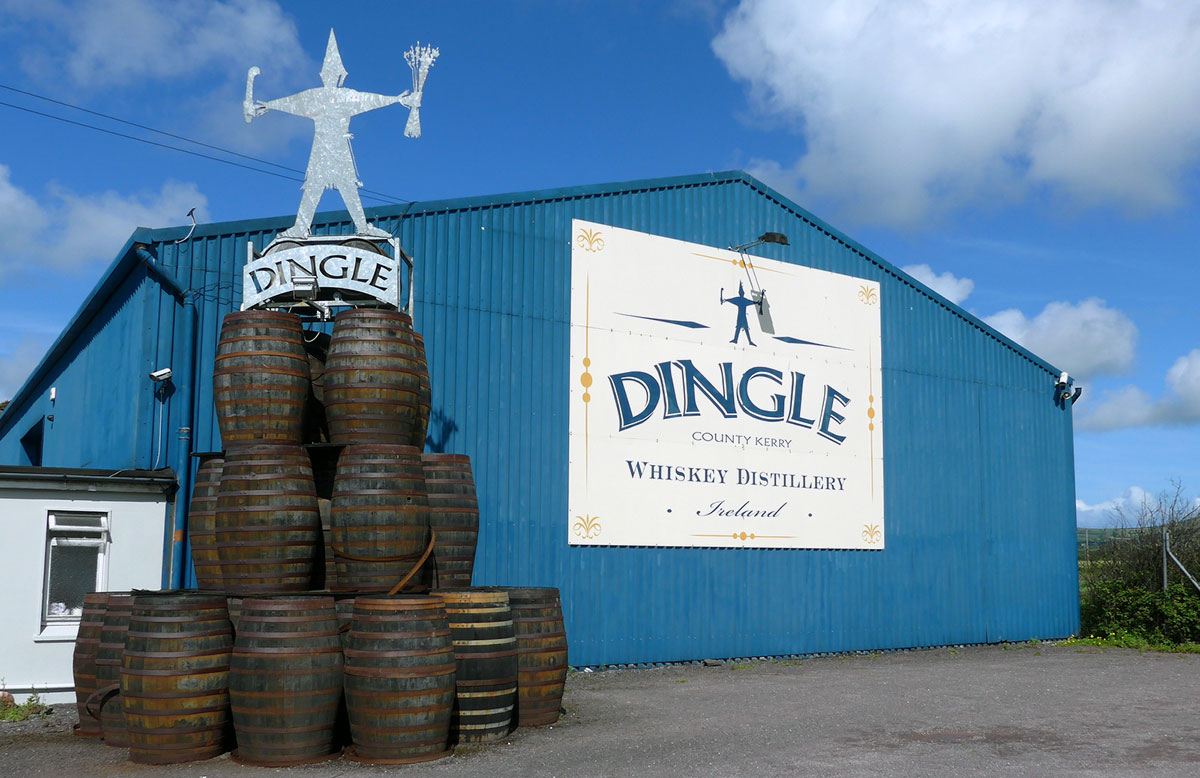 Dingle Distillery / Photo Credit: Dingle Distillery
West Cork Distillers is another independent Irish distillery making their own wares. (They too are currently selling sourced whiskey in the meantime.) Then there's the Waterford Distillery in southeast Ireland. It's a project from Mark Reynier, former CEO of Bruichladdich in Scotland. It's unsurprising looking at Waterford, to see a familiar Laddie-like focus on components such as barley and terroir. Whiskey production here began in earnest at the start of 2016.
All of the above projects are on the craft front, of course. While on a lesser scale, this is similar to the surge in American craft whiskey. Small brands have built their own distilleries from the ground up, while others have shifted from sourced whiskey to self-distilled products.
BIG BRANDS KEEPING UP WITH DEMAND
Beyond that though, there's also been a movement from large existing brands looking to make a large-scale and immediate impact. One great example of that is with Tullamore D.E.W. You may not have been aware, but all of that Tullamore you've imbibed over the years wasn't made by the brand itself. Tullamore, like many others, was made at Midleton.
Tullamore Dew Distillery / Photo Credit: Tullamore Dew
That's changing with their brand new distillery which opened in 2014. They're capable of making all three major varieties of Irish whiskey.  According to a brand representative, however, it will take a decade or two for them to make all of their own juice.
Meanwhile, within Midleton, home of the largest operational pot-stills in the world, there's now a glimmering micro-distillery serving as an on-site hub for experimentation. The three stills at this "micro" site would make most craft distillers envious, but it's but a blip on the radar for the firepower at Midleton. Nevertheless, it represents innovation and growth.
MOVING PIECES OF THE WHISKEY PUZZLE
The sale of Paddy Irish Whiskey to Sazerac from Irish Distillers back in May 2016 is instructive for Irish whiskey fans as it represents but one piece of the shifting puzzle that is the Irish whiskey business. For instance, Brown-Forman is now in on the Irish game with construction underway for a distillery at Slane Castle, a brand originally revived by and formerly made at Cooley. Production is said to not be far off, but in the meantime, they've released a triple-cask Irish blend to tide us over.
Slane Distillery / Photo Credit: Slane Distillery
Looking back five years, the move that shook everything up was the 2011 purchase of the Cooley Distillery by Beam, which later became Beam Suntory. Cooley and Kilbeggan produced Kilbeggan, Greenore, Connemara, The Tyrconnell, 2 Gingers, and an untold score of sourced brands who didn't have any manufacturing capabilities of their own.
That move, in turn, sparked the eventual revival of Irish whiskey being made in Dublin proper, with the opening of Teeling Distillery. John Teeling, had been the headman at Cooley. Following Cooley's sale, John established the Great Northern Distillery, a grain distillery chiefly providing bulk product for other brands.  His sons, Jack and Stephen Teeling, meanwhile are steering the ship at Teeling, one of the category's hottest brands. (Jack made a purchase agreement with Beam to buy whiskey from Cooley in addition to new-make whiskey which they have lain in their warehouses to tide them until their whiskey is ready.) They began distillation in spring 2015 after a three-year planning and building process. The distillery has a beautiful vistor's center and the ability to tour the distillery, something that is almost a given in Scotland, but not so in Ireland.
MORE WHISKEY FOR ALL
And so the wheels of Irish whiskey turn. From two to four, to now 30 and growing, it's great news for Irish whiskey fans. More distilleries with more craftsmen behind them equals more innovation, and new and exciting products. It also increases competition between conglomerates which drives further investment and improvement as well.
Take it from Jack Teeling himself. "Now that we're in production, our core role in Irish whiskey is innovation," he says. "Now we can have fun." If the distillers are having fun, we drinkers are sure to be having fun, too.
---
There are so many Irish whiskeys out there waiting to be discovered. Get started now!
With Distiller, you'll always know what's in the bottle before you spend a cent. Rate, Review, and Discover spirits! Head on over to Distiller, or download the app for iOS and Android today!