Family Spirit Brands: Selections for Father's Day
By Jake Emen
June 4, 2020
Distilling has always been a family business long before the advent of modern mega-corporations. One generation simply passed down the knowledge and skills of the craft, not to mention the name on the bottle. It's a tradition which remains to this day, stretching from American bourbon country to Cognac, France, and far beyond. We've chosen some family spirit brands for Father's Day with quite a tradition. In fact, some of these family brands have legacies stretching back hundreds of years. Consider these selections as a gift for dear ole dad.
Nolet Distillery
Nolet Distillery was founded in Schiedam, in the Netherlands, in 1691. Over 300 years later, it's now the 11th generation of the Nolet family who is responsible for steering its spirituous ship. The distillery may be most famous as the producer of Ketel One Vodka, however its line of Nolet's Gin is worth exploring. Nolet's Silver showcases signature botanicals of rose, raspberry and peach. But in terms of ultra-premium gins (and a price tag north of $500), Nolet's Reserve is perhaps at the top of the pecking order. It uses botanicals such as saffron and verbena in its production.
 Carel Jr., Carel Sr., and Bob Nolet/Photo Credit: Nolet Distillery
Herman Jansen
Also in Schiedam, once perhaps the very center of global distillation, is the Herman Jansen distillery. Founded in 1777, the Jansen family still retains 100% ownership to this day. They produce a mammoth array of spirits, including their own genevers under the Notaris brand. Today, they also make spirits for other brands, including the likes of Old Duff Genever.
The Beams
Diving into the Beam family legacy gives you access to two of the powerhouse bourbon distilleries, namesake Jim Beam, and Heaven Hill. Jacob Beam was the head of the clan, and counts as the first generation distiller in the operation which would become known as Jim Beam. The company was named for 4th generation steward James B. "Jim" Beam.
After the next generation, the family heritage shifted to the last name Noe. That's when Margaret Beam married Fred Booker Noe, who begat Fred Booker Noe II. Do those names sound familiar? It does if you like Booker's Bourbon. Booker passed on the family trade to Fred Noe the second, who still serves as Jim Beam master distiller. Meanwhile his son Freddie, the 8th generation, is a distiller with the company as well. Freddie Noe is notable in recent years for creating his own products in the Little Book series.
Meanwhile, shortly after Prohibition ended, Heaven Hill (then known as Old Heavenhill Springs) was established. Joseph L. Beam, Jim Beam's first cousin, was one of its founders and was its first master distiller. Later his son Harry took the reins, followed by Earl Beam, son of Park, who was Jim Beam's brother. Next up was the late Parker Beam, who served as master distiller with great acclaim. He was followed by his son, Craig who was master distiller until 2017 when he resigned to care for his father in his battle with amyotrophic lateral sclerosis (ALS).
Of course there have been Beams who have worked for other whiskey brands. These include Maker's Mark, Four Roses, Early Times, Barton's, Michter's and Stitzel-Weller among others. If you're drinking Kentucky bourbon from a legacy producer, a Beam probably had a hand in it somewhere along the way.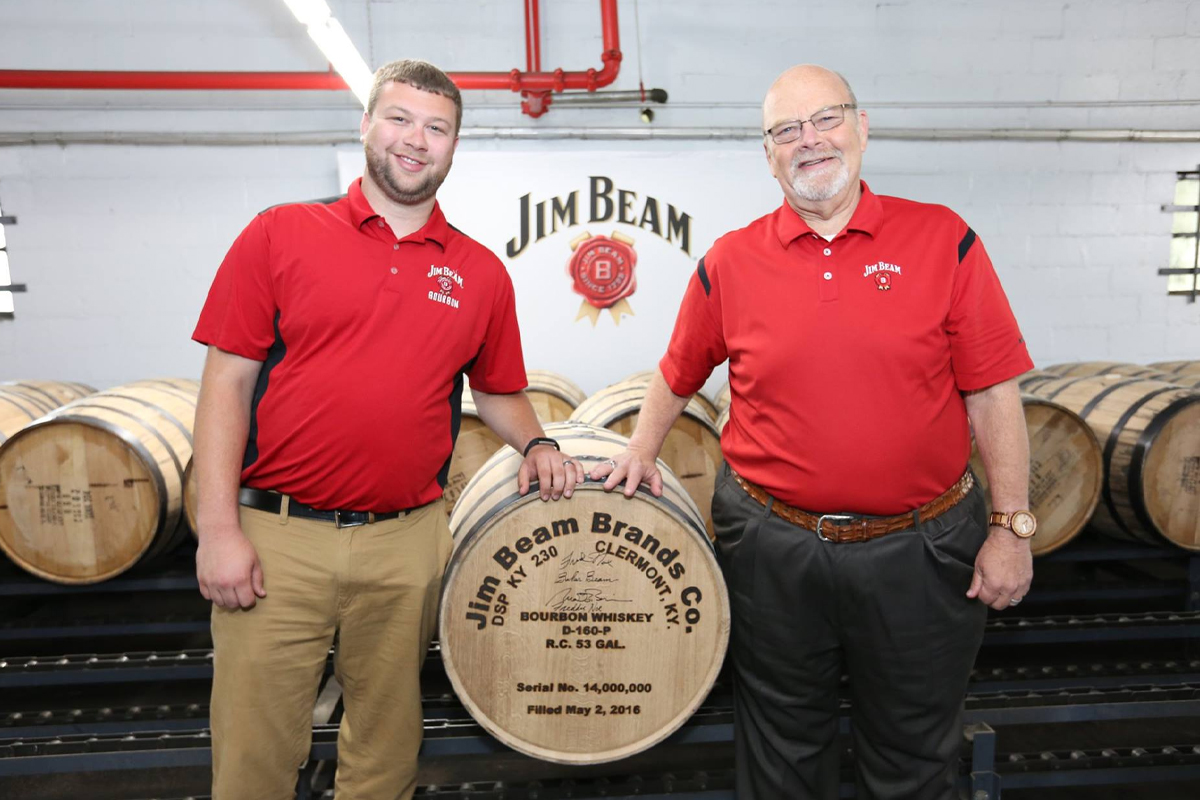 Freddie & Fred Noe /Photo Credit: Jim Beam
Wild Turkey
What's one of the few major bourbon distilleries not mentioned above? Wild Turkey, of course. But fear not, they have their own family legacy going strong. Jimmy Russell has been with the distillery for over 65 years, and is recognized as the longest-tenured active master distiller in the world. His son Eddie has forged his own legacy, and has been with the distillery nearly 40 years himself. In 2015, he was officially anointed as a master distiller. The third generation is in the game as well, with Eddie's son Bruce, along with his niece JoAnn Street. Both are currently involved as brand ambassadors.
Cognac
Family ties run particularly deep in the world of Cognac. That starts at the top, with Hennessy, founded by Richard Hennessey in 1765. Today, Maurice Hennessy is the 8th generation involved with the company, serving as its global brand ambassador. While Hennessy is by far the dominant force in the industry, it's worth taking a quick stroll through a few smaller houses.
The family which makes Cognac DeLuze has the largest family-owned estate in the Grand Champagne region, and has been in business since 1640. The Frapin family have been distillers for 21 generations, calling the 300-acre Fontpinot castle estate in the town of Segonzac, also located within Grand Champagne, home. There are, of course, dozens of other proud family spirit brands for Father's Day to choose from within Cognac with quite the legacy.
The Teelings
In 1782, Walter Teeling founded a distillery in Dublin. Flash forward a few centuries and brothers Jack and Stephen Teeling were responsible for bringing active distillation back to Dublin, with the Teeling Whiskey Distillery. Their father John previously founded the Cooley Distillery in 1987, which became just the 3rd active Irish whiskey distillery at the time. The distillery is now under the Beam Suntory portfolio, while John went on to found the Great Northern Distillery, primarily serving as a contract distiller and large-scale supplier of private labels.
Jack and Stephen Teeling /Photo Credit: Teeling
La Alteña Distillery
Don Felipe Camarena is recognized as one of the iconic pioneers of the tequila industry. He founded the La Alteña distillery in 1937, and today, his grandson Carlos Camarena serves as the master distiller. All told there have been five generations of the family involved in agave distillation. La Alteña isn't home to a single brand, but rather, a number of them. This includes El Tesoro, Tequila Tapatio and Tequila Ocho. All of them are highly regarded family spirit brands. But perhaps recent standouts from El Tesoro would be particularly deserving of a Father's Day sipping session. These include El Tesoro Extra Añejo, and El Tesoro Paradiso, itself an extra añejo, though aged in cognac barrels.
William Grant & Sons
Perhaps it's not surprising to see William Grant & Sons included in this list of family spirit brands considering its name. William Grant founded Glenfiddich in 1886, and the company remains independent and family-owned five generations later. That's no small feat in the world of Scotch whisky, predominantly lorded over by massive conglomerates. It helps to have the world's top selling single malt in Glenfiddich, along with one of the top selling blends—Grant's Triple Wood—in the portfolio.
Of course, William Grant & Sons is also home to The Balvenie, Hendrick's Gin, Tullamore D.E.W., Monkey Shoulder, and a far-reaching range of additional brands. Glenn Gordon, the great-great grandson of William Grant, is the company's current chairman.
---
Looking to gift dad with a bottle from one of these family spirit brands?
With Distiller, you'll always know what's in the bottle before you spend a cent. Rate, Review, and Discover spirits. Head on over to Distiller, or download the app for iOS and Android today!
Want to enjoy Distiller ad-free? Join Distiller Pro today to support the Distiller platform and keep ads off of your screen.